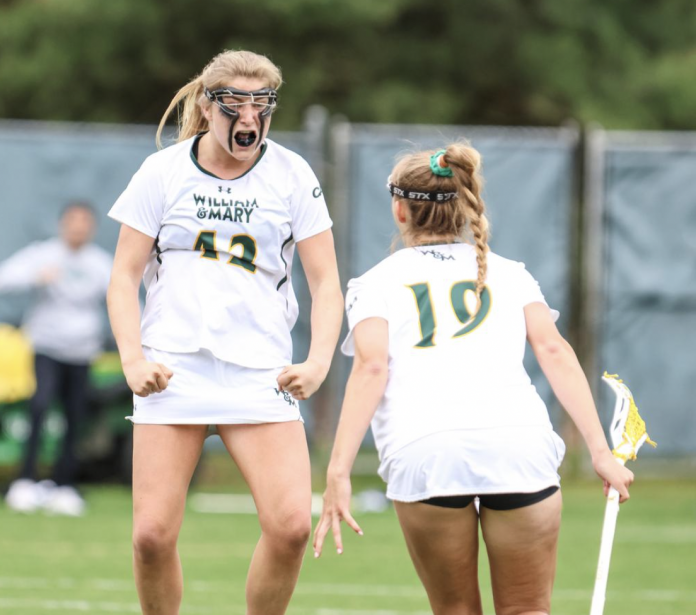 Saturday, April 8, William and Mary (7-6, 2-2 CAA) lost against Towson (9-8, 5-1 CAA) 13-10 at Martin Family Stadium in Williamsburg, Virginia.
Despite the loss for the Tribe, it was still a historic day, with senior midfielder Sarah Cipolla etching her name in the record books. Cipolla not only tied the single-game school record for draw controls with 11 — a record she already held herself — but she also became the program's all time leader in draw controls with 164. The previous record was held by Ellen Shaffrey '16 with 156.
The game was off to a quick start as Towson scored a minute in, with Towson senior midfielder Blair Pearre converting on an assist from senior attack Gabby Garrett. Junior midfielder Lindsey Marshall scored back-to-back goals, giving Towson an early 3-0 lead.
Cipolla responded for the Tribe, scoring her first goal of the game with an assist from senior attack London Simonides. Towson tacked on a goal from junior attack Lindsay Clarke, which Tribe sophomore midfielder Paige Gilbert responded to with her first goal of the day. Towson scored twice more in the first period, with another goal from Pearre and one from sophomore midfielder Milana Zizakovic, bringing the score to 6-2.
Pearre struck again for Towson in the second period, scoring her third of the day with 12 minutes, 27 seconds remaining in the half. Sophomore midfielder Serena Jacobs scored next for the Tribe, with an assist from sophomore midfielder Justyce Barber to hold the deficit at four.
The Tribe defense continued to work hard, holding Towson's attack at bay for nearly seven minutes before Clarke scored another, bringing the score to 8-3. The Tribe offense then picked up momentum, going on a four goal run started by Gilbert. Sophomore attack Sam Van Gieson then scored two goals and junior attack Ellie Shea scored the final goal of the half with just four seconds remaining. William and Mary's last minute advances cut Towson's lead to just one at the midway point, with a score of 8-7.
It was a quiet third quarter, with the only scoring coming from Zizakovic, who scored twice more for Towson, extending their lead to three as the final period began.
In the fourth period, Gilbert opened up scoring with an assist from Jacobs, making the score 10-8. But a Towson goal from senior midfielder Samantha Intrieri widened the gap again. With 9:31 remaining, Van Gieson scored her third goal of the game, securing her hat trick and bringing the Tribe deficit down to two. Cipolla scored again for the Tribe, but Towson held off any opportunity for a William and Mary comeback with Marshall scoring two more goals in the closing minutes. Towson came out on top 13-10.
Despite a strong showing for the Tribe, Towson proved to be too dominant on the day. Sophomore Tribe goalkeeper Elise Palmer recorded 13 saves, Van Gieson and Gilbert both finished with hat tricks and Cipolla tacked on two goals in addition to her 11 draw controls.
Towson outshot William and Mary 35-22 and allowed just 10 turnovers, whereas the Tribe gave up 19. Towson also had six free position shots, compared to the Tribe's two, and recovered 19 ground balls to William and Mary's 14.
Loss aside, it was a great showing for the Tribe and a history making day for Cipolla. Her draw controls have served as the backbone of Tribe lacrosse and propelled her to a place in the record books as the all-time draw control leader.
The Tribe travels to Stony Brook on April 15 to take on the Seawolves at Kenneth P. LaValle Stadium.