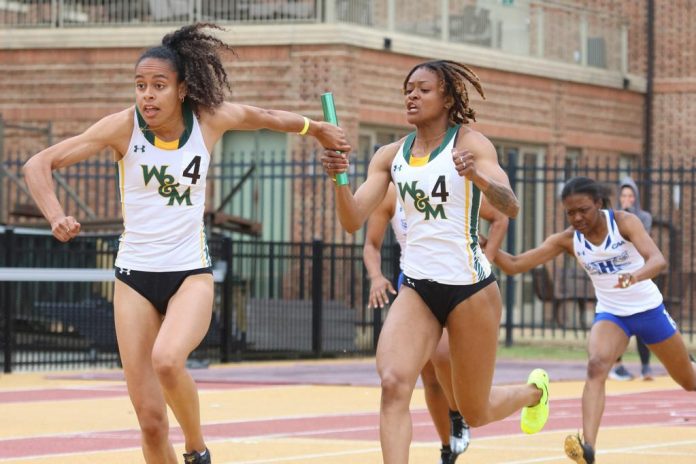 Saturday, April 15, William and Mary track and field competed at High Point University's Meet of Champions in High Point, North Carolina. The men's team finished in last place, while the women's team finished fifth of seven teams.
The Tribe returned to North Carolina for the second straight week following its participation at the Duke Invitational in Durham, North Carolina.
On the men's side, junior sprinter Jackson Cooley headlined William and Mary's performance in the sprint events, setting school and meet records in both the 100m and 200m events. Cooley recorded a time of 10.49 seconds in the 100m, breaking his own mark from the Colonial Relays earlier this season. He then posted a 21.12 second performance in the 200m event, breaking the record set in 1985.
In the 400m event, senior middle-distance runner Stephen Larson notched a personal record of his own, finishing with a 50.38 second result to place 11th in the race. In the 800m event, freshman distance runner Jonathan Kumer placed sixth with a personal record of 1:52.50, with fellow freshman distance runner Matthias Oettl also notching a personal record of 1:54.91. In the 1500m event, senior distance runner Evan Goodell ran a season-best 3:50.92 to claim a team-best sixth place.
William and Mary's men's performance at Meet of Champions was full of personal records and season-bests, but the Tribe struggled overall as a team. George Mason finished the meet in first, followed by Charlotte and High Point taking second and third, respectively.
In the women's events, the Tribe bested multiple schools and set personal and seasonal records. The 4x100m relay squad of senior sprinter Amaya Johnson, junior sprinter Lizzy Gregory and sophomore sprinters Anna Kessler and Melissa Cunningham continued their successful season in the event, breaking their own program record. Their 45.97 second performance was the first-ever sub-46 second finish, surpassing their 46.18 time previously set earlier at the Colonial Relays this year.
Sophomore sprinter Emily Ervin continued William and Mary's record-breaking day, topping her own 200m dash record with a 23.91 second performance. She now owns all top three 200m times in William and Mary history. Ervin continued her dominant day in the 400m event, posting a time of 54.36 seconds – the fastest time by a Tribe athlete in the event. She now owns four of the top five performances in the 400m event in school history.
Following her incredible performance in the 4x100m relays, Kessler recorded a personal record in the 100m event with a 12.03 second finish, enough for ninth overall. This performance also put Kessler into the top three 100m times in William and Mary history. Cunningham shined in the event as well, finishing top 15 with a 12.12 performance.
In the 200m event, Johnson notched a top 10 all-time finish with a 24.40 second performance. Kessler added to her stellar day with another personal record of 24.89 seconds, while Cunningham finished at 24.94 seconds. Both of these times rank among William and Mary's top all-time performers.
As a team, William and Mary finished fifth in the overall women's rankings. Elon placed first, while High Point took second and Charlotte third.
William and Mary will continue its season at the Wake Forest Invitational on Friday, April 21 in Winston-Salem, North Carolina.