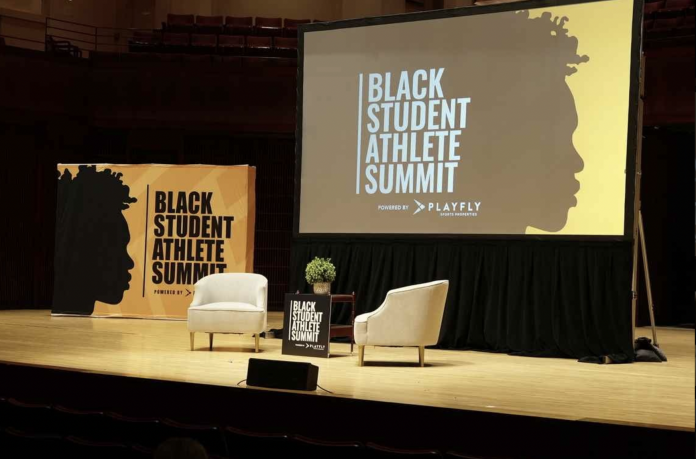 May 21-24, Southern California will host the Black Student Athlete Summit, an event that combines professionals in the athletics industry with Black student-athletes from around the world.
The four day summit consists of numerous experiences and activities. Athletes will attend multiple talks and career combines and have opportunities to share their opinions and voices.
Leonard N. Moore, founder and executive director of the event, discussed why USC was the optimal location to host the summit.
"Since arriving at USC in 2019, Athletics Director Mike Bohn has made a significant investment and commitment to empowering Black student-athletes," Moore said. "We can't think of a better institution to partner with for our 2023 summit."
Bohn emphasized the honor of hosting such an important conference, reflecting on how much his program can learn and gain after the event.
"We are grateful for the continued efforts provided by the United Black Student-Athlete Association," Bohn said. "Their efforts ignite and continue to lead the charge in creating spaces and initiatives to support the work of our Black student athletes on and off the field of competition."
In past years, students traveled to this summit to connect with industry leaders, learn about career opportunities and how their participation in athletics can benefit them in the future and discuss disparities with like-minded individuals. Through the guidance of industry leaders, Black student-athletes gain skills that will help them impact the social environment of their college campuses.
While the students will learn valuable skills, the summit leaders also hope to learn from the student-athlete attendees. The professionals hope to learn how to maximize their impact in respective athletic communities, as well as learn about the most pressing issues for Black student-athletes throughout the country.
William and Mary has the privilege of sending three student-athletes to attend the summit. The school will send juniors Kayla Beckwith and Quinn Osborne and freshman Jaylin Locke.
Beckwith is a center on the William and Mary women's basketball team. She has played in every game since her sophomore year, when she finished with a .579 shooting percentage and second on the team in blocked shots. Her junior year, Beckwith had 66 points on the season, and was named to the College Sports Communicators 2022-23 Academic All-District Women's Basketball Team, along with two of her teammates.
Beckwith is interested in applying her experiences from the summit to her endeavors back on campus.
"I want to make connections with other Black student-athletes around the country and learn from all the different speakers and workshops," Beckwith said. "I also hope to help William and Mary with continual innovation and enhancement of the student-athlete experience that will enable us to not only play at a higher level, but recover, learn and ultimately enable us to be our best selves on the court, field and in the classroom."
Locke is a member of the women's lacrosse team at William and Mary. She started her rookie season and plays a critical role in the Tribe's defensive unit.
"I'm looking forward to connecting with other Black student-athletes and to see their viewpoints on what activism is," Locke said. "And, how they choose to spread activism in their communities, as well as being able to learn from these student-athletes."
Osborne is a linebacker for William and Mary's football team. Osborne saw action in all 13 games of his sophomore season and finished the year with 43 tackles and two pass breakouts. According to Osborne, he chose to attend William and Mary out of his eight D-I scholarships because of the school's academic prestige.
"I decided to apply for the Black Student Athlete Summit because it's a great opportunity to network with my peers from different colleges and universities around the country," Osborne said. "I can learn meaningful tools to boost my career athletically and professionally in the right direction."
Osborne is also excited to apply the information he learns to the teams and organizations he is a member of to further spread awareness across the campus.
These three student-athletes will use this opportunity to improve their own knowledge, as well as benefit the William and Mary campus as a whole by promoting inclusivity, diversity and representation.