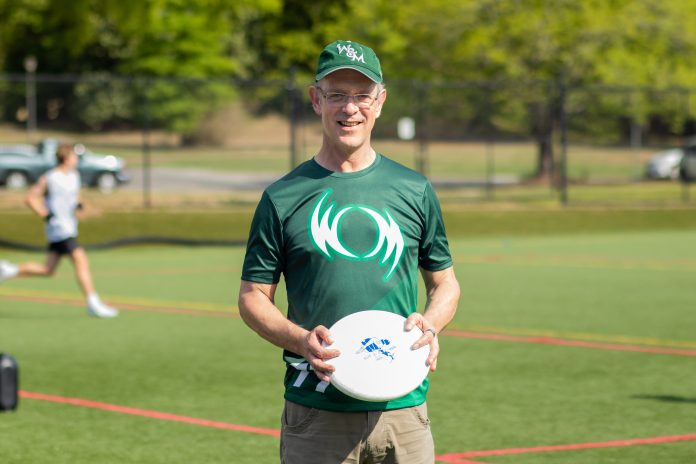 Ultimate frisbee started out as a passion for Bruce Jacobson. Now, he uses the sport to build a community at the College of William and Mary and engage with the students.
From playing Spikeball in the Sunken Garden to practicing his golf swing in the yard of the President's House, William and Mary's first gentleman Bruce Jacobson has emerged as an active face in the community.
Outside of his official roles on campus, such as serving on the board for Hillel at William and Mary and chairing the board of the WHRO public radio broadcast station, Jacobson embraces any opportunity to immerse himself with the energy of the campus.
Jacobson grew up in Fairfield, Conn. and credits his New England upbringing as a core component of his identity.
"The center of mass for my family is Boston," Jacobson said. "My parents, grandparents and first cousins all grew up there. Katherine grew up there, as well, and her family is still there. So, we think of New England as home."
Growing up in a rural area in Fairfield County, Jacobson spent much of his time outdoors. During the summer, he swam and biked, and in the winter, he skated and played hockey.
"I'd get home from school and I'd say 'Hi, Mom — Bye, Mom I'll see you at dinner'," Jacobson said. "We were just outdoors playing all the time."
In high school, Jacobson began playing racket and team sports, participating in tennis, soccer, basketball and ping pong. After graduating high school in 1981, Jacobson attended the University of Pennsylvania, studying electrical engineering.
At Penn, Jacobson had hopes of playing Division I soccer or tennis. Instead, he fell in love with a different sport: Ultimate.
Ultimate, or ultimate frisbee, is a non-contact team sport played with a disc. Teams score points in this sport by passing the disc to a teammate in the opposing end zone. AJ Gator created Ultimate in 1968. The first intercollegiate game took place in 1972 between Rutgers University and Princeton University.
With Penn creating its Ultimate squad in 1977, Jacobson was in the second generation of the team. Ultimate appealed to Jacobson because it offered something unique to his athletic and competitive identity.
"Ultimate was perfect because I could fit in and learn from people who were willing to coach me up and teach me how to play," Jacobson said. "It was serious — we ran hard and we wanted to win. It was competitive."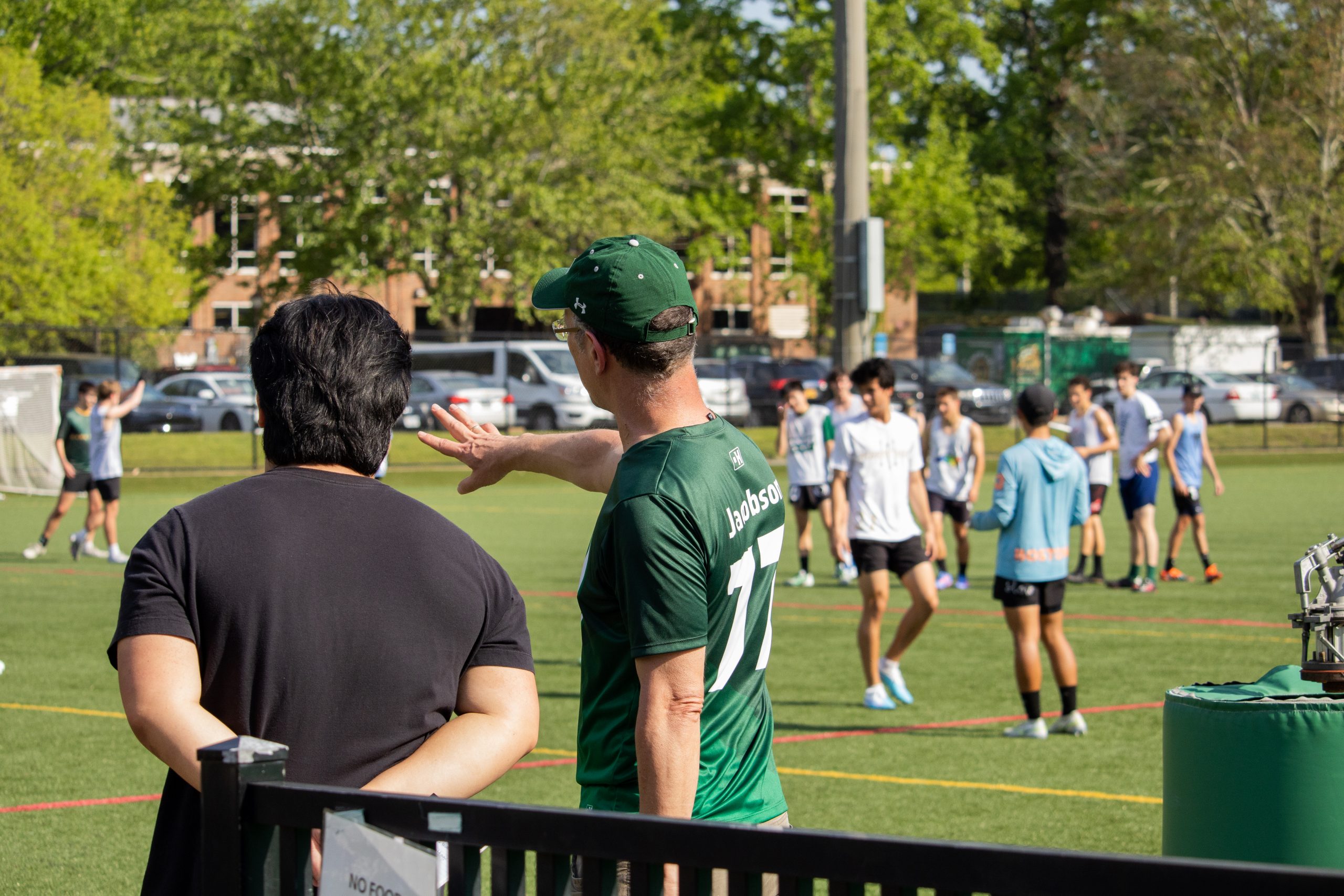 In 1984, Jacobson played in the first-ever College National Championship in Somerville, Mass. Although Pennsylvania lost in the semifinals, the team expected to be in contention the following year.
"One of our seniors made the point that we could win the tournament next year," Jacobson said. "He said, 'Look at the guys who just won the tournament this year from Stanford, half that team are seniors.' We were only losing one senior and we had made it to the semis. We can beat those other teams."
Throughout Jacobson's senior year, Penn played over 140 games in the fall and spring seasons, winning over 120 of its matches. Just as the team manifested the previous year, Jacobson and the Penn squad went on to win the 1985 College National Championship. Jacobson reflects fondly on the achievement and regards it as a learning experience.
"When you set a goal, then do everything you think you need to do to achieve the goal and then to actually achieve the goal," Jacobson said. "Yeah, it's mind-blowing. It was life-changing for everybody on that team."
College President Katherine Rowe and Jacobson met through Ultimate. Rowe, who started the women's team at Carleton College, met Jacobson at a frisbee party held by one of their mutual friends. The pair started traveling to tournaments together and quickly fell in love while playing Ultimate.
"Katherine likes to say, 'Ultimate is a recipe for lifelong happiness,'" Jacobson said. "And she encourages anybody and everybody to play it because it worked out well for her and me."
After graduating from Penn, Jacobson accepted a job at Raytheon in Boston as an engineer focused on chip design. While at Raytheon, Jacobson formed a team to represent the company at a summer league called the Boston Area Corporate Ultimate League. Jacobson's team ended up winning the league.
During his second year of participation, league officials approached Jacobson with an intriguing offer to take over directorial responsibilities for the league.
"The woman who started the league wanted to start a family, so she didn't have enough time to run the league anymore," Jacobson said. "So she came to Katherine and me and said, 'Hey, you guys take this over.' And, so in the five years we spent as directors of the league, we grew it from 16 to 60 teams."
Jacobson emphasizes that the cause of this exponential growth was not entirely their doing. According to Jacobson, there was always significant interest at the grassroots level — it just needed to be organized. However, he realized it was a complicated task to organize the league.
Jacobson served as regional coordinator for the overarching national organization, the Ultimate Players Association. In this role, he observed how Ultimate leagues organized across the country, and applied his findings to the leagues in Boston.
One of the changes Jacobson applied to his Boston league was introducing year-round competition. He believed the demand for competition in the area was strong enough to play year-round. He also renamed the league Boston Ultimate Disc Alliance (BUDA).
Following his travels to other regions, Jacobson wanted to adopt the organizational model of a non-profit. This allows the IRS to recognize the organization as tax-exempt due to its charitable programs. He and Rowe soon registered BUDA as a 501(c)(3) non-profit.
Although Jacobson and Rowe are no longer actively involved in BUDA, they wish for the organization's continued success.
After moving away from Boston, Jacobson and Rowe remained involved in the Ultimate community through coaching. Settling in Northampton, Mass., Jacobson began coaching the Northampton High School Junior Varsity Ultimate team, marking his first experience as a coach.
In 2018, Rowe was sworn in as 28th president of the College, thus thrusting Jacobson into his current role as first gentleman.
When Jacobson arrived in Williamsburg he maintained his independent consulting practice. However, the COVID-19 pandemic and his desire to do more community-minded endeavors led him and his partner to wind down the business.
"I think of my role now as just to support Katherine and work on community-building in Williamsburg and in the Tidewater area of Virginia," Jacobson said.
During the COVID-19 pandemic, the Merry Men — the College's Ultimate men's A team — invited Jacobson to play mini games. In the fall of 2021, Jacobson took over as coach of the team.
Although Jacobson holds the position of coach, the team's captains largely organize practices and game strategy. As opposed to varsity sports, where a coach recruits players and directly runs the program, Ultimate is a club sport and the team runs most operations through its captains.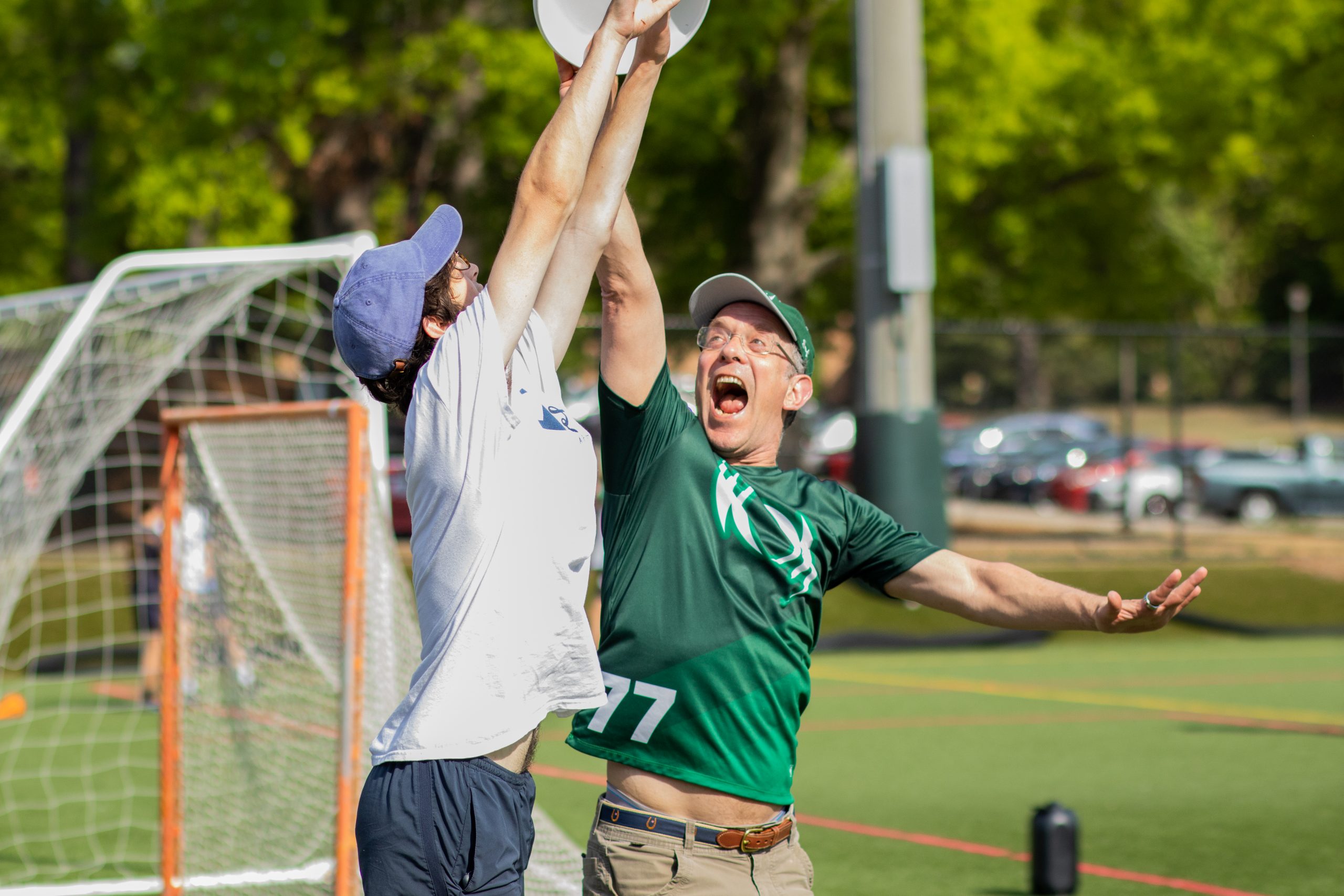 Langston Lee '23, DJ Lewis '24 and Sam Brothers '25 serve as the captains. Although Jacobson's role is mostly advisory, Brothers stressed the importance of Jacobson's presence on the team.
"Bruce has helped the team out in a number of ways including team spirit," Brothers said. "He has a couple of signature cheers, as well as a breathing exercise he leads which we all do before practice and games. Bruce also chimes in frequently during practice or games giving advice about what is working or tips about what isn't."
Jacobson cites his almost 40 years of Ultimate experience for the advice and guidance he provides to the team.
"My job is to make sure we're in the right mindspace when we're playing," Jacobson said. "It's their team, I'm not trying to impose a vision, but I can say in my experience, teams that win do these things. That's what I bring to this."
Jacobson hopes to coach this team for the foreseeable future. He embraces the opportunity to connect with students on campus as a way to continue his overarching goal of promoting community-building in the Williamsburg area.
"I'm psyched that five days a week I hang out with these 30 guys and get to know them as people, as well as what they're thinking about on campus, what they're anxious about, or what they're fired up about — that's important," Jacobson said. "I'm not a faculty member, but I want a structural connection to students and this is the next best way to do it."
Always an athlete, Jacobson now enjoys playing squash and golf, but Ultimate will always hold a special place in his heart. Although Jacobson concedes his competitive playing days are well behind him, he will never turn down a pickup game of Ultimate.