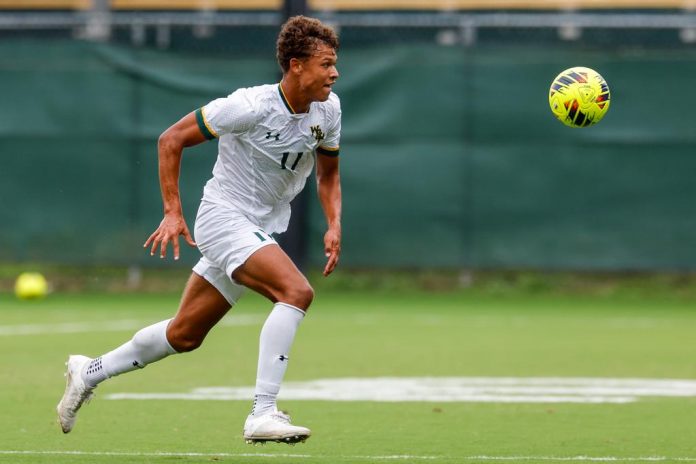 Thursday, Aug. 31, William and Mary men's soccer (1-2) fell to No. 19 after playing New Hampshire (2-0-1) 4-2 at Martin Family Stadium at Albert-Daly Field in Williamsburg, Va.
UNH got on the board quickly, with graduate student midfielder Iñaki Rodríguez recording New Hampshire's first goal just 5 minutes, 40 seconds into the match. The Tribe managed to respond in the 11th minute as a cross from senior midfielder Daniel Salom deflected off of New Hampshire's goalkeeper to freshman midfielder Aidan Morrison, who tapped it into the goal. This marked his first career goal as a member of the Tribe.
UNH scored again 18 minutes into the game with a goal from graduate student forward Eli Goldman. The assist on the play came from graduate student midfielder Bilal Kamal and propelled the visiting team to a 2-1 lead. In the 38th minute, UNH scored again, this time from a penalty kick converted by freshman midfielder Austin Bush, the first goal of his collegiate career. Graduate student goalkeeper Cole McNally was in the goal for the Tribe, marking his third consecutive start.
A very aggressive first half concluded with UNH on top, 3-1. The physicality of the game continued into the second half. The referees issued eight yellow cards, including six issued to the Tribe.
In the 54th minute of the game and just nine minutes into the second half, UNH expanded on its lead, with Rodriguez scoring his second goal of the game off an assist from graduate student midfielder Atila Ashrafi. New Hampshire held its 4-1 lead until the 75th minute, until an on-target free kick from graduate student midfielder Alfredo Bozalongo. Though the UNH goalie made the initial save, sophomore forward Lucas Caldas scored off a second chance opportunity, bringing the Tribe deficit to two.
The UNH backfield held off a last-ditch effort from the Tribe. The Tribe moved to 1-2 and UNC remained undefeated 2-0-1 with the win.
The Tribe faced Longwood in its next matchup on Sept. 5 at Longwood Athletics Complex in Farmville, Va. The highly-contested matchup resulted in a 1-1 tie, moving the Green and Gold's record to (1-2-1).
William and Mary will now look to play undefeated Delaware (3-0-1, 0-0-1 CAA) in its first taste of Colonial Athletic Association (CAA) conference competition on Sept. 9 at Stuart and Suzanne Grant Stadium in Newark, De.