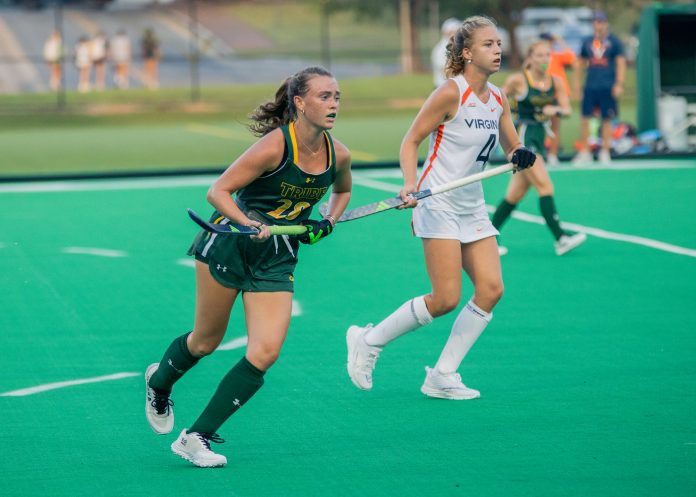 Friday, Sept. 8, William and Mary field hockey (1-2) suffered a 6-1 loss to No. 6 Virginia (5-1) at Busch Field in Williamsburg, Va.
Coming off of a 2-1 win against No. 12 Wake Forest earlier last week, the Tribe looked at Friday's game as another opportunity to upset a nationally ranked team, but this time, hoping to do so on home turf. However, the visiting Cavaliers had other ideas.
Early in the first quarter, Virginia's offense overpowered the Tribe defense. The Cavaliers began its scoring in the game's sixth minute when freshman back Mia Abello scored her third goal of the season to give the visiting team an early 1-0 lead. The Tribe failed to respond in the first, and went into the first break down 1-0.
The Tribe looked to respond quickly in the second, but only found themselves falling deeper into a scoring deficit. In the first five minutes of the period, Virginia tacked on two more goals, courtesy of Virginia freshman striker Minnie Pollock in the 18th minute and junior midfielder Noa Boterman in the 20th.
In the 28th minute, sophomore midfielder Erin Griffin scored the Tribe's first and only goal of the game, cutting the Virginia lead to two. But less than a minute later, Virginia junior striker Taryn Tkachuk tacked on another goal, making the score 4-1 going into halftime.
In the third, both team's offenses went cold. There were no goals, despite three shots on goal for the Cavaliers, all of which failed to pass by Tribe freshman keeper Alexandra de Jesus.
With a three goal deficit to erase, the Tribe went into the fourth determined to close the gap. However, the team was unable to cut into the deficit. Virginia added two goals in the quarter and closed out the game winning 6-1 on the road.
William and Mary hopes to bounce back next Friday, Sept. 15 when the team travels to Towson (3-2) for its first CAA matchup of the season in Towson, Md.