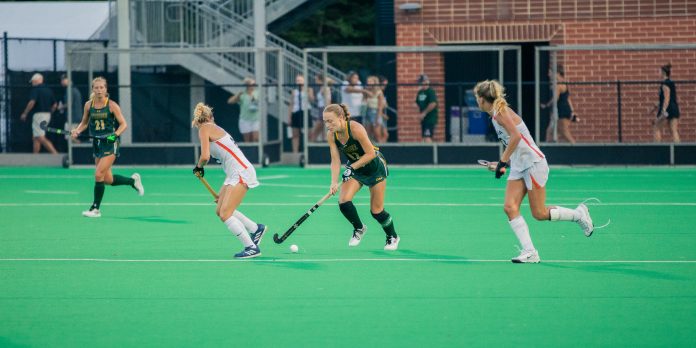 So far this season, senior midfielder Jayden Moon has played an instrumental role in the William and Mary field hockey team's successes.
Originally from Spotsylvania, Va, Moon attended Riverbend High School, finishing her prep career with 76 goals and 53 assists. Her 76 goals set the school record. Ahead of her tenure at William and Mary, Moon had earned the distinction of First Team All-District for three years, was named All-Area First Team by the Fredericksburg Free Lance Star in 2018 and 2019 and was named second-team all-state in Virginia.
Moon continued to find success when she joined the Tribe. During her freshman year, she won Colonial Athletic Association Rookie of the Week for her performance against Drexel, when she recorded her first collegiate assist. As a rookie she played every game and contributed to the Tribe's winning record.
In her sophomore season, Moon started all 16 games. She scored her first collegiate goal against Towson off of two shot attempts. Moon went from playing 55 minutes in her freshman season to 854 minutes in her second year. She also acquired new accolades in her sophomore  season, including selection into the 2022 Senior Nexus Championships. 
The Senior Nexus Championships is a platform of development for players that have interest in competing at a higher level. This program is designed to develop players to a higher level that may play on the Olympic team in the future. Selection into this program is highly competitive, and the tournament is annually held in the summer. Moon's selection into this program speaks volume not just to her current skill, but to her potential future in field hockey. 
In her junior season of competition, Moon was chosen as a reserve for the US U-21 Women's National Team prior to the Junior Pan American Championship. On the field, she recorded assists in back-to-back games against No. 11 Connecticut and Central Michigan. Moon started 13 of the 15 games. 
Now in her final season with the Tribe, Moon continues to play a pivotal role in the team's success. She began the season with a goal and assist against James Madison and played a significant portion of the game in the Tribe's upset against No. 12 Wake Forest. With a large chunk of the season remaining, Moon has many opportunities to continue her influence on the success and culture of Tribe Field Hockey.