Pooja Muthuraj '26 has made a name for herself at the College of William and Mary as a woman of numerous talents who is committed to becoming an ambitious leader. She hopes to help mitigate health and environmental problems on both a domestic and international scale.
"I truly enjoy helping other people, and making people laugh and smile. I think these desires motivate many of my decisions – alongside my love for my family and desire to make them proud," Muthuraj said.
I truly enjoy helping other people, and making people laugh and smile. I think these desires motivate many of my decisions – alongside my love for my family and desire to make them proud.
As a high school senior at the Maggie Walker Governor's School, the National Honor Society recognized Muthuraj's contributions to her community and named her a finalist for the annual NHS Scholarship Pillar Award. This award is given to one student per year who represents one of the four pillars the society stands for: scholarship, service, leadership and character. 
Muthuraj received the award for the NHS Scholarship Pillar for her application's focus on promoting education. During her time in high school, Muthuraj participated in Speech for Public Education, Action and Knowledge and established a new local chapter of PERIOD, an organization that focused on destigmatizing periods and combating period poverty.
Muthuraj also co-founded her own non-profit, Teen Polytx, which encouraged students to engage in civil discussion from both sides of the political spectrum.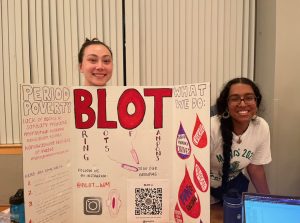 "I felt incredibly happy and grateful, but also shocked and almost guilty," Muthuraj said. "I hadn't done anything entirely on my own, and it felt wrong to stand on a stage and be solely praised for all of the work." 
Despite her initial shock at receiving the award, Muthuraj noted the pride in her accomplishments felt by her parents, friends and community. 
"The NHS award has given my parents, teachers, mentors, friends and community the pride of knowing that a woman they raised has been recognized nationally for the values and work ethic they instilled in her," Muthuraj said.
After receiving the NHS award, Muthuraj began furthering her work in women's health. She acted as an Ambassador Advisor for the Pad Project, an organization aimed at mitigating period poverty and furthering menstrual equity in various countries. In this role, Muthuraj was responsible for leading a group of other ambassadors in research. She also collaborated with other experts to progress towards long-term change. Her team also created and presented instructions to over 300 new ambassadors that year on how to host fundraisers and drives for period products.
Currently, she is the Development and Media Chair for the international Ambassador Program. This year, her job is to support the execution of Ambassador-led fundraising efforts to reach the development goal for The Pad Project's international and domestic programs. She is also responsible for improving systems to collect data on the Ambassador Program's growth and conducting analysis on the program's strengths and needed iterations. She also organizes events for Ambassadors and Advisors and assists Advisors in performing their roles
While on campus, Muthuraj has interned with the College's on-campus research lab AidData, working on the organization's research related to international finance in China.
"International financing was certainly not an area I had much expertise in before starting with the lab, but as I've become more involved with AidData, it's endlessly fascinating to learn about the controversies surrounding multiple projects and their political implications," Muthuraj said. "My fellow [research assistants] and I have worked on a number of projects, but my favorites have definitely been the ones where we've gotten to excavate multiple sources in different languages to find details and updates on Chinese-financed projects, either ones we input into the database ourselves, or those previously created by more senior staff."
Alongside Murthuraj's involvement in the Pad Project and AidData, one of her core interests is in the arts. Muthuraj shared her aim to take note of beauty in unexpected places through modes of artistic expression. Among these diverse interests, Muthuraj writes poetry and music, including the release of a physical collection of her poems in her recently published book titled 18 (Whatever That Means). 
"When I was really young, I would pick up discarded objects on the side of the road, beaten-up lip balms, tape dispensers, shoe soles etc., and place them in more perceptible locations, in hopes that people would then recognize their beauty more easily. I still do that through my poetry, my songs and the conversations I try to engage others in," Muthuraj said.
As president of the Inside Out Theatre, lead vocalist in the Middle Eastern Music Ensemble, and a member of 7th Grade Sketch Comedy, Muthuraj maintains a strong connection to the performing arts on campus. She is also a member of the South Asian Student Assembly and secretary of the College's Hindu, Sikh and Jain Student Association. This organization focuses on promoting religious inclusivity and awareness on campus and creating a community for students who identify with or are interested in learning about these faiths. 
In her free time, Muthuraj has also studied a form of Indian classical dance called Bharatanatyam for 12 years and had her debut performance in August of 2022.
Muthuraj feels she owes her love and expression to one person in particular.
"I just want to add a huge shout-out here to the teacher who introduced me to that world and helped me break past many of my reservations about standing on a stage and sharing my opinions with others, Mrs. Joan Hodges," Muthuraj said. "She's currently battling Stage 4 lung cancer and is one of the strongest, most inspiring people I know. If you feel inclined to donate to her recovery campaign, please do so."
CORRECTION (9/13/23): Article was updated by Sarah Devendorf, the Standards and Practices Editor to correct some facts about some of the organizations Pooja works for/with. For example, she won the NHS Scholarship Pillar Award—not the Service Pillar Award. Both are presented to only one person per year, not 600. Additionally, The Pad Project does not involve interacting with lawmakers in any way as they are a non-partisan organization. Pooja also is working as the Development and Media Chair for the international Ambassador Program this year and was an Advisor for the program prior to this. Lastly, the W&M Hindu, Sikh, Jain Student Association is not a performing arts group and mainly focuses on promoting religious inclusivity and awareness on campus.