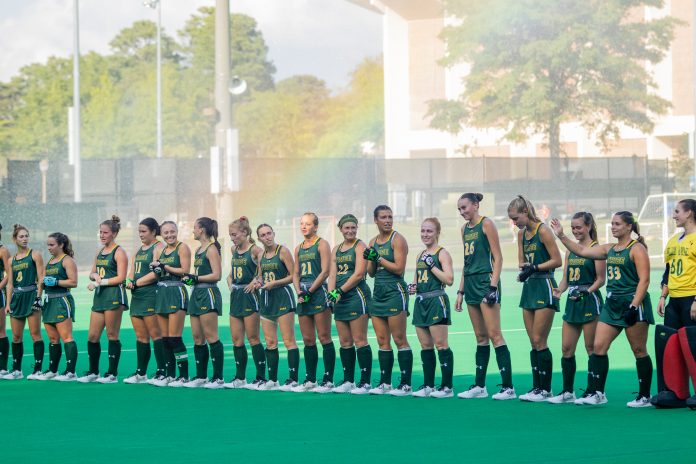 For the Tribe, graduate defender Audrey Domovich scored a pair of goals in under a three-minute span to secure the victory. Domovich's first goal came in the ninth minute of play with a shot from the top of the circle. Just two minutes later, she scored her second of the day off a corner.
While the Tribe offense dominated the first half of play, the team's defensive effort was equally commendable. Senior goalkeeper Maddie George saved one of the two shots on goal from Northeastern and held the Huskies scoreless until the third quarter. While the Tribe outscored Northeastern, the visiting Huskies shot two more times than the Tribe offense, emphasizing the greater shooting accuracy of the Tribe.
The Huskies' offense started off slow, scratching across only one shot attempt in the first half. However, its production picked up rapidly in the second half with nine shots and one successful goal. The Tribe managed just one shot attempt in the second half.
The solo goal for the Huskies came from graduate student midfield Lauren Rowe, who leads Northeastern in scoring this season. Up to this point, Rowe has seven goals and two assists to her name, leading the team by five points.
After the hard-fought victory against Northeastern, the Tribe came into its match against rival Old Dominion (4-5, 1-1 Big East) with confidence on Sunday, Sep. 24. Unfortunately, this match resulted in a 4-0 loss for the Tribe and broke its even season record.
Old Dominion's goals came from senior forward graduate student back Nicole Fredricks, senior forward Marlon de Bruijne, sophomore attack Sanci Molkenboer and freshman midfield Nicolette Saccomandi. The Tribe failed to match Old Dominion in several stat categories, including shots on goal, shots and fouls. While an unfortunate loss for the Tribe, this game may serve as a motivating factor for its upcoming difficult schedule in the remainder of the season.
Following the double header this past weekend, the Tribe will travel north to face Delaware on Friday, Sept. 29 at 5 p.m.