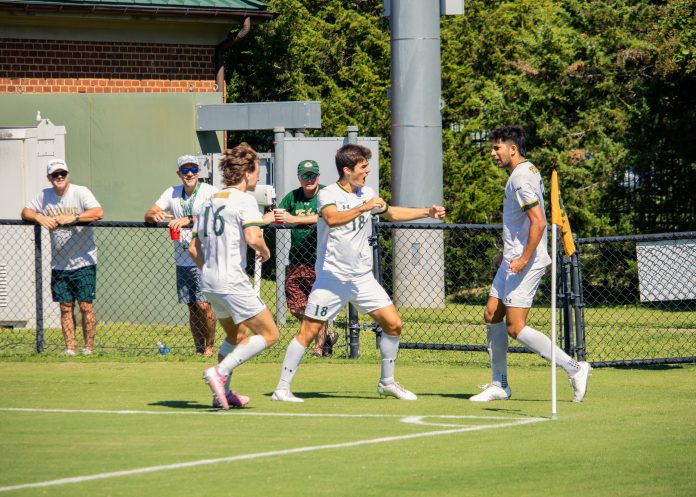 Tuesday, Sept. 19, William and Mary men's soccer (2-6-1, 1-2 CAA) lost 1-0 to High Point (3-1-2, 0-0 Big South) at Martin Family Stadium's Albert-Daly Field in Williamsburg, Va.
A goal in the 86th minute from the visiting Panthers broke the game-long stalemate, giving High Point its third win of the season and ending William and Mary's three game homestand.
A physical approach from both teams led to an intense back and forth through the first half, though neither team managed to convert. In the 10th minute of the match, freshman back Evan Rabush had a shot that missed high. Twenty-eight minutes later, coming off a corner kick from senior midfielder Ian Krajna, graduate student forward Merlin Luke-Miny had a look of his own that also missed off target. Despite offensive efforts, the Tribe only recorded three shots in the first half, while High Point recorded five. Tribe graduate student goalkeeper Cole McNally had one save in the first 45 minutes. The first half ended 0-0.
Entering the second half, William and Mary had the first real scoring chance. In the 62nd minute, freshman midfielder Gabe Ruitenberg recorded a shot on goal saved by High Point sophomore goalkeeper Josh Caron. High Point's attack continued to prove effective, forcing McNally to make two pivotal saves in the 72nd and the 75th minute. Both defenses remained vigilant in the back half of the game, as the score remained 0-0. High Point rattled off 10 shots in the second half, while the Tribe took just four.
The stalemate continued until 85 minutes, 42 seconds into the match, when High Point senior forward Kaya Ignacio received a pass from graduate student midfielder Seth Antwi and found an open look, converting the goal into the bottom of the net. The first and only goal of the game was enough to give the Panthers the win.
Despite last-ditch efforts from the Tribe, with shots from Luke-Miny and sophomore midfielder Ethan Prawidlo failing to find the back of the net, the game ended with High Point on top, 1-0.
The Tribe lost to Hofstra (6-1-2, 1-0-2 CAA) 2-1 in a Coastal Athletic Association matchup on Saturday, Sept. 23 at David S. Mack Sports and Exhibition Complex in Hempstead, NY.
William and Mary will look to bounce back against another CAA foe in Drexel (4-1-2, 2-1-1 CAA) on Saturday, Sept. 30 Martin Family Stadium at Albert-Daly Field in Williamsburg, Va.