Editor's Note: The Flat Hat has decided to honor the requests of several sources and keep their identities anonymous out of protection for their safety and wellbeing.  
Since Oct. 7, students at the College of William and Mary have shown support for victims of the recent escalation of violence in Israel and Gaza. In the face of, yet inspired by, raw emotion, campus leaders have persisted to find ways to advocate for their communities at the College and abroad. During this period of tension and sensitivity, many Jewish students and those in support of Israel's actions have felt acknowledged and uplifted by the College's administration. However, many Palestinian and Muslim students have noticed an isolating absence of outspoken administrative support.
Students, faculty, staff and administrators have organized various vigils, community gatherings, fundraisers and demonstrations to stand in solidarity with both Israel and Palestine. Over the past month, student organizations have been tabling to raise money for various relief funds, including Palestine Children's Relief Fund, Palestinian Red Crescent Society and Magen David Adom.
Oct. 10, the College's Hillel, Chabad, Alpha Epsilon Pi and Tribe for Israel organizations co-sponsored a vigil uniting for Israel at the Sir Christopher Wren Building. Oct. 17, the College's chapter of Students for Justice in Palestine held a community vigil at the Wren Building to commemorate and humanize Palestinian lives. SJP has also organized several campus demonstrations of Palestinian solidarity, including a campus-wide walkout as part of the Oct. 25 National Student Walkout to end the siege on Gaza.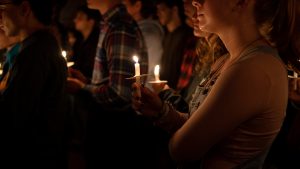 These movements on campus follow the Oct. 7 Hamas attack on Israel that killed at least 1,400 people and Israel's continued retaliation that has killed over 10,000 people and intensified a humanitarian crisis in Gaza. This recent escalation of violence has sparked conversations and advocacy across colleges and universities regarding the decades-long Isreali-Palestinian conflict and the Israeli occupation of Gaza. 
President of Tribe for Israel Aaron Weinmann '26 recalled his initial reaction to the Oct. 7 attack. He called his sister and close friends who were in Israel to make sure they were safe.
"Rattled would be a word that I would use, and it wasn't just rattled, but it was more like a petrified feeling, like I was just stuck," Weinmann said. "Of course, there have been spurs of the Israeli-Palestinian conflict over the past however many years I've been alive. But this time was like one of the first times where I was old enough to really process what was happening, to process the fact that my sister had to run to a bomb shelter, that people getting killed in the music festival were my age."
As students initially grappled with the shock of the Oct. 7 attack, many with personal ties to the region expressed how their perspectives have been shaped by the over 75-year context of the history between Israel and Palestine. One SJP student whose father is originally from Palestine shared her outlook on the violence as someone who has grown up surrounded by discourse on the topic.
"I guess it's just part of growing up as a Palestinian kid is just that hurt and that really sharp realization of what's actively going on there, even though it's not happening here. And it makes it kind of difficult to go about your day knowing that things are going on when people aren't really acknowledging that, which is something that I've kind of been feeling in school lately, as well," the SJP student said. 
Sam Rubin '24, president of the College's Hillel, noted that students' personal connections and emotions led them to act immediately to find ways to help. 
"Today is a sad day, and there's a reason to be sad, and there's a reason to mourn. And there's a reason for action. And that's what we are acting in the moment to do. So it demands action, both from college campuses, both from the Israeli government, from any supporters of Israel or any supporters of Jewish life worldwide," Rubin said.
For several student organizations, this immediate action took the form of tabling across campus to raise money for relief funds. Tribe for Israel, Hillel, Chabad, Alpha Epsilon Pi and Theta Delta Chi joined together to raise over $3,900 for Magen David Adom, the national medical emergency, disaster, ambulance and blood service of Israel. SJP tabled with emergency bake sales to raise over $4,000 for the Palestine Children's Relief Fund and Palestinian Red Crescent Society. 
Weinmann shared that although the tabling ran smoothly, there was a moment when people who opposed their actions accosted them. 
"It was great, we made maybe four times what we expected to make. But of course, there are bumps with tabling and we got accosted a few times, I guess that would be the right word. There was one person that came up and started screaming at us, calling us every name in the book: 'rapists,' 'baby killer,' 'murder,' 'filthy Zionist.' And I wasn't offended by the Zionist part, but everything else definitely bugged me." Weinmann said.
Several members of SJP also recalled an incident at their demonstration on Family Weekend, in which a visitor to campus yelled in the face of a student participating in the SJP rally. According to multiple witnesses, the visitor pointed in the student's face and cursed at him. WMPD spoke immediately with that visitor to ensure safety for all.
"A member of the community approached one of the students that was demonstrating with us. He yelled expletives at the student, pointed at him, and then walked away," an SJP student who was at the demonstration said.
Oct. 31, Va. Governor Glenn Youngkin signed executive directive six titled, "Combating Antisemitism and Anti-Religious Bigotry and Protecting the Freedom to Worship in the Commonwealth of Virginia." In the directive, Youngkin directly references the College, citing a WAVY article about the incident that Weinmann mentioned above.
"Concurrently, Jewish students at William & Mary have faced verbal abuse for expressing their faith and grieving the loss of loved ones," Youngkin wrote in the directive.
Youngkin directed all public, residential higher education institutions in the state to submit updated comprehensive safety plans, including specific systems of reporting incidents. He also called for the Secretary of Education to work with public universities to promote the safety of and provide mental health resources for Muslim and Jewish students. When The Flat Hat asked College President Katherine Rowe how the College plans to comply with this directive, she did not comment. 
In terms of demonstrations on campus, SJP organized an Oct. 20 sit-in at the Brafferton Building, took part in the Oct. 25 National Student Walkout — for which they gathered on the Sadler Terrace —  and organized an Oct. 27 demonstration on the Sunken Garden. At the Oct. 25 walkout, participating students demanded several action steps from the College.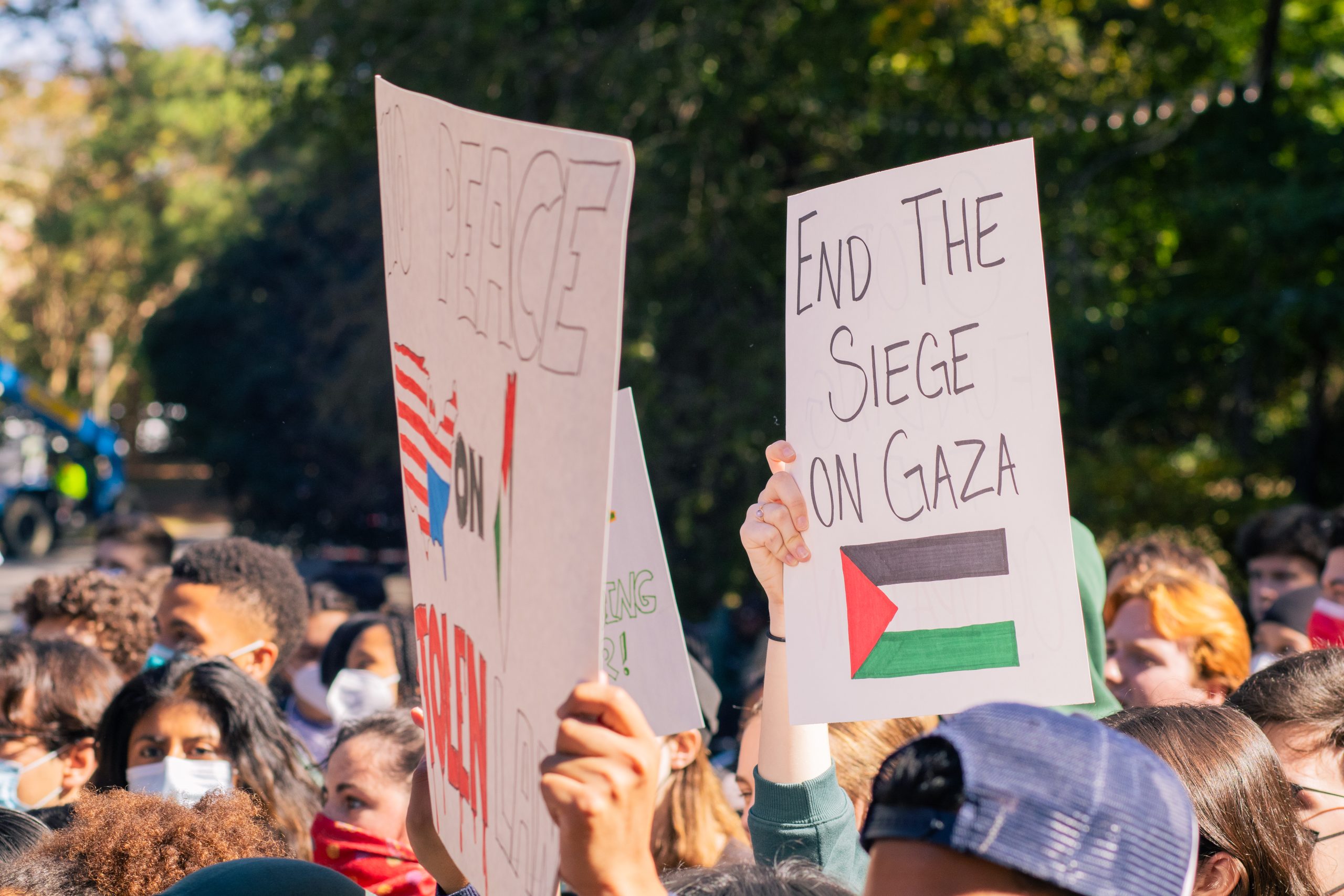 "William and Mary must divest from weapons manufacturers which arm Israel's genocide in Gaza," an SJP student speaker said at the walkout. "William and Mary leadership must call for an immediate end to Israel's siege on Gaza and U.S. funding for Israel. William and Mary must end partnerships and programs which normalized Israel's violence. And, personally, William and Mary needs to speak out for the safety of their Palestinian, Arab, Muslim, Brown students."
Ben Frogel '25, president of the College's Chabad chapter, noted that his organization is generally not hosting public demonstrations, but rather, gathering together to comfort one another. 
"I think we've been doing what we've always been doing, which is being a place on campus for Jews to be Jewish," Frogel said. "We've been seeing an uptick in student interest in that because, you know, you have Jews who are sort of realizing that being Jewish involves being part of history, it involves this very dynamic identity and it involves at this moment, responding to this terrible tragedy that happened on October 7th."
SJP student speakers at the Oct. 25 walkout also shared several egalitarian messages, advocating for universal human rights for all communities. 
"All children are children," another SJP student speaker said at the walkout. "There is no discrimination between a child, a Jewish child, a Palestinian child, a Christian child, they're all children. They all deserve human rights. We have to advocate for that. Human rights doesn't stop at a border. Human rights doesn't stop for anything. We should be advocating for human rights for all."  
Many student organizations have coalesced to advocate for Israel and Palestine. Four Jewish or pro-Israel groups led the Vigil Uniting for Israel. The SJP vigil and demonstrations featured speakers representing a range of multicultural and advocacy-centered organizations, including the Asian American Student Initiative, the Black Student Organization, PLUMAS and the Committee for Contextualization of Campus Landmarks and Iconography. These groups, and many others, have also released statements on social media expressing solidarity with Palestine. Students have additionally organized fundraisers, such as a collaboration between the South Asian Interfaith Organization, CCL&I, PLUMAS, African Culture Society, AASI, Muslim Student Association and Filipino American Student Association, to sell bracelets and raise money for the Palestine Red Crescent Society. 
"SJP is part of the W&M community," AASI's statement reads. "Your Palestinian, Arab, Muslim, Brown and Black brothers and sisters are part of our community. Your professors are part of our community. If President Rowe wants us to ground our community in mutual care, we cannot follow her example in ignoring Islamophobia on campus, ignoring the ongoing slaughter."
To another SJP student, this cross-campus solidarity is core to SJP's mission.
"We as an organization always talk about all marginalized people: Jewish people, Muslim people, people of color," he said. "Anywhere around the world, whether that be in Niger, whether that be in the Congo, whether that be in Guatemala, whether that be wherever in the world where there's oppressed people, the Palestinian cause is a cause that's always on the side of the people, making sure that everyone is equal. And that's what we always reiterate and that's why there's been such a huge coalition of groups on campus that are coming out and speaking against colonialism, speaking against Israel's occupation of the Palestinian people."
SJP members affirm that they are a group that stands for oppressed people of all nationalities, races and religions. They reiterate that their goals are anti-Zionist, not antisemitic.
"Being antisemitic is being against Jewish people and saying things that are hurtful about people because they are Jewish, and opposing a corrupt government and wanting people to have human rights is not antisemitic," a Jewish-identifying member of SJP said. "Antisemitism is super duper serious, and it's really bad in our country. I've experienced it a lot of times. But supporting Palestine is not that."
The student expressed that to them, showing solidarity with Palestine is clearly aligned with Jewish values.
"Being a Jewish person inherently means trying to help repair issues in the world and just valuing human life," the student said. "That is the most important thing. Value in Judaism is valuing the human life. And so for me, that feels so connected to trying to help support Palestinians and just helping them fight for the dignity and the rights that they have always deserved and have been deprived of." 
These interfaith and inter-movement coalitions have played an important role in organizing and allowing underrepresented students to feel safe and acknowledged. This was seen in a pro-Palestine Nov. 4 march on Washington, D.C. calling for a ceasefire in Gaza, in which some students from the College participated. 
"To have so many people come together in solidarity and care for something from all walks of life, all religions — there were Christians there, there were Muslims there, there were Jewish people there who came through and supported — it was a very comfortable feeling coming from a campus where you're the minority and also from a campus with an administration that isn't necessarily sensitive and/or caring to a particular side of a debate or an issue," the first SJP member said. 
This student is one of many who feel as though the administration's response to the recents events in Israel and Palestine have been lacking. Oct. 11, Rowe sent a message to the community condemning the Hamas attack and encouraging respect and mutual care on campus. Many community members voiced disappointment that her statement did not mention Palestine.
"She hit one of the main points and that's combating antisemitism, and that's awesome that she did that," the SJP student added. "But she failed to recognize that Palestinian civilians are also being killed, that Palestinians are going to suffer, Arab and Muslim students or anyone that has connection to the region is also going to be affected by what's going on."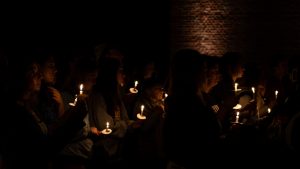 Many Jewish students felt supported by Rowe's statement. 
"My personal view of that letter, I mean, it was powerful," Rubin said. "And it took a stance that said we don't believe that hate should prevail in this world and we're calling out hate and we see it."
Rubin added that Rowe, First Gentlemen Bruce Jacobson and Dean of Students Stacey Harris have been strong advocates for the Jewish community on campus. Along with the vigil for Israel, the three have attended Shabbat dinners and recited prayers at Hillel. 
"I've heard really awful things from other schools, especially from administration and faculty, and to know that people like Kathy Rowe are going to show up to the vigil and not just keep her mouth shut is heartwarming," Weinmann said. 
Oct. 12, SJP posted a statement in response to Rowe's initial message. They wrote that Rowe's oversights could reinforce hatred and intolerance directed at a historically underrepresented group within the student body.  
"If President Rowe wishes to strike a balanced approach in order to promote harmony & campus-wide wellbeing, there must be an address to the pain felt by all students," the statement said. "'Palestine' was absent from Dr. Rowe's address. Palestinian students are here. Palestinian students seek to learn, feel safe, and more importantly feel seen within their campus community.'"
Nov. 1, Rowe released another statement, this one asserting support for the entire campus community and acknowledging both Palestinian and Israeli victims. Rowe affirmed Youngkin's executive directive and identified a commitment to the constitutional rights of freedom of religion and peaceful political expression. She directed readers to Vice President for Student Affairs Ginger Ambler's Oct. 27 message about protected expression and speech on campus.
"The escalating conflict in Gaza and Israel has spurred division, vulnerability, anger, and sadness — as well as compassion, calls for peace, and prayers for the Israeli and Palestinian civilians in harm's way, together with those from other nations," Rowe wrote. "I write to affirm unequivocally William & Mary's continued support for all our students, faculty, and staff."
Not all students felt reassured by Rowe's second statement.
"The fact that it took our initial response to her statement for the word Palestine to even be mentioned, when there's an entire division of Palestinian students that exist on this campus, that work on this campus, that eat and sleep and conduct their daily lives as students here," the first SJP student said. "Our pain, our name and our identity was effectively just ignored in that statement."
The student added that the message lacked substance.
"You're telling me that you guys are protecting my right to free speech or my right to demonstrate," she said. "I'm guaranteed those things. I'm saying it in a very harsh, not academic or professional way, but I don't need William and Mary to tell me I have constitutional rights."
When asked to comment for this piece, Rowe pointed to her most recent statement.
Harris reaffirmed her role to be there for the entire student body, especially during a time when so many are feeling pain and overwhelm. 
"My role is to care for all students," Harris said. "One of my priorities is to support each of your individual experiences. Students whose friends and family are directly affected by this war may need something different than those who simply want to help. Some students want to know how to get more involved, some students are needing support with shifting focus back to academics and some need reassurance that it's okay to turn off the news. My focus is on supporting each of you during this difficult time, ensuring the opportunity for everyone's voice to be heard — loud or silent. All stories matter."
Some community members see the administration's silence around Palestine as part of a larger pattern in the College's history.
"I'm not surprised because our school is built on a history of settler-colonial violence," said a protestor at SJP's Oct. 20 strike for Palestine. "We have things like the Brafferton School. We have been active active members, active participants in this in settler colonialism, in the forced removal, the genocide, the dehumanization, the taking of rights, taking of land, dispossession of land. That is what our school is founded on. Every semester begins with acknowledging the Indigenous people who have claim to this land. And that's all we can do. All we do is acknowledge it. We do not do anything further."
Shows of administrative support have been particularly potent during a period of high tensions and raw emotion across campus. For certain Jewish or pro-Israel students, this moment has sparked fears and discomfort that they had not previously experienced. 
"It's scary to walk around and hear people being uncomfortable," Rubin said. "And I've been talking to students at the School of Education and students undergrad who are scared to go to class because they're scared of debating with students and scared to defend their own beliefs that Israel as a state should exist."
For many, there is concern that an antisemitic attack could come at any moment. Oct. 26, William and Mary Police Department sent a message to the community saying that an object with a written message was thrown through the window of a campus building. While the message on the object has not been publicized, the email triggered existing fears among Jewish students. 
"That brick email we saw, like the instantaneous first response that me and the Jews alike got was, 'Oh, I hope it wasn't the Hillel building,'" Rubin said. "When they don't disclose the information and during this time of political upheaval, I look at this, I'm like, 'Shit, Hillel's got a brick in it.' So I was in North Carolina, I called my board, I'm like, 'What's going on? Is there a brick in our building or not?' And the fact that that fear is so ingrained into our existence day to day here is not ideal because we don't want to live perpetually day to day worried that something bad will happen."
For Palestinian and Muslim students, a historical lack of support from the administration makes it harder to report recent instances of discrimination or microaggressions. 
"People in minority communities don't feel as comfortable interacting with administration in predominantly white institutions," the second SJP member said. "So it's scarier for us to go and report and we're not sure if our reports are going to be taken as seriously. So it's a whole thing. There's so much anxiety behind this whole process of being seen by the campus and being seen by the administration."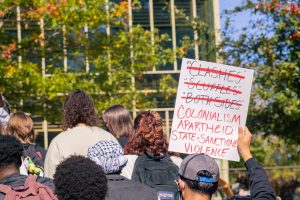 This student sees particular challenges in regard to institutional accommodations for the College's Muslim community.
"This is something that's been going on for a long time that we've talked to administration about before, but we feel like more needs to be done, especially for Muslim students," he said. "I mean, we don't even have a chaplain that's through the school. So it's very lackluster support for Muslim students who are extremely affected by what's going on in Palestine. They have a religious connection, their Muslim siblings are there."
With rising Islamaphobic and antisemitic violence across college campuses, community leaders have pointed to the importance of civil discourse in the face of disagreements. 
"Many students are expressing worry about the exact same things — fear of judgment, of assumptions, of being misunderstood, of being pressured to choose a side," Harris said. "In an educational community like ours, it's important for all of us to ask questions, to seek to understand, to debate, and to engage respectfully with one another. The answer to speech of all kinds is more speech. The answer to words is more words. The answer to hearing there is only one acceptable opinion is to ask questions and learn and listen in good faith."
Frogel expressed appreciation with how many at the College are open to dialogue. 
"I think that the onus is really on students from both groups to reach out, to have civilized conversations with one another about the issue," Frogel said. "And if we don't understand, that's fine. If we don't agree, that's fine."
Other student leaders have encouraged respectful interactions with those of opposing views but still think it's too soon to start conversations. 
"We're on two very different sides of this," the second SJP member said. "And at this point, with tensions so high and emotions so high, I don't think there's room right now for any dialogue or anything like that."
Wesley Campus Ministry minister Max Blalock and Christian Science campus minister Leslie Revilock co-wrote a prayer for both vigils. According to Blalock, solidarity is paramount in a time when there is so much mistrust. 
"We have to be able to work together and see each others' humanity and have empathy and compassion amidst our grief and pain," he said. "Because who knows how long this is gonna last."
CORRECTION (11/9/23): This article was updated by Sarah Devendorf, the Standards and Practices Editor to change "member of the college community" to "visitor to campus" in paragraph fourteen. Additionally, the Editor added "WMPD spoke immediately with that visitor to ensure safety for all" to explain the full context of the situation that took place during Family Weekend.
CORRECTION (11/12/23): This article was updated by Sarah Devendorf, the Standards and Practices Editor to remove the word "declined" from the phrase, "when asked to comment for this piece, Rowe declined and pointed to her most recent statement" to showcase that President Rowe did not explicitly decline to comment.