Saturday, Oct. 21, Matoaka Amphitheater boomed and bustled with the shaking and shuffling of four different student groups performing at the Black Student Organization's annual Stompfest. Part of a larger tradition of step shows across the nation, this event showcased the dancing traditions held by the Black fraternities and sororities at the College of William and Mary and surrounding schools.
"There's legacy there, and there's a lot of pride around these chapters, as these are historically Black, and there's a lot of history there in itself," BSO President Breyonna Rock '24 said. "Once we expand that to the Black community and then people who want to support the Black community, it just calls for a very phenomenal, high-energy event."
Given that COVID-19 was running amok when she first arrived at the College, Rock has been an active member of BSO since her sophomore year. She explained that Stompfest, which has been around at the College much longer than she has, fulfills BSO's mission to provide a welcoming community for Black students on campus.
"At William and Mary, we go to a predominately white institution, so it's very important that People of Color and in our case, Black students, have a community where they can come together, become friends and have fellowship opportunities because without it, I honestly wouldn't see as many Black students as I do," Rock said. "It's when we come into a space together when I see the most faces. It's just very important that we have this establishment to offer that."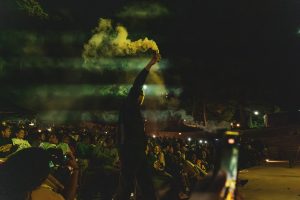 Ronaldo Lopez-Mendez '25 has been going to Stompfest ever since he first found out about it during his freshman year at the College. He echoed Rock by emphasizing the importance of self-expression for empowering historically underrepresented identities.
"I think this event shows that even though this is a PWI, people of color like me and like everyone else here, we are here to make a stand, and we're here to be loud, and we're here to make sure that we're known," Lopez-Mendez said. "It may be a PWI, but we're here to make sure that everyone knows about us and about our organizations here on campus."
Just like previous years, the 2023 Stompfest was held during Homecoming weekend, allowing alumni like Kellsey Carter '23 to flock back to friends and festivities alike.
"My favorite part about Stompfest is just seeing everyone so happy and just feeling so safe and being able to connect with one another," Carter said. "I think that that's an important part of the Black community — that we're really here for each other."
This year's Stompfest opened with a delivery of what Rock called the "Negro National Anthem" by the Ebony Expressions Gospel Choir and was followed by performances from Emerald Elite Stomp n' Shake and three groups representing Black Fraternity and Sorority Life, respectively. While Emerald Elite, which Rock identified as the first Black stomp and shake cheer team at the College, showcased the art of "stepping," the dancing genre referred to as "strolling" was demonstrated by the Fraternity and Sorority Life groups. According to Rock, strolling is a powerful mode of synchronized dancing specific to Divine Nine – the name given to the nine fraternities and sororities created by historically Black colleges – culture.
"A lot of chapters have their go-to song that, when it comes on, everyone knows they're about to stroll," Rock said. "Like, 'The AKA's are about to stroll. The Alphas are about to stroll.' I think it's so cool because there's something in their brain that clicks when they hear the rhythm of the song. They all get into formation."
First to take the stage following an opening by Emerald Elite was the Kappa Pi Chapter of Alpha Phi Alpha Fraternity, Incorporated, known colloquially as the Alphas. Their performance was highlighted by the eerily lit smoke and dark, masked attire that invoked its theme surrounding "The Purge." There were also coordinated dance routines sprinkled with the use of a whistle as well as the following chant: "Brr, it's cold in here, must be some alphas in the atmosphere."
Next was the Sigma Lambda chapter of Sigma Gamma Rho Sorority, Incorporated. Nicknamed "the SG-rohs" or "the poodles," this group stuck to a blue-and-yellow football theme. At one point in the performance, members whipped out their trademark canes to hoist one person into the air by the legs. There was also chanting, reminding the audience that it was the latest and greatest Black sorority to be created in the Divine Nine.
Afterwards, the Xi Theta chapter of Kappa Alpha Psi Fraternity, Incorporated closed out the show with a "Suicide Squad"-themed narrative. This performance featured seven different characters dressed in a variety of outfit types, including a doctor, a military officer and a cupid figure. Also called the Nupes, the performers had canes at their disposal as well, with a few of the canes even snapping in half from the force of being struck against the concrete.
Kenneth Jaylen Ferguson '25 is a member of the Nupes, who performed as a group at Stompfest for the first time in approximately a decade. The Nupes have a total of four members at the College, so the other three members on stage were from the other half of their combined chapter with Christopher Newport University. While Ferguson danced alone last year, the group decided to band together when they started practicing in August. He commented on how fulfilling the performance was.
"You see everyone enjoying the show, everyone going crazy telling you that you did such a good job and putting the name on the map and getting people interested in like, 'Oh, what are they going to do next,'" Ferguson said. "That's the beauty that brings to not only my face but, I'm pretty sure to other brothers as well. Especially being the oldest one here, it's good to see really see how far we've come, and we just want to keep going from there."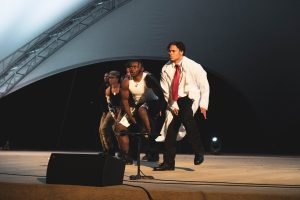 Ferguson further tied the performance his chapter put on to what it means to be a Nupe overall. He described that as a part of the Divine Nine, Kappa Alpha Psi strives to foster a spirit dedicated to success in everything from performing on stage to accomplishing a record of community service and professional excellence.
"Success to me is that we gave 110% in what we do," Ferguson said. "When we perform, we don't have to half-do anything. We are not known for that. We are Nupes, and alumni from other schools will tell us that all the time."
Looking forward, Ferguson shared that he plans to encourage his brothers to start practicing for Stompfest earlier on in the year. He reasoned that this would be an important component of delivering on this attitude of continual achievement.
"When we go on stage, we are going to come on the show, and I say that with full confidence," Ferguson said. "We will not disappoint the public. We're not doing it anytime soon. Next time you all will see us, we hope to give you that same energy that we did last time because we expect nothing less."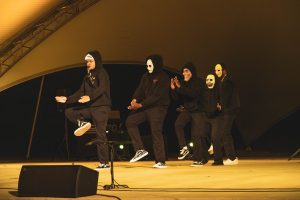 During the halfway intermission, Stompfest goers were given the chance to dance along to DJ-dropped tunes and browse a variety of merchants tabling their goods. These small businesses included Nykalu for custom-made earrings by Anaya Diggs '26, a mobile bakery called Parties Galore Cakes and More by Williamsburg local Teirra Caines, Kherkylia's Accessories by Nana Awuah '24 and Fyah Fragrances by Fyah Bryant. Rock expressed that she was excited to see evolution in Stompfest's programming through the transition from Commonwealth to Lake Matoaka, with not only a continuation of vendors from last year, but also the augmentation of the audio and visual entertainment experience this year.
"I feel like Stompfest was a success this year in a sense where we want to expand it every year," Rock said. "Especially last year, it being at Matoaka, having vendors, that was a next step. This year, it was like, 'Okay, we have vendors, it's at Matoaka. Let's add a DJ, let's add cool lights and a projector.' I mean, not every year something new has to be added, but it's just kind of expanding in a very beautiful way."
Another element of progress that marked this year's Stompfest was the addition of free refreshments. The $10 pre-sale price for the tickets included a complementary cup of hot chocolate, which one could customize as either milk-based or dairy-free with the option to have marshmallows on top. Rock said this was made possible thanks to a donation from the College's 1693 catering service, which she says was amazing.
She also pointed out that the event was improved by the earlier launch of ticket pre-sales, as well as the more persistent promotion through an A-frame in front of Sadler, the chalkboard sign in front of Hardy Hall and social media all around.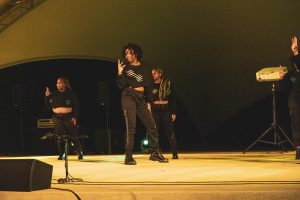 While BSO originally did plan to offer Stompfest stickers at the event, Rock noted that the shipment of the stickers had unfortunately been delayed, which was one obstacle the organization faced when preparing for the event. However, she expressed her overall pride for the resulting show that still went on successfully.
"Along the way, there's hiccups," Rock said. "It's just inevitable, but it's nice to go through those hiccups and then end somewhere else and then work your way past them and then produce a good show."
As for the impact that Stompfest has going forward, Lopez-Mendez expressed that he always leaves the venue feeling positively impacted by the experience. He encouraged fellow people of color to attend the event in the future, given all it has had to offer thus far.
"I think attending this event always gets me hyped," Lopez-Mendez said. "As a POC, it makes me realize that it's a Stompfest. We're here to make noise. We're here to celebrate our culture and our differences. Every time I walk out of the event, I'm like, 'Oh, yeah, like we're taking over.' It's a PWI, but we're the majority here."