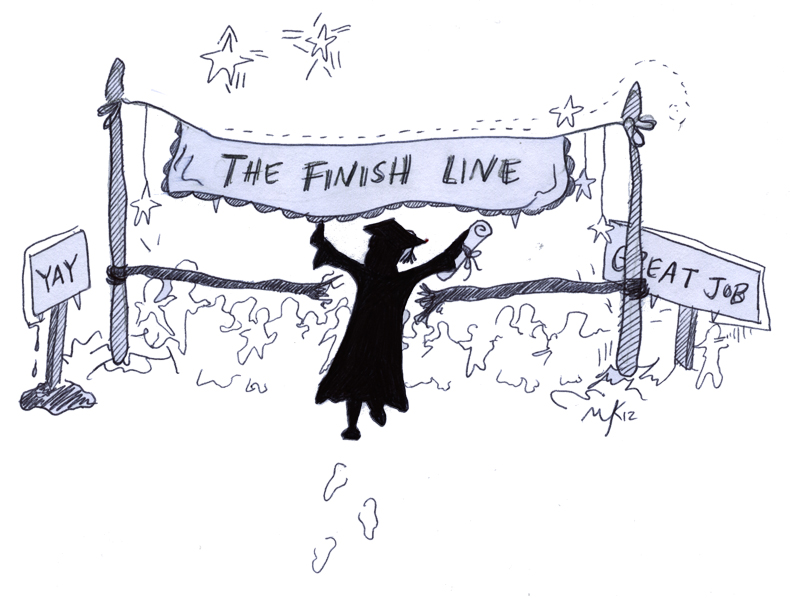 The bell of the Sir Christopher Wren Building clangs repeatedly, signifying the triumphant completion of classes for a group of seniors at the College of William and Mary. On the eve of graduation, the senior class congregates in the Wren Yard for the ceremonial candle lighting. While listening to esteemed faculty and peers, seniors experience their final, sacred moments together. Graduation morning, friends from freshman halls reminisce as they complete the symbolic circle that began four years earlier at Convocation by walking through the Wren building on their way to graduate at William and Mary Hall.
As the second oldest college in the United States, the College has developed a significant number of traditions that occur at the end of students's fourth year. When life goals change, budgets grow tighter, or students fulfill major credits quickly, however, some students at the College find themselves walking with older peers through the Wren buildling one May in advance, or saying farewell to the Crim Dell just as College President Taylor Reveley retrieves his Santa Claus suit from storage.
"I have a couple of friends who are seniors, which makes it a lot better, but that was one of my big cons [in graduating early] because graduating at William and Mary is such a big tradition," Montana Young '12 said.
Young will graduate in May, one year ahead of her social class. Although she came to the College with 28 credits as a freshman, she cites economics as the primary reason she is choosing to graduate in three years.
"I've had to take out loans and my sister is in college now too, so the fact that I could get out in three years and save myself $45,000 was a big factor in deciding," Young said.
Grace Mendenhall '13 also initially considered graduating early in order to save her family from spending money. Receiving additional financial aid alleviated the dire necessity to finish school as fast as possible, however, and Mendenhall reconsidered her decision.
"It's kind of scary to go off into the real world, so I think as it was getting closer and closer, I started getting more and more nervous and thought three years was not enough time to really figure out what I wanted to do and to prepare myself for the future," Mendenhall said.
Graduating a semester early in December, Delaney Janson '12 also cited finances as the most important contribution to her decision to expedite her college experience. A neuroscience major, Janson hopes to pursue a medical internship or service work in the spring before applying to medical school.
"Because I'm out of state, it's $20,000 a semester for me to be here, so if I can save that and have extra time before medical school — just a few extra months — that would be nice," Janson said.
In addition to saving funds, Janson looks forward to the extra time as an intermission before her next educational pursuit.
"Medical school is going to be another four years and just another big process, so I think having that time will be really helpful to refocus and figure out what's important," Janson said.
Both Young and Janson have plans to remain in the Williamsburg area through the May graduation of their original social class. Janson looks forward to being able to participate in the senior spring semester events and to walk with her class at graduation.
"If I leave Williamsburg, I'll feel like I'm missing out," Janson said.
Young's plans for next year include utilizing her history major by working in Colonial Williamsburg. She explains that staying in Williamsburg while her friends complete their senior year should ease the transition and sadness often connected with an earlier graduation of a friend and classmate.
"Since I've been able to manage it so that I'll be here next year, now [my friends and I] just make a joke about it like I'm going to be their mom applauding them at graduation — and they'll do the same for me," Young said.
Although Young will be in the Williamsburg area next year, she laments the missed opportunities assocaited with having only three years as a student at the college.
"One thing I really am sad about is that I didn't have the opportunity to write a thesis, so I do feel like I'm missing out a little bit, but I look at it as having different opportunities other than what I would experience in the traditional four years," Young said.
Rachel Hicks '13, who is considering either leaving for a year and a half or graduating early to go on a mission for her church, notes the importance of looking beyond the textbooks while in college.
"I think we all value our education in all areas of our lives, and we realize that this is our time to grow—not just academically. For me, graduating early would be a way of progressing my education into other areas—it's not an end," Hicks said.