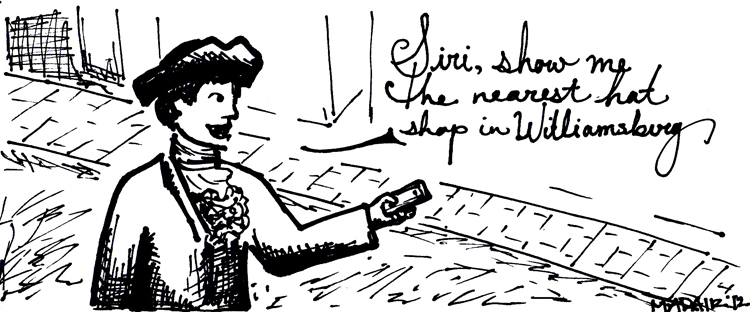 Every weekend students at the College of William and Mary are faced with the sad realization that Williamsburg nightlife seems stuck in 1693. After-hours entertainment for students at the College means drudging to the units, standing in line to get into the same three delis or heading to an AMP event. This lack of opportunities leaves students frustrated and constantly wondering: Isn't there anything else?
A new program, MeNetwork, created by the College strives to make students aware that there are other off-campus options. The application will send discounts and flyers to students via text messages and emails. Participating Williamsburg businesses will have better access to students for advertising, and students will have more information about discounts and events happening in Williamsburg. It's a win-win situation for both businesses and students.
We're excited about this plan because it gives students a chance to get off campus and save money. It is important to note that the College is spearheading this partnership between students and businesses. In attempting to get students on board with this program, the College sees this plan as a way to create better town-gown relations and to get students more involved with the Williamsburg community. Currently, residents seem to believe that students don't contribute anything more than noise violations to the city. This program encourages students to spend money off campus, generating more revenue for both local businesses and the city itself. The College must be commended for trying to help students utilize the resources available to them in the city and perhaps to overturn some of the negative feelings that Williamsburg lacks any sort of social scene.
While this program is an effort by the College to bridge the gap between the city and the students, it is not a very large step. The major drawback to this deal is that the only businesses currently involved in the messaging system are the ones that accept William and Mary Express. While we understand that the College needs to protect and promote the businesses with whom it already has partnerships, the current choices are just too limited. Even though there is a significant list of businesses that accept Express, students seem to use Express primarily at Wawa. Students are not taking advantage of discounts at other Express-accepting locations, and Express is not what draws students to off-campus businesses. Students are enticed by good deals. By only helping these select few locations, the program is taking a huge bite out of students' off-campus-options.
By taking this first step, the College is moving toward improving the options students have available to them, while simultaneously opening a new dialogue between Williamsburg and the College. As students on tight budgets, we're always enthusiastic when the College offers us new ways to save some money — we just want to see more. In order to build a better relationship between the city and the College, the College needs to open this opportunity to more businesses.
Until then, we hope that students take advantage of all of the deals this new program offers to find new haunts in Williamsburg. Maybe they'll find that Williamsburg is more than an extensive retirement community with people dressed in colonial garb.