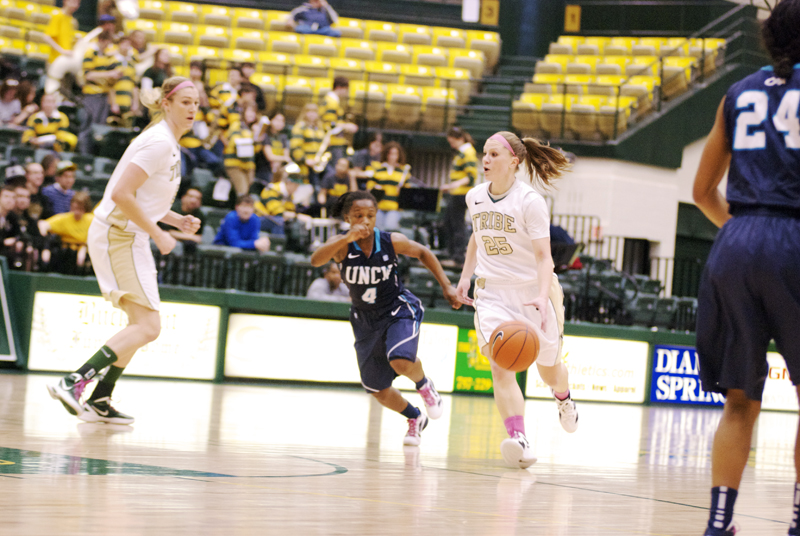 As the clock approached zero in the first half, UNC-Wilmington forward Karneshia Garrett received a pass from guard Alisha Andrews at the top of the three-point arc, drained the shot, and gave the Seahawks a three-point advantage over William and Mary at the half.
Although the two squads would return to the floor for 20 more minutes of basketball, Garrett's shot was indicative of the game as UNC-W nailed 11 three-pointers to sink the College in Williamsburg Sunday, 78-71.
"We made too many mistakes, we had too many lapses, and we let them make too many threes on our home floor — that's really what hurt us today," senior guard Taysha Pye said. "They had over 30 points in transition, and it was all off of our mistakes."
The loss, which drops the Tribe to 10-16 overall and 3-12 in league play, fit the mold of the College's other recent conference losses. With the exception of last Thursday's 66-63 victory over Virginia Commonwealth, the College has been competitive in the CAA, but defensive lapses have prevented the squad from a number of victories.
"I just think defensively we can't let people score 78 points — they shot 47 percent from the floor, and we are putting points on the board, which we have done all year, but they made 11 threes," head coach Debbie Taylor said. "This team can shoot the ball really well, but we made a lot of defensive mistakes, and in an important stretch in the first second half, around the eight minute mark, when there was a tie game, we turned the ball over. They got some easy transition looks on us tonight. … You just can't do that and expect to win."
The game began with both offenses firing on all cylinders, and it appeared to have all the makings of a close contest. The first half, which was carried out in breakneck speed, featured 13 lead changes and seven ties. Neither team led by more than six, and Garrett's three gave UNC-W a slim but unconvincing 38-35 advantage.
After play resumed, the two squads continued to trade baskets until midway through the second period, when a series of Tribe turnovers coupled with UNC-W baskets gave the visitors a lead they would never relinquish.
"At the eight minute media timeout, it was neck-and-neck at that point, and we just gave up three shots in a row, and we turned the ball over, gave them two layups, and that gave them a seven-point cushion that they maintained the rest of the way," Taylor said. "We fought back, and we cut it some, but we just had silly turnovers — they were unnecessary. They weren't forcing us into turnovers; we were doing it ourselves."
Turnovers were only a part of the College's less-than-inspiring offensive performance. While the Tribe watched the Seahawks hit 11 three-pointers, UNC-W managed to silence the College's leading scorer, junior forward Janine Aldridge, who managed seven points on just five attempts from the floor.
"Janine is the kid that no one is going to let shoot or touch the ball," Taylor said. "We have to set more screens for Janine and get her open. But to Janine's credit, she is starting to create shots off the dribble, which is really nice to see."
Without Aldridge's steady hand, the College managed just four three-pointers. Overall, the Tribe shot 39.4 percent from the field and was led by junior center Jaclyn McKenna's 18 points and Pye's 15. Despite McKenna and Pye's contributions, the College was also aided by junior forward Taylor Hilton's 12 points and five rebounds.
Hilton, who has been hobbled by a knee injury, provided a spark off the bench, converting 6 of her 7 shots in 20 minutes of action.
"Taylor's feeling a lot better. She's been struggling all year with her knee, but she just got her final cortisone shot. I think in the last two games you have seen vintage Taylor Hilton. She's exciting right now because she is a little extra punch for us."
Overall, the College must rebound quickly before its final three conference games prior to the CAA Tournament. In order for the Tribe to amass momentum heading into the tournament, the squad must begin to pair its offensive efficiency with defensive effort.
"I thought we worked hard, and Coach [Taylor] mentioned that she thought we played with a lot of energy today, and I think that's true, but we definitely need to finish and that has been the story all season long for us," Hilton said.