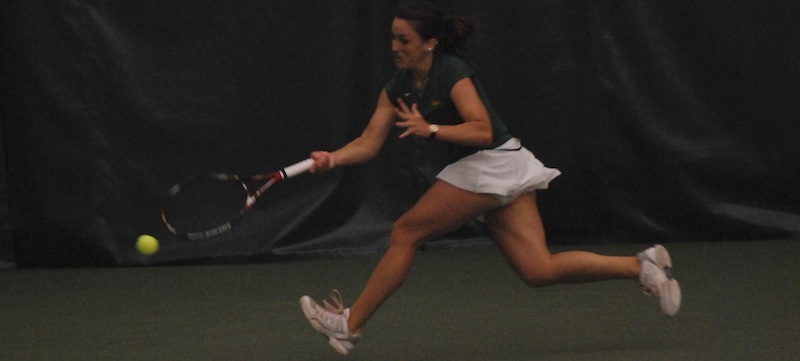 In a showdown that would have made both John Harvard and Queen Mary proud, the two oldest colleges in the nation faced off in the sport of kings Saturday, as Harvard dealt William and Mary a 5-2 setback at the McCormack-Nagelsen Tennis Center.
The loss — the Tribe's seventh in its last eight matches — dropped the College to 4-13 since the spring season started with the ITA Kickoff Weekend Jan. 27. (More after the slideshow)
At the start, things looked good for the Tribe. The match opened with the No. 39 doubles pair in the nation, sophomores Maria Belaya and Jeltje Loomans, knocking off the No. 33 duo in the nation, Harvard's Kristin Norton and Hideko Tachibana, 8-3. Belaya and Loomans, who started off by taking the first four games of the match before holding off a late run from Norton and Tachibana, have now won 12 straight matches at the No. 1 position.
Despite the performance of Loomans and Belaya, however, the Crimson grabbed the doubles point. Shortly after the No. 1 matchup, Harvard ran away with the No. 3 competition, as Samantha Gridley and Camille Jania downed the Tribe's pairing of juniors Anik Cepeda and Marlen Mesgarzadeh, 8-1. With the doubles point at stake in the No. 2 matchup, Crimson barely edged out the College as senior Katie Kargl and sophomore Hope Johnson fell to Harvard's Hannah Morrill and Kelly Whelanm 8-6.
"After winning the first match we were disappointed we didn't get the doubles point," head coach Meredith Geiger-Walton said. "We didn't have every position on board."
With the 1-0 lead secured, the Crimson maintained its momentum through the singles play, putting separation between itself and the College with two early singles wins.
Tachibana dropped Belaya in straight sets at the No. 1 spot, 6-3, 6-1 before Gridley easily dispatched of Johnson, 6-2, 6-1 in the No. 5 slot.
Loomans stopped the College bleeding at the No. 2 spot, easily taking care of business against Norton, scoring a 6-2, 6-3, victory. But that wouldn't be enough to turn the tides, as Harvard locked things up when Janie defeated junior Nina Vulovich in the No. 3 slot, 6-1, 6-3.
Even with the overall result decided, the Tribe continued to fight. Cepeda took her No. 4 spot match with Natalie Blosser to three sets, ultimately falling to the Harvard counterpart 3-6, 6-3, 10-4.
Finally, the Tribe scored a moral victory in the final singles match of the day when senior Katie Kargl gutted out a win over Sylvia Li in the No. 6 matchup, 2-6, 7-5, 10-5.
"We call her Rocky for a reason," Geiger-Walton said. "She just has such a great will to win. She can get into that Rocky mode and just start throwing punches."