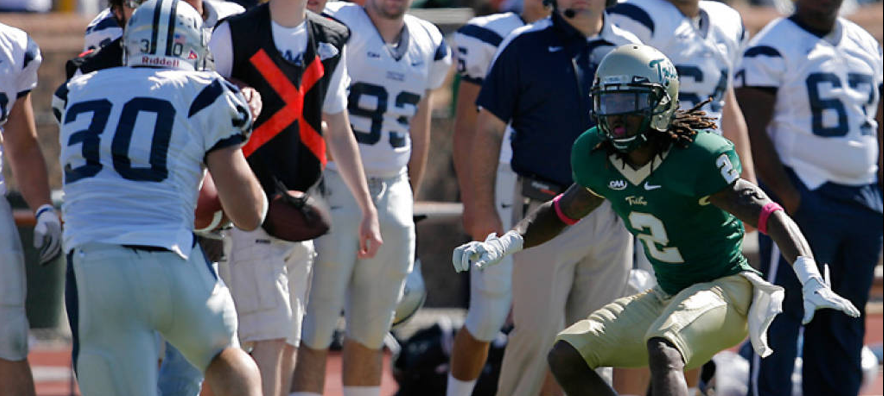 As a football player, there are few experiences worse than watching the playoffs from your couch. After two wildly successful campaigns in 2009 and 2010,  William and Mary fell on hard times last season, missing the playoffs for the first time in three seasons.
Needless to say, last year's disappointment still stings, especially among members of the Tribe defense. But senior linebacker Jabrel Mines and cornerback Brian Thompson — the team's two captains — are using the letdown of 2011 as motivation for this season.
"Last year we were picked to be really good and we didn't play that well," Thompson said. "This year, people are expecting us to do bad, and we are just using that as motivation and we want to shock a lot of people this year."
While the squad's overall record of 5-6 wasn't pretty, the defense played well by all accounts and is expected to be the team's strength this season.
Defensive coordinator Scott Boone's unit finished third in total defense in the Colonial Athletic Association last season and returns a number of talented and experienced players this season who are seeking to improve upon last season's performance. In particular, the squad hopes to improve its run stopping and third down defense.
"Last year, the area we did struggle a lot in was stopping the run," Mines said. "Every time we line up we are looking to stop the run, stop the pass. We are looking to stop them on first and second down and get them in third and long so we can break out our different blitzes."
In order to be a better run stopping team, the College must rely heavily on its defensive line. With two projected starters recovering from injuries, the College's defensive line features a talented group that could have an impressive season if it can stay healthy.
Junior Bryan Stinnie will reprise his starting role at defensive end after missing the final seven games last season due to injury. Before going inactive, Stinnie played in four games at the beginning of last season and recorded eight tackles and a forced fumble. Following an impressive 2011, junior George Beerhalter returns at defensive tackle and hopes to eclipse his breakout season from a year ago. Beerhalter notched 35 tackles and 3.5 tackles for loss last season, and despite being hobbled by injury in the spring, is ready to begin another successful season.
"I think if that group is healthy, they have a chance to be really good," Boone said. "The key to being really good upfront is to be deep. If George is healthy, if Brian Stinnie is healthy, that allows us to get that nice rotation going, and the more guys you can play upfront, the better off you are going to be in the long run."
During preseason, the Tribe's linebacking corps looked to be one of the strongest, most experienced defensive units in the conference. Last week, however, the College was dealt a sizeable blow when it learned that All-CAA selection senior Dante Cook would be inactive for the first few contests due to an injury sustained in practice. Without Cook, the College will feature Mines, sophomore Ariek Green and freshman Luke Rhodes at the three linebacker posts.
Despite his fellow linebackers' lack of experience, Mines is confident that the three will mesh together and form a formidable group.
"With Dante going out, that's kind of a huge loss for us from the vocal leadership standpoint of being one of our most experienced players," Mines said. "Luke Rhodes is really capable of the job, the only difference between him and Dante is experience. … Airek Green played his freshman year and we are excited to have him back. He's a very athletic kid, and explosive. … We have some depth at linebacker, but when Dante is ready to come back, we will be ready to have him come back."
The College enters the 2012 season with a pair of all conference performers in the defensive backfield and an abundance of up-and-comers. Thompson, a three year starter, has become one of the most accomplished members of the Tribe defense, earning second team preseason All-CAA honors this season. Last season, Thompson split time at linebacker and strong safety, recording five tackles for loss, a forced fumble and an interception.
After assuming the starting free safety position midway through last season, junior Jerome Couplin III will continue in that role again this season. With Thomspon and Couplin manning the safety positions, the Tribe will turn to a pair of athletic defensive backs at the cornerback position.
Senior B.W. Webb, one of the most heralded players on the active roster, returns for his fourth and final season at cornerback. Webb earned first team All-CAA honors last season after notching 40 tackles and two interceptions while earning the reputation of a shutdown corner. The other starting corner gig will belong to redshirt freshman DeAndre Houston-Carson, an athletic young corner who did not log any playing time last season but has impressed coaches.
"I think the quality of our two-deep in the secondary allows us to do a lot of things," Boone said. "Obviously, B.W. is a great player and an All-American candidate, he's the corner everyone wants to have on their team so they can shut everyone down. Our safety position is really deep. We have four, five guys that are sharing reps, and the more you can have confidence in playing people, the better you can be in the long run."
With a deep roster full of talent, the key for the Tribe will be how quickly its defense meshes together. As such, the Tribe hopes that its leaders can help its more inexperienced players play at a high level, which will elevate the whole defense.
"I've been a part of some great defenses here," Mines said. "I've been able to play with some guys that have moved on to the next level. So I am excited because it is now my turn, along with Brian Thompson, to be the leadership of this defense. I've been under some great leadership, so its my turn and I want to follow those guys, and I want to be able to look back and I know that I gave it all and that this defense gave it all."
POSITION PREVIEWS
DEFENSIVE LINE: 
With two projected starters recovering from injuries, the College's defensive line features a talented group that could have an impressive season if it can stay healthy. Junior Bryan Stinnie is fully recovered from an injury that sidelined him for the final seven games last season. Stinnie will return this season and start at defensive end. Sophomore Stephen Sinnott played well last season as a redshirt freshman, and has earned the other defensive end job. Sinnott appeared in all of the Tribe's games last season, notching 26 tackles and two forced fumbles. Junior George Beerhalter will return at defensive tackle after recovering from an injury in the spring and hopes to continue to build on his last season's successes. After contributing on a reserve basis last season, senior Nick Zaremba will step in to the other starting defensive tackle position. Sophomore Mike Reilly saw an ample amount of action last season and will be an integral part of the rotation at defensive end.
LINEBACKERS:
The College suffered a major loss two weeks ago when senior linebacker Dante Cook went down with a knee injury. In his absence, redshirt freshman Luke Rhodes will step in at middle linebacker. Rhodes, who has seen no game action, will be joined by a pair of more experienced teammates who will occupy the other linebacker positions. Senior co-captain Jabrel Mines will anchor the group at outside linebacker. Mines will be joined by sophomore Airek Green. Although Green missed the entire 2011 season, Tribe defensive coaches have been impressed with his effort in spring and summer camps and look for him to have a big year.
SPECIAL TEAMS: 
Junior Drake Kuhn will pull double duty again this season, as he will handle kicking and punting responsibilities for the second straight season. Last season, Kuhn converted on 10 of his 14 field goal attempts with a long of 45 yards and his career conversion percentage sits at 71.9 percent. Additionally, Kuhn also performed well at punter, launching 43 punts for an average of 39.8 yards. Kick returning duties will be split between the College's top two tailbacks, sophomore Keith McBride and senior Meltoya Jones will both see time at kick returner. Senior B.W. Webb, who earned All-CAA honors at punt returner in 2009 and 2010, will continue to field punts for the College again this season.
DEFENSIVE BACKS: 
The College's stable of defensive backs is another position group to watch this season. The Tribe is led in the defensive backfield by senior co-captain Brian Thompson at strong safety. Thompson returns to his natural strong safety position after seeing time at linebacker last season. Thompson will be joined by junior Jerome Couplin III, who will hold the starting free safety spot. With Thomspon and Couplin manning the safety positions, the Tribe will turn to a pair of athletic defensive backs at the cornerback position. Senior B.W. Webb, the College's most decorated returning player, will start at cornerback. Webb, a four year starter, will be mentoring an up and coming cornerback on the other side in redshirt freshman DeAndre Houston-Carson. Houston-Carson will see his first collegiate action Saturday at Maryland. As such, three out of the four starters in the defensive backfield come into the season with ample experience, making the defensive backs one of the College's most dangerous groups.