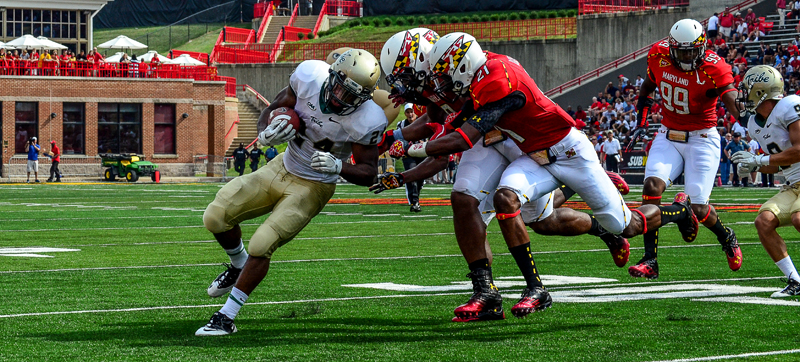 It was the final play of the third quarter during William and Mary's season-opener at Maryland Saturday.
Nursing a 6-0 lead, the Tribe faced third down from the Terrapins' 33-yard line as sophomore quarterback Raphael Ortiz surveyed the defense from the shotgun. The snap came and Ortiz rushed forward, gaining two yards on a designed-run play.
Unfortunately for the College, though, this wasn't a short-yardage situation. It was third and nine, and on the next play — the first of the fourth quarter — junior kicker Drake Kuhn missed a 48-yard attempt, setting the Maryland offense up on its own 31. The Terrapins proceeded to go on a 10-play, 69-yard drive capped by a Justus Pickett touchdown run that gave Maryland a 7-6 advantagethat lasted until the game's end.
It's unclear whether head coach Jimmye Laycock thought Ortiz would be able to pick up the nine yards on the ground or that just a few yards would put the ball within Kuhn's range (his career long is 45 yards), but the play call was one of many that were simply too conservative to get the job done and give the defense any kind of cushion.
Yes, Laycock was relying on his backup quarterback — possibly even his third string if junior Michael Graham were completely healthy — to go up against an ACC defense in the first significant action of his college career. Yes, the Tribe's defense was playing heroic football against a very flawed Maryland offense. But it felt from the pressbox at times, especially in the middle of the third quarter, that Laycock decided that if his offense didn't turn the ball over and left the Terrapins with poor field position, the defense could hold them to under six points. It wasn't the kind of outside-the-box, play-to-win mentality you want to see from a team looking to pull off an upset in a game that means nothing in terms of playoff berths and conference standings.
Aside from that, the Tribe's reliance on the running game had proven to be ineffective through three quarters. Up until Maryland scored (essentially forcing Laycock to open things up), the College had passed just 15 times and had run 36 times for an average of 2.75 yards per carry. It was clear all day that the Tribe's offensive line was overmatched by the Terrapins' defensive front.
Laycock should have taken inspiration from the way his defense was playing. Coordinator Scott Boone's unit was aggressive, constantly bringing pressure that rattled Maryland's true freshman quarterback. Of course, there were times when it backfired and the Tribe was caught overpursuing on misdirection plays. But when all was said and done, the College had held Maryland's offense to just seven points and 236 yards while forcing four turnovers.
For the offense, the Tribe's conservatism simply didn't work. The College's only scores came off interceptions that set the offense up at Maryland's 34 and 9 yard lines, and 229 yards of total offense is unacceptable for a team with playoff aspirations.
For his part, Ortiz performed admirably, going seven of 16 for 100 yards and showing flashes of what made him a real contender for the starting job. Of course, he has plenty to work on. He showed a tendency to rely on his legs — fleeing the pocket even if his protection was solid — rather than throwing decisively to a receiver, and his accuracy on the run appeared to be an issue. But after the game it was clear that the sophomore had been humbled. He sat and spoke softly of being disappointed in how he and his offensive teammates played, and how the defense deserved better.
Laycock, on the other hand, seemed unaffected, like everyone had done alright and things just hadn't gone their way. In reality, he — like Ortiz — could have been better, and he — perhaps unlike Ortiz — should have been better. He didn't owe it to the media or the fans to open it up and play more aggressively for a touchdown, he owed it to the guys who had to take the field every time his third down call failed. Those are the guys who deserved — and played well enough — to head back south, winners of an upset they'd never forget.