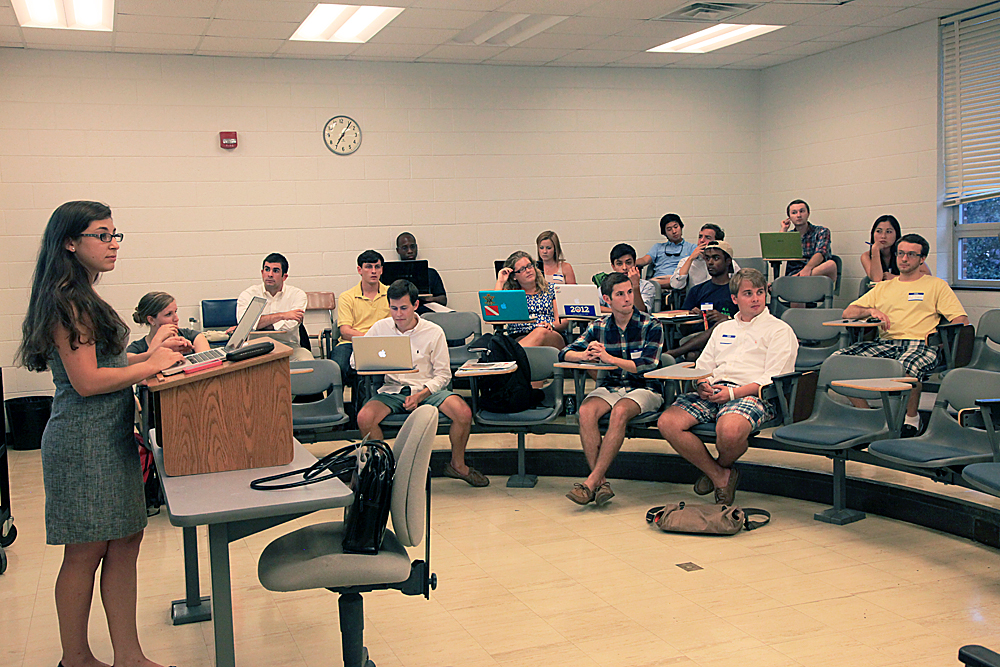 Competition for Student Assembly positions began today when campaigns kicked off at 12:01 a.m.
Election Day is scheduled for September 27 and all social classes will hold elections.
For the class of 2013, Naid Allassan '13 is running unopposed for secretary and Austin May '13 is also unopposed for treasurer.
The class of 2014 has four people vying for the Vice President of Social Affairs position. Charles Richard Lampkins '14, Neal Friedman '14, Sally Schoenfeld '14 and Jyness Williams '14 are all in the running. Alexis Caris '14 is running unopposed for secretary.
The class of 2015 also has a packed race for Vice President of Social Affairs. Cassidy Fazio '15, Christopher Johnson '15, Katherine Marie Ault '15, Leo Del Rio '15 and Joseph Molina '15 are all competing for the position. Kameron Melton '15 is unopposed for the position of secretary.
The class of 2016 is looking to fill all positions for the SA Undergraduate Council.
For class President, Nick Hoffman '16, Daniel Park '16, Daniel Sutherland '16, Tyler Willson '16, Emily Nye '16,  John Christoph '16, Weston Coward '16, Ethan Teicher '16, Ace Goldstein '16 and Lindsey Rae Guthrie '16 are all vying for the position.
Daniel Rice '16, Princess Johnson '16, Patrick McLaren '16, Jake Fansler '16 and Torey Beth Jackson '16 are all running for Vice President of Advocacy.
Five people are competing for Vice President of Social Affairs. Boyue Xuan '16, Mikaela Spruill '16, Yousif Al-Amin '16, Joanna Odenthal '16 and Owen Howe '16 are vying for the spot.
Quetzabel Benavides '16 and Blake Martin '16 are running for secretary.
For treasurer, Shupeng Cao '16, Rachel Johnson '16, Peibo An '16, Erik Berg '16, Darrian Hobbs-Rasberry '16 and Kiara Earle '16 are in the running.
The freshman class is looking to fill four seats in the SA senate. Vying for those four spots are Sam Glover '16, Yohance Whitaker '16, Lauren McIlvaine '16, Brad Riehle '16, Adam Nowicki '16, Chantelle Tait '16, Raymond Schein '16, Mailise Johnson '16, Asaad Lewis '16, Connor McAlevy '16, Thomas Northrup '16 and Daniel Ackerman '16.