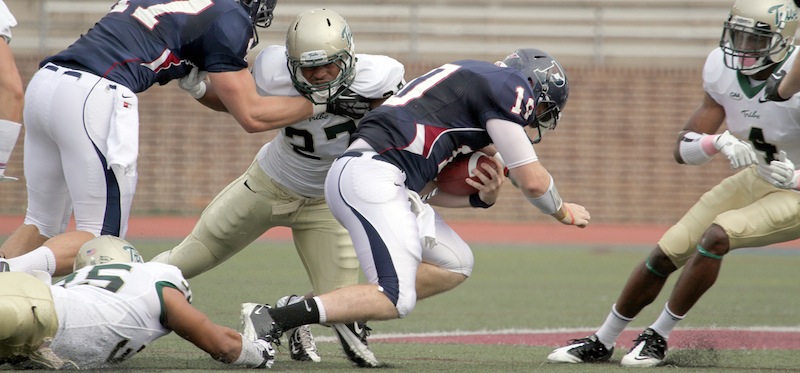 After 59 minutes, 55 seconds of football at Franklin Field in Philadelphia and a series of massive momentum shifts, Penn quarterback Billy Ragone stood at the William and Mary 29-yard line. It was fourth down and 15, five seconds left in the game, Penn was down a touchdown and needed a score to tie the game. This was it.
After letting the Quakers climb back into the contest by scoring 21 second half points, the College defense stood firm on the final play. Senior cornerback B.W. Webb batted down Ragone's end zone pass as time expired, sealing a hard-fought 34-28 victory Saturday.
The College (2-4, 1-2 CAA), winless two weeks ago, recorded its second straight victory in as many weeks, providing a sense of hope for what has been a trying season.
"I'm very pleased we came up here with a win. It's always tough to get a win on the road. … I wish we could have played a little better in the second half," head coach Jimmye Laycock said.
While the defense struggled in the second half, the offense faced challenges of its own in the first half. Junior quarterback Brent Caprio — starting in place of sophomore quarterback Raphael Ortiz, who suffered a concussion in last weekend's contest against Georgia State — showed a bit of rust in the first few possessions.
"[I was] a little shaky from the start, trying to get my legs back under me and get back into the game," Caprio said. "But I thought I got it together in the second half and we started to move the ball offensively. We were able to do some things and got a little bit more comfortable in the second half."
Caprio, who started his first game since the season opener against Maryland, recovered nicely to finish the contest with 220 yards and two touchdowns on a 18 for 28 effort.
The quarterback signaled his reemergence in the latter stages of the second quarter. The College, nursing a 10-7 lead, set up shop on the Penn 22 with 34 seconds to go in the half after senior linebacker Jabrel Mines forced and recovered a Penn fumble. The Tribe was determined not to squander the opportunity and on third down, Caprio spotted sophomore wide receiver Tre McBride in the end zone.
Caprio unleashed a jump ball, and the sophomore went up and collected it, giving the Tribe a 24-7 halftime lead.
"He was matched up one-on-one with the D back and I just gave him a chance in the corner of the end zone," Caprio said. "He went up and made a great play."
McBride continued to be an impact player on offense as the sophomore led the Tribe with seven receptions for 128 yards and a touchdown. McBride was forced to become the team's go-to offensive player after redshirt sophomore running back Keith McBride went down in the second quarter with a head injury.
Prior to that point, Keith McBride had been punishing the Penn defense, rushing for 100 yards and a touchdown on 17 carries in little over one and a half quarters of play. With Keith McBride sidelined, Tre McBride felt the onus shift to him.
"Keith is a major part of our offense, so when he went down … I tried to do my best to step it up as much as I could to make it up for that loss," McBride said.
Senior tailback Darnell Laws also picked up the slack in McBride's absence. Laws notched 57 yards and a touchdown on 14 carries. The College offense managed to score 10 points in the second half and relied on the strength of its 24 first-half points the rest of the way.
Defensively, the Tribe played well in the first half, forcing a crucial fumble late in the second half that set up the Caprio-McBride touchdown just before halftime. Mines and redshirt freshman cornerback DeAndre Houston-Carson led the College with nine tackles apiece.
The Tribe defense slackened a bit in the second half, allowing Penn to come roaring back from a 21-7 halftime deficit. All in all, with Webb's final play in the end zone, the College defense made just enough plays to walk away with a victory.
"In the first half, we played pretty well. We got some turnovers and took advantage of it," Laycock said. "Especially defensively, I don't think we played nearly as well as we needed to in the second half, but we came out with a win and made plays when we needed to, so we feel good about that."
The College will face a tough test next weekend when it visits longtime rival No. 5 James Madison in Harrisonburg, Va.