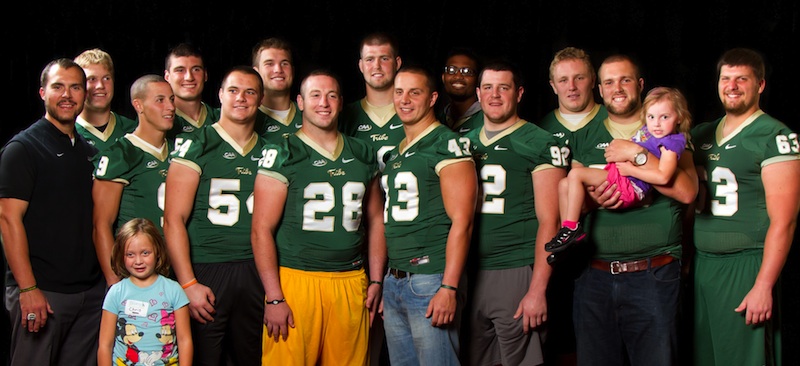 Soosan Hall stood at the front desk of the Williamsburg Regional Library, two "Dora the Explorer" books in hand. Her four-year-old daughter Jesse Hall played beneath the railing separating the checkout counter from other waiting customers. She had a bandage on her right hand, but it didn't stop her from grabbing the railing and swinging idly beneath it, watching her mother exchange casual greetings with the librarian.
The two look, in most respects, perfectly normal. Only one thing could have caused onlookers to pause — Soosan's shaved head. Though not necessarily an uncommon characteristic, her shaved head could easily be associated with a word that has become all too familiar in Soosan and Jesse's lives: cancer.
They walked out of the library and headed toward the fountain across the street.
Jesse ran ahead. "Mommy, I want to play in the fountain."
Soosan said she could play around it, but not go in. "You can't get your tubies wet."
The bandage on Jessie's hand concealed a series of tubes that had been used earlier in the day to inject five milliliters of radioactive isotope into her arm. These isotopes were used to light up the tumor in her left side. They were left in her arm so that when she and Soosan woke at 5 a.m. the next day to return to the nephrologist, the doctors would not have to stick her again.
Two years ago, Jesse Hall was diagnosed with Stage Three High Risk Neuroblastoma, a cancer that affects children under six years old. If it develops before the child is 12 months old, the body may be able to fight it on its own. Jesse, though, was two when the cancer revealed itself.
Matt Crisafi, a redshirt junior offensive lineman on the William and Mary football team, heard about Soosan and Jesse from a mutual friend.
"I work at Two Rivers Country Club, at the golf course, and one of my colleagues at work, Denise [Kelley], had mentioned that she knows the family really well," Crisafi said.
Soosan reached out to the Tribe football team with the help of Heather Harmon, an organizer for St. Baldrick's Foundation, a childhood cancer charity based in California. The two met through a previous fundraiser that St. Baldrick's held to help raise money for Jesse's medical expenses.
Harmon and Soosan organized a head-shaving fundraiser Sept. 20 at the Colonial Heritage Club. Hoping to make it a community event, they invited the Tribe football team.
"Heather put out a challenge for them because [William and Mary] had the perfect colors," Soosan said. "Gold is the color for childhood cancer and green is St. Baldrick's."
After hearing about the event again through Harmon's challenge, Crisafi began asking his teammates if they would be interested in attending and shaving their heads for Jesse.
Every player Crisafi spoke to wanted to participate.
With the fear that bringing 100 football players to the event might be too much, Crisafi was able to get twenty players to attend and shave their heads.
"It was something that we all wanted to do and makes us feel good," Crisafi said. "It's nice that we play football and do all this stuff, and people may or may not look up to us, but when we can go out in the community and actually see someone just look at you and smile, just because you're something bigger than what you really are, it's cool."
The football team's participation in the head shaving event was a surprise to Jesse, and Crisafi said she lit up when the players arrived.
"She was obviously kind of overwhelmed that there were so many people there," Crisafi said. "But it was nice, and she was easy to talk to and had a big smile. Just us being there cheered her up."
Crisafi was surprised by the reaction to the fundraiser. He had not expected that every player involved would shave his head. Players continued to talk about Jesse over the weekend, and at the following game many parents were excited to see their sons' shaved heads and learn about Jesse.
"It's incredible how much work they have to put in to just be on the team and to have time to do anything else in the season is definitely a sacrifice," Senior Assistant Athletic Director Peter Clawson said.
Jesse's condition is currently stable, and, according to Soosan, the biggest obstacle now is shrinking her kidney.
"It's a tumor around her aorta and vena cava, below her kidneys, that is squeezing the left ureter shut," Soosan said. "And that is causing the left kidney to become a balloon, in essence."
The inspiration for the head shaving event came to Soosan after St. Baldrick's awarded a $250,000 grant to Jesse's physician, Dr. Eric Lowe of Children's Hospital of the King's Daughter, a pediatric hospital in Norfolk, Va. Soosan hoped to raise money for the foundation in order to help Lowe with his research pursuits.
"We figured that would be a great way for us to say thank you for all [Dr. Lowe has] done to help her," Soosan said.
Research is especially important to patients with Jesse's type of cancer in particular because it has allowed for new types of treatments, vastly increasing the survival rate for Neuroblastoma patients. Previously, the only type of therapy available was MIBG, which makes children so radioactive that only their parents ­— not even nurses — are allowed in the room with them. Thanks to research, Jesse was lucky enough to receive amino therapy instead.
The path to diagnosing Jesse's cancer was marked with several other diagnoses. Initially her physicians thought she was suffering from an ear infection, but as she became progressively sicker, she was suspected of having a kidney infection.
Her kidneys were a major concern for her parents and doctors. Soosan first suspected that something was seriously wrong when two-year-old Jesse walked into the kitchen, grabbed her back just where her left kidney was located, and cried that it was hurting.
It took two years of treatment to get Jesse to her stable condition.
"It's hard to know that it's still in there," Soosan said. "It just takes one little cell that goes haywire to bring it back."
Based on the event's positive response, Crisafi hopes to continue the Tribe's involvement in the future, making the event a consistent part of the team's fall schedule.
Soosan expressed hope that community involvement in future events would continue to include more Tribe teams and other campus groups.
"We would love to have the support," she said.