The Meridian Coffeehouse Review
Last week #onhere, I talked about the pop-punk powerhouse that is Say Your Name. I tied them into the on-going emo-revival without fully comprehending how contentious of a move that was. So rather than run the risk of miscategorizing a band I admire, I decided to consult the only authority on the subject I could find, isthisbandemo.com. Unfortunately Say Your Name's stock has not risen high enough for them to be listed on this site (yet), but at least I had the comfort of knowing that I could safely call them the best emo band on campus for the time being.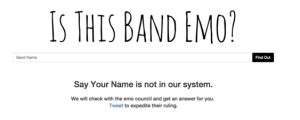 This led me to do some more investigating on the site on behalf of past musicians of William and Mary.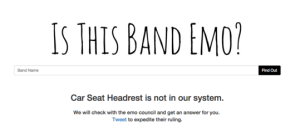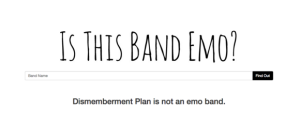 Eventually I couldn't help but to demand an answer to the most burning musical question on my mind. Needless to say, I felt a great sense of loss.

However this loss cannot compare to the one felt by William & Mary's DIY music community last May when it appeared that we had seen the last of our beloved manic rock trio, the On1ons.
The On1ons set the campus alight with a series of performances that were passionate, strange, and wonderful. In May 2015, they called it quits after the end of the school term meant they had to say goodbye to their drummer, and beloved campus icon, Joe Stewart. Their excellent self-titled full length, available on bandcamp.com, seemed to be a swan song for on of the most exciting bands of the 2014/15 school year.
The On1ons set the campus alight with a series of performances that were passionate, strange, and wonderful.
To the delight of music lovers all over campus, the Meridian recently announced a show this Saturday, February 20th featuring the return of the On1ons, alongside Richmond's Newscaster and DC's Den-Mate. If you never had the chance to hear the On1ons on their first run, I highly recommend you stop by this show. By all accounts, much of the material planned for this show will be new, but "The On1ons" is still required listening. My personal favorite tracks are "Weed Eater Girl" and "Woke Up" both of which come with the band's trademark passion & energy.
Be sure to come see the On1ons, Newscaster, and Den-Mate this Saturday, February 20th at the Meridian Coffeehouse on 206 South Boundary Street.
Till I see you again,
Kenny