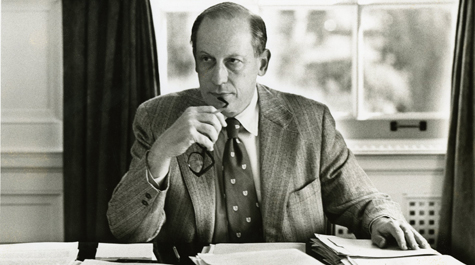 Former College of William and Mary President Thomas A. Graves Jr. died Friday, June 17 in Williamsburg, Va. He was 91 at the time of his death.
Graves served as the College's 23rd president from 1971 to 1985. His presidency is marked the College's first major fundraising campaign that led to the creation of the Muscarelle Museum of Art and the integration of the Virginia Institute for Marine Sciences into the College.
Long before he served as the College's president, he studied at Yale University as an undergraduate. Graves graduated Yale with his bachelor's degree in 1947 after serving with the United States Navy in World War II.
Following his stint at Yale, he earned a master's and doctorate from Harvard University. He served in a variety of administrative positions at Harvard's business school. He taught classes in business administration and later went on to become the dean of the school's MBA program.
Harvard then asked him to move to Switzerland to direct IMEDE, an international management development institute.
Graves was born July 3, 1924 in Buffalo, N.Y. to parents Esther Brittain and Thomas A. Graves. He grew up with two sisters, Mary and Elizabeth Graves.
Following his years abroad, Graves and his wife, Zoe, traveled the world before he returned to serve on Harvard's faculty once more. In 1964, he became the associate dean of Stanford University's Graduate School of Business and later served at Stanford University's International Center for Advancement of Management Education. In 1967, Graves returned again to Harvard to serve as the associate dean of the Graduate School of Business Administration.
During his tenure as president, Graves was known for his work at building the sense of community on campus. According to former Vice President of Student Affairs Sam Sadler '64 M.Ed. '71, this community was his gift to the College.
"I think what Tom did to build that sense of community —  to give us a sense of what an academic community in the contemporary world could and should be and then to take steps toward achieving that — was his great gift to William & Mary," Sadler said in a press statement. "His time here was special and his contribution was lasting."
Following his presidency, alumni from the College established the Thomas Ashley Graves, Jr. Award for Sustained Excellence in Teaching. Each year, this award is given to a member of the faculty who is committed to students and service.
When Graves retired from the College, his career was far from over. He went on to serve as the Director of the Winterthur Museum, Library and Garden until 1992. He then served as the Director of the Grand Opera House in Wilmington, Del. During these years, he was well known for raising upwards of $21 million for art institutes in the state of Delaware.
After his career with the Grand Opera House, he was a consultant for Executive Education and served on the Education Board for MBNA America Bank in Wilmington.
While his career focused heavily on business management, he is also known for his work in educational and religious institutions. He was on the advisory committees of management schools in Europe and Latin America and served on the Board of Trustees of schools in Switzerland, California and Delaware. He also was a member of the Rhodes Scholar Committees in Virginia and Delaware.
Graves also worked in educational roles as a member of the Board of Curators of Transylvania University in Lexington, Ky. and as a member of the Board of Trustees of Clark University in Worcester, Mass.
Graves has been awarded honorary degrees from the College, the College of Charleston and the University of Pennsylvania. Additionally, Graves has written and published articles on higher education.
Graves and his wife maintained their presence at the College following his retirement. In 1988 the Board of Visitors gave him the honorary title of President Emeritus.
In 1996 he and his wife served as the Homecoming Grand Marshals, six years before he received the title of honorary alumnus. In 2004, he moved back to Williamsburg for retirement.
In a notice sent out to campus, College President Taylor Reveley focused on the contributions Graves made to the College, including the Muscarelle Museum of Art and the Marshall-Wythe School of Law.
"William & Mary thrived under President Graves' leadership from 1971-1985," Reveley said in an email. "During his presidency, the Muscarelle Museum of Art was established, a new W&M Law School building was constructed, and William & Mary launched its first major fund-raising campaign … President Graves will live on in the annals of William & Mary and in the hearts of those who loved him."
Graves is survived by his wife and four children, Elizabeth, Mary, Stephen and Thomas. His fifth child, Andrew, passed away in 2010. He is also survived by his nine grandchildren, one niece and three nephews. His two sisters passed away before him.