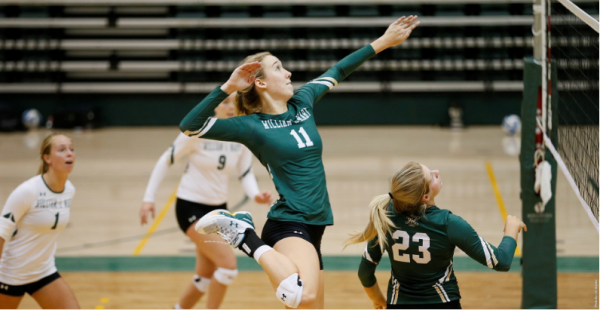 William and Mary played some competitive matches at the Big Orange Bash Tournament this weekend, but was unable to finish off a couple of them, going 1-2.
The College (1-2) opened the tournament with a statement 3-2 victory over host Clemson (2-1) in head coach Melissa Ferris' first game at the helm. After dropping the first set, the Tribe rallied behind their younger players to win two sets in a row and turn the tide of the match. Freshmen outside hitters Casey Foote and Alex Stein dominated, as Foote finished with 15 kills and nine digs while Stein added 11 kills and two blocks. Freshman setter Autumn Brenner controlled the flow of the game for the Tribe, piling up 39 assists and eight digs.
The Tribe couldn't carry over its success from the previous night to Saturday's games against Wofford (1-2) and High Point (2-1). The five-set match against Wofford featured two sets easily won by the Tribe, each with a score of 25-13. However, the College could not clinch a victory, ultimately losing 16-14 in the decisive fifth set.
Against the Terriers, the Tribe scoring was led by sophomore outside hitter Heather Pippus, who had a double-double of 18 kills to go along with 11 digs. Foote had another impressive game, finishing with 11 kills, nine digs and three blocks. Brenner again controlled the flow of the game, recording 52 assists and also delivering two service aces.
Brenner again controlled the flow of the game, recording 52 assists and also delivering two service aces.
In their final match of the tournament against High Point, the College rallied back after dropping the first two sets to force a decisive fifth set, but couldn't complete the comeback, falling 15-12.  Pippus was again impressive, finishing with her second double-double of the day with 18 kills and 10 digs. Foote and Stein continued their strong outside hitting attack, finishing with 13 and 10 kills, respectively. Brenner concluded her weekend by adding another 41 assists and 13 digs to her weekend tally.
The College looks to build off several strong individual performances when it heads to the Belmont Bruiser Showcase this weekend to square off against Georgia State, Belmont and Mercer.