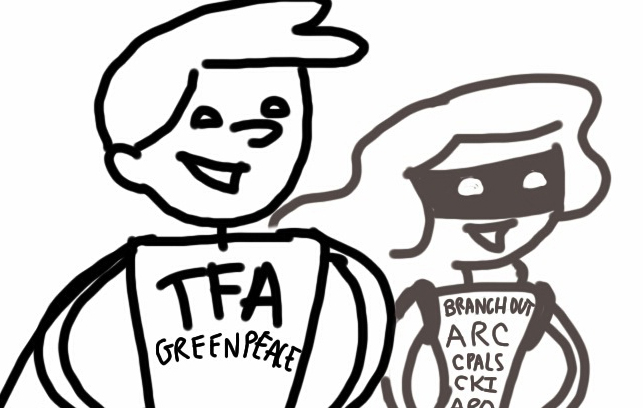 In the Peace Corps's Annual Top Colleges Report, the College of William and Mary ranked No. 8 among medium colleges and universities in number of students who go into the Peace Corps. In 2011, 37 graduates from the College enlisted in the Peace Corps, putting the College neck-in-neck with No. 7 Boston College with 39 volunteers and No. 6 place Miami University-Ohio with 41 volunteers. This ranking is indicative of the beautiful threads that weave into the rich tapestry of the College's community: Giving, ambitious service-oriented students with the determination to make positive changes across the world. The Peace Corps brings new hope to struggling communities overseas through compassionate and selfless volunteers, and I have no doubt that the College alumni currently serving in the Peace Corps have accomplished remarkable tasks through their talents and diligence.
However, focusing our attention on the many global problems that exist can sometimes overshadow the comparatively smaller, but nonetheless significant, needs for service in our immediate community. It is equally important to acknowledge the plethora of activities students at the College engage in to serve others locally, and it is such service that helps foster our tight-knit Williamsburg community.
Students volunteer with tutoring and mentoring programs in order to support youth in local schools. The Campus Buddies program performs activities with Williamsburg residents who have mental or cognitive disabilities, and Community Partnership for Adult Learners offers free English lessons to area residents. The Green and Gold Christmas organization creates a Christmas celebration for underprivileged youth, and last semester the residents of Barrett Hall organized a Mr. Barrett Pageant, donating the proceeds to a nearby hospital.
It is inspiring that our students have made service such an integral part of their lives. Whether through programs such as Steer Clear or Campus Escort, or simply through unaffiliated acts of kindness, students demonstrate their eagerness to take initiative in lending their time, talents and passion to others.
From bringing dinner to the dorm of a sick or stressed friend, to lending an ear when someone is having a rough day, to distributing cookies in Earl Gregg Swem Library during finals week, we shouldn't underestimate the magnitude of such giving acts. What may seem insignificant to the giver may mean the world to the recipient.
Service does not have to be a large-scale project; it can occur in small, sweet doses that reflect our concern and care for others and flavor the way we live our lives. It is these small, meaningful gestures which students practice close to home that help create the supportive, beautiful community we know and love.
While being a leading supplier of Peace Corps volunteers is a significant achievement, it does not constitute the only way college students give back to the world around them. They do that every day in countless ways, big and little.