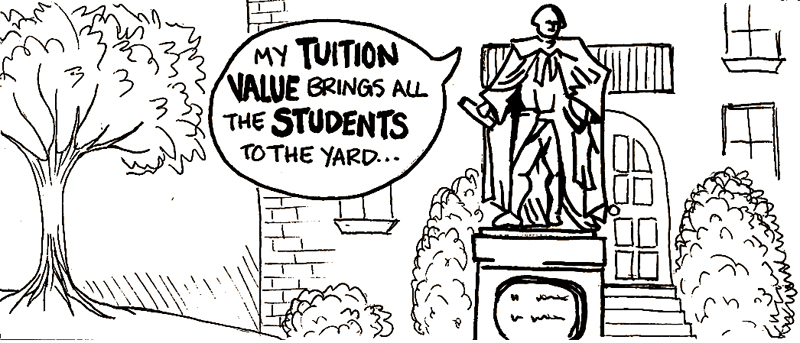 It's that time of year again: Campus is swarmed with prospective students, and high school seniors are anxiously awaiting college acceptance letters. Once again, the College of William and Mary has received a record number of applications. Even though we are incredibly proud to attend such a selective school, we have to ask: Why the increase?
This year's applicants numbered around 13,000 with an overall increase of 5 percent from last year — the College's applicant pool has increased by 40 percent in the last 10 years. This isn't a pattern seen across the board in higher education, specifically traditionally revered schools like those of the Ivy League. The schools that make up the Ivy League saw some decline in applications: Columbia University saw an 8.9 percent decrease, while the University of Pennsylvania saw a decrease of 1.9 percent.
Several colleges, such as the University of Virginia, which had stopped accepting early applications under the belief that this placed students at a financial disadvantage, have reinstated early action decisions in an attempt to try to increase the number of applications they receive.
But this doesn't explain the rise in the College's applicant pool as the College has always had an early decision option. So why the continuing surge in applications?
The College sits in a unique space on the college spectrum: It is a great school for a great price — for in-state students at least— and it isn't the stereotypical, bland liberal arts college. Our programs are consistently ranked among the top in the nation, and our faculty are experts in their respective fields.
Although the current campus construction has made the simple task of walking to class into navigating a maze of ripped up sidewalks and mud holes, the building projects on campus are working toward providing a more beautiful college with the most up-to-date facilities. We can just look to the palace that is Alan B. Miller Hall and to the less extravagant, but still chic, School of Education building. The Integrated Science Center is also a newer building that serves as a place for innovation at the College. All of these campus buildings provide students at the College with modern resources.
It may be true that some people only choose the College as a back up for Ivy League universities like Harvard or Yale, but we can still stand on our own as a high quality institution of higher education. We're similar to a lot of private schools but with that nice public price tag. The number of applications has gone up because we are of good value, and students are attracted to our programs and our size. We are different from the average school. We aren't just focused on the liberal arts; we have substantial science programs. We appeal to a wide variety of students from a various walks of life. When it comes down to deciding which schools to apply to, all of these factors are important. The College is a unique place, and that this is why prospective students will keep applying.