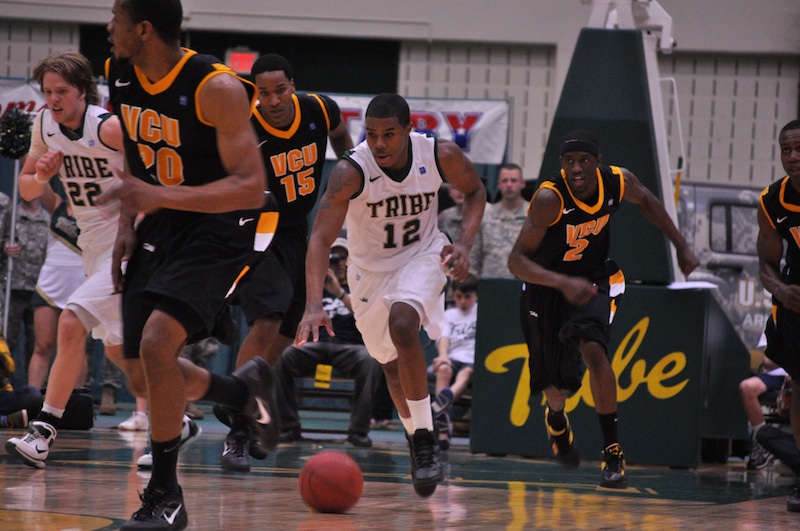 In a rematch of the Jan. 19 overtime thriller in Richmond, William and Mary once again came up short against Virginia Commonwealth at Kaplan Arena Wednesday, losing 87-78 despite another resilient effort versus the Rams.
The Tribe (4-20, 2-10 CAA) trailed by as many as 19 points early in the second half, as a confident VCU team (19-5, 10-2 CAA) found its stride after hitting six of 11 first-half threes. The Rams' signature frenetic style of play also had the Tribe on its heels at times, as VCU managed a game-changing 21 points off turnovers. (More after the video.)
But the College, undaunted, regrouped in the second half, outscoring the Rams 32-20 over a critical 10 minute stretch. The offensive outburst cut the lead to seven with five minutes remaining, and was sparked by the backcourt duo of sophomore guard Brandon Britt and freshman guard Marcus Thornton. Britt scored 19 points to complement Thornton's red-hot shooting night. The freshman went an impressive 10-12 from the field, including 5-6 from beyond the arc for a season-best 28 points, as the two underclassmen kept the College in striking distance. But the hole was dug too deep, and VCU stemmed the Tribe tide with its superior speed and athleticism.
Head coach Tony Shaver was still encouraged by his team twice going toe-to-toe with one of the CAA's best.
"I'm proud of that," Shaver said. "I don't think moral victories mean a lot, but I think our guys proved that we can compete with anybody in this league."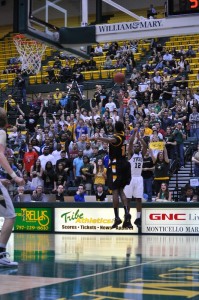 Shaver's team — without senior guard Kendrix Brown, who suffered a concussion — came out to prove just that, sprinting to a 9-3 lead thanks to back-to-back threes from Thornton and Britt. Britt followed up with one of his game-high three steals, and converted the layup despite being fouled.
But all good teams eventually make a run, and VCU made its midway through the first half, scoring 13 unanswered to steal back momentum from the home Tribe.
Britt hit another three to answer, before blowing by a Rams defender for a layup.
VCU was just getting started though, and with a six point lead with five minutes to go in the half, the Rams rolled out their full-court press to close out the first in a 7-0 flurry that left the College in a 14-point hole before it ever knew what hit it. Such decisive lapses have plagued the Tribe for much of the season.
"Coach talks about 'game slippage' all the time," Britt said. "We can't have stretches like that … and expect to crawl back in the second half."
Shaver saw the letdown as being the difference between a win and a loss.
"We dug a hole a little too deep to get out of," he said. "I thought it was the key to the ballgame. We had a couple really sloppy turnovers … They got a couple very easy baskets."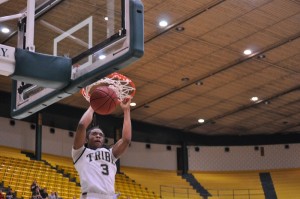 The Tribe wouldn't be back within single digits until there were five minutes left in the contest, when senior forward Quinn McDowell knocked down a three-ball. Not long after, Britt collected another steal and found a streaking Thornton whose two-handed dunk injected some much-needed energy into the College.
VCU continued to force the issue though, and got to the free-throw line to ice the victory. Thornton managed to knock down two more late threes to score the Tribe's final 10 points, and also give the College a season-high 12 three-pointers in the losing effort.
A large shooting disparity plagued the Tribe throughout. The College's leading scorer, McDowell, missed a number of wide open looks from downtown, finishing the game with eight points on 2 of 7 shooting as the team shot 47.3 percent from the floor. The rams, led once again by forward Juvonte Reddic — who finished with 20 points — shot 53.2 percent.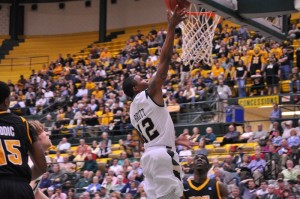 In the wake of seven straight conference losses, Shaver said he's staying focused on the big picture.
"We're shooting for March. Hopefully we'll be in good shape by then" he said.
The Tribe will return to action when it heads to North Carolina to take on UNC-Wilmington Saturday.