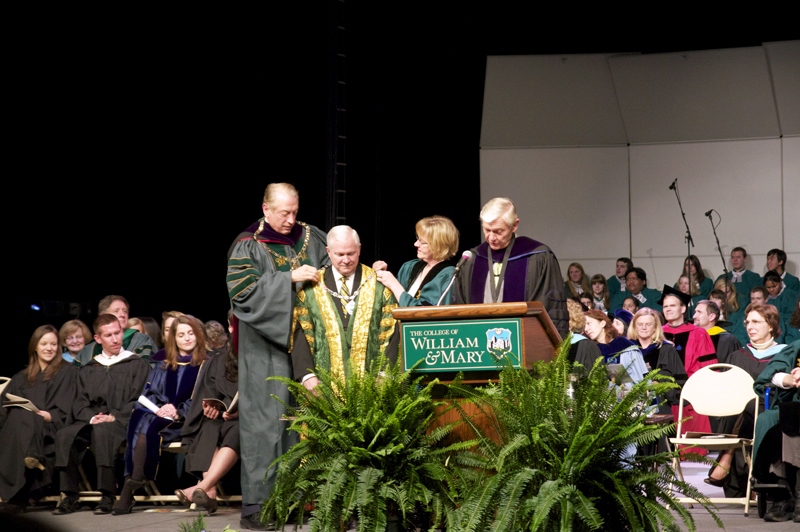 The College of William and Mary celebrated its 319th year with a grandiose birthday present — the induction of its 24th chancellor, former Secretary of Defense Robert Gates '65.
At the Charter Day ceremony Friday, Gates spoke about his work in public service and on having recently been selected as chancellor. Gates, who succeeded former Supreme Court Justice Sandra Day O'Connor, expressed his initial hesitation about and eventual acceptance of the position.
"I thought about this great institution, what it has meant to me personally and its special place in the history of our country," he said. "I then reflected on the kind of people who had held this post over the past four centuries. The decision to become your next chancellor became very easy, very fast. Then of course, I had no idea then about the chancellor's regalia — a sort of unique blending of medieval academic tradition and Lady Gaga, or perhaps Mr. T."
In his speech, Gates described his years spent at the College and noted its influence on his career.
"It was at this college that I first was exposed to such an environment grounded in what I learned here. I have spent a life in public service," Gates said.
He discussed what he described as the breakdown in the current political system, emphasizing that the government's failure to collaborate on bipartisan efforts hinders the country.
"The moderate center — the foundation of our political system — is not holding," Gates said. "Moderation is now equated with lacking principles. Compromise means 'selling out,' yet our entire system of government has depended upon compromise."
Gates, who holds a doctoral degree in history, stressed that the values emphasized in the early formation of our country are being forgotten, and that they must be revived.
"I believe that the example of the founding fathers — who stood on principle wherever they could, yet compromised when needed for the greater good — has important lessons for today," Gates said. "It is a lesson too many of today's politicians have failed to understand in an age of zero-sum politics and scorched earth ideological warfare. Values such as civility, mutual respect, putting country before self, and country before party are now seen to be increasingly quaint — historic relics to be put on display at the Smithsonian, perhaps next to Mr. Rogers' sweater or Julia Child's kitchen."
While Gates acknowledged the nation's struggles, he also presented a challenge for students — to fix the failings and restore the values that shaped the country.
"I have no doubt that the graduates and scholars of William and Mary — this community of learning, listening and working through issues — rooted in the original soil and the basic principles of American liberty, have a special role and a special obligation to be part of the solution: as leaders, as public servants, as citizens," Gates said. "As I enter this next and last phase in my public life, I will be proud and honored to serve as chancellor as you help right this nation's course."
At the ceremony, International Studies professor James A. Bill received an honorary degree for his research of international politics and for his integral role in the founding of the Wendy and Emery Reves Center for International Studies.
"As I told Dr. Bill earlier today, if the U.S. government had paid more attention to what he was saying and writing back in the 1970s, our country — and the world — could have been spared a lot of trouble, then and now," Gates said.
English associate professor Ann Reed was honored with the Thomas Jefferson Award, while law professor Laura Heymann became the first law professor to win the Thomas Jefferson Teaching Award. Ariel J. Cukierman '12 received the Thomas Jefferson Prize in Natural Philosophy for his work in the physics and math department, and Molly Bulman '12 won the James Monroe Prize in Civic Leadership. Three alumni were awarded medallions for their service to the community and dedication to the College: Joseph Agee '52 M.Ed. '56, Ruth Weimar Tillar '45 and Henry C. Wolf '64, J.D. '66.
Reveley concluded the Charter Day ceremony with his view on the College's influence and his vision of its past and for its future.
"William and Mary's deep roots in American history, coupled with its striking contemporary accomplishments and powerful forward momentum, make a dynamite combination," Reveley said. "This is to say, when you mate being one of the very first colleges in North America, and having been present at the creation of our country, with the dynamism of vibrant success in our time, you get an institution of enormous power and promise."