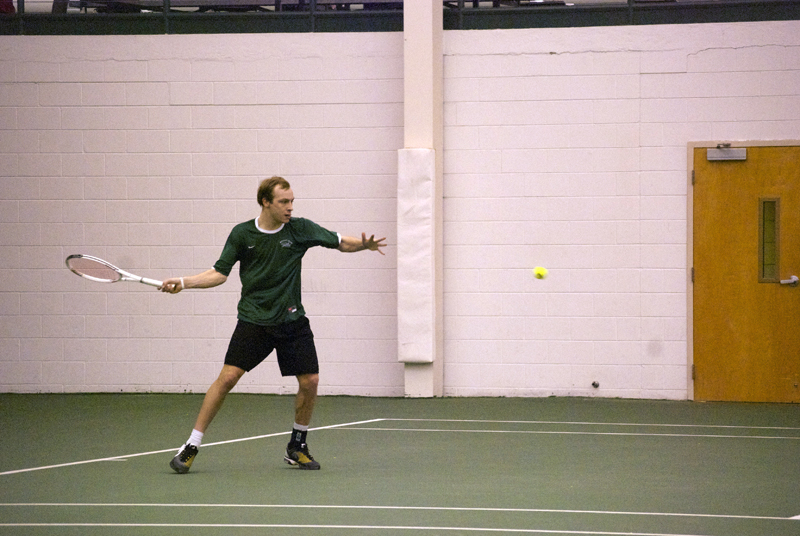 After surrendering its winning record with a loss to Yale Saturday, William and Mary (4-4) regained its mojo Sunday, defeating both Longwood and Morgan State.
The Tribe opened the double-header with a 5-2 win over the Lancers before coming back in the afternoon to hand out a 7-0 drubbing of the Bears.
In the morning contest, the Lancers took the No. 1 and No. 2 singles matches, but the Tribe carried all the other singles contests and the three-game doubles point to grab a 5-2 overall victory.
"Any win's a good win," head coach Peter Daub said. "And with our injuries that we have, I feel very good about the players who were able to go out there and fight through a match."
After the solid win against Longwood, the Tribe had three hours to prepare for its meeting with Morgan State. Before the match, Daub admitted that he didn't know much about his team's upcoming opponent.
"I told my team one thing we can control is the effort that we give," he said. "Be that against the No. one team or No. 100 team in the country, it doesn't matter."
The Tribe doubles teams dominated their Morgan State opponents, going 3-0 to win the first point of the afternoon match.  The European-bred doubles team of junior Anton Andersson — who hails from Sweden — and freshman Will Juggins from England were most impressive, displaying dazzling teamwork en route to winning in unblemished 8-0 fashion.
Building off its doubles success, the Tribe dominated the singles competition 6-0. The Bears players grew visibly demoralized as they racked up the losses.  Meanwhile, the Tribe looked cool and confident, dictating the flow of play with accuracy and awareness.
In each game it was common to see Morgan State players sprinting breathlessly from side to side while their College counterparts stood and hit shots confidently across the court.
Andersson seized control of the No. 1 matchup with a 6-1, 6-0 victory. His elegant volleys and pinpoint cross-court shots gave him a decided advantage over his opponent, Eric Ward. Another standout singles performance was registered by junior Adrian Vodislav in the No. 2 matchup. Vodislav was perfect, dropping Duwane Thomas 6-0, 6-0.
Sunday's doubleheader victories ended an impressive 4-2 home stand for the Tribe. However, a fierce southern tour of top-notch programs is up next for the College. This week, the team will travel to the Peach State to duel No. 22 Georgia Tech and No. 4 Georgia.
Coach Daub seemed unfazed by the challenge in front of his team.
"It's a very challenging trip, but in order for us to be the best, we have to beat the teams that are of that standard," he said.