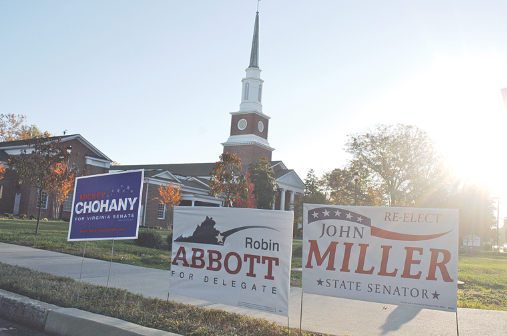 After concerns were voiced that a Virginia General Assembly bill intended to cut down on voter fraud would negatively impact students, an amendment was added to protect college voters.
Senate Bill 1, and its counterpart in the House of Delegates, House Bill 9, require voters to show identification at the polls, but there was concern that the bill left out college identification cards as a valid form of identification.
"We were uncomfortable with the section that was unclear on whether college IDs were listed as an acceptable form of identification at the polls," Keenan Kelly '14, Student Assembly secretary of public affairs, said. "We thought that might be a problem for certain students who might not have other forms of ID that could be adequate."
The amendment, passed Monday just before voting on Senate Bill 1, specifies that student identification issued by any four-year college in Virginia is a valid form of identification when voting.
The amendment passed by a 21-19 vote, while the bill passed with a 20-20 vote, relying on a tiebreaking vote from Republican Lt. Governor Bill Bolling.
The bill was divided along party lines; many Democrats viewed the bill as an attempt to suppress the votes of minorities and other groups.
Under the current legislation, a voter without identification can cast a ballot after signing a sworn statement saying they are who they claim to be.
The new legislation would still allow this, but votes under a sworn statement would be cast as provisional ballots.
"Most provisional ballots are cast, but there are sometimes issues where they are contested," Kelly said. "We just wanted to make sure all students are counted on the first ballot."
Late last week, SA members began contacting the General Assembly to investigate the bill's potential impact on students and to express their concern to legislators.
A statement released Sunday by SA President Kaveh Sadeghian '12 and Vice President Molly Bulman '12 described their concerns about the bill.
"One section of the bill addresses which kinds of identification can and cannot be used at the polls," Sadeghian and Bulman said. "The Student Assembly is not taking a position on the entirety of SB1 but is opposed to any portions that may restrict the voting rights of students."
In addition, over the weekend, class presidents sent out emails informing students of the possible implications of the bill and included a draft letter to state senators that students could send.
"This bill would disproportionately disenfranchise students, as many of us
have never possessed a form of identification issued by the Commonwealth, such as a driver's license, and are not currently employed," the draft letter said.
After contacting the General Assembly to clarify whether student identification was included in the original legislation, the SA received notice from a senate staffer Monday morning that the original legislation did include college identification cards as an acceptable form of identification. Nevertheless, the amendment was still added.
"The law as it originally stood technically included college IDs," Kelly said. "But we, as [the] Student Assembly, are very happy that this specific amendment was added so that way students are guaranteed to be enfranchised."
The amendment was added by bill patron Stephen Martin, R-11, who, at that point in the process, was the only person who could amend the bill without sending it back to committee in the senate.
House Bill 9 passed by a 69-30 vote Wednesday, Feb. 1 and the two bills will now enter into a conference committee before being sent to the Governor Bob McDonnell (R).
"The Student Assembly expects the amendment to stay in the legislation as the differences between SB1 and HB9 are ironed out," Kelly said. "However, the SA will continue to monitor the bill in order to ensure students stay enfranchised."