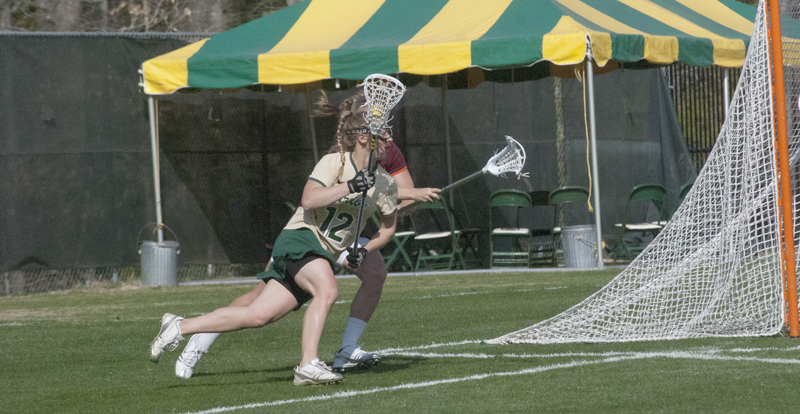 While William and Mary experienced a number of changes during the off-season, it began its 2012 campaign in classic fashion. For the third year in a row, the Tribe opened its season with a loss to ACC rival No. 5 Duke, this time in a 18-9 defeat at Martin Family Stadium.
"I think today we came out strong, we looked good, we played with a lot of heart and a lot of passion," head coach Brooke Ireland said. "We did well with our defense and our transition. I think we could have been a little bit better on our draw control. I think we had a little bit of a breakdown on our offense."
Ireland, who coached her first game at the helm of the Tribe after taking over for former head coach Christine Halfpenny, oversaw a team with plenty of new faces. After losing a group of six highly touted seniors, the College featured contributions from a group of players who played smaller roles in the past.
The game was close until the Blue Devils eventually pulled away. Junior midfielder Katie Stillwell knotted the score at four apiece with a free position shot with 17 minutes, 28 seconds remaining in the opening period.
From there, however, Duke's offense overpowered the Tribe defense. The Blue Devils went on a 6-2 run to end the half, taking a 10-6 advantage into the intermission. The College's offensive woes continued after halftime, as the Tribe managed just three goals in the second half.
"We didn't utilize our space," Ireland said. "I think overall our team worked hard, but we had a breakdown on offensive communication — I don't think we were all on the same page there."
Duke outshot the Tribe by a whopping 40-23 margin, registering 20 in each period. The Blue Devils recorded twice as many shots as the College in the second half.
Despite the slow finish, the College was led by senior attacker Maggie Anderson, who contributed three goals and an assist. Sophomore Taelor Salmon added two goals and five shots and Stillwell registered two goals on four shots.
"I think Maggie had a nice game —she's obviously our leader on attack," Ireland said. Katie Stillwell had a great game, she was all over the field, kept going hard and never got a rest, so I was really impressed with her play."
The College will continue its tough opening season stretch by traveling to College Park, Md. to face No. 2 Maryland Sunday.
"Maryland is a strong team, and they have been for decades," Ireland said. "I think we will really need to focus, play our game and be smart with the ball. We threw away the ball too much today and when focusing on Maryland, we need to focus on holding onto the ball longer."