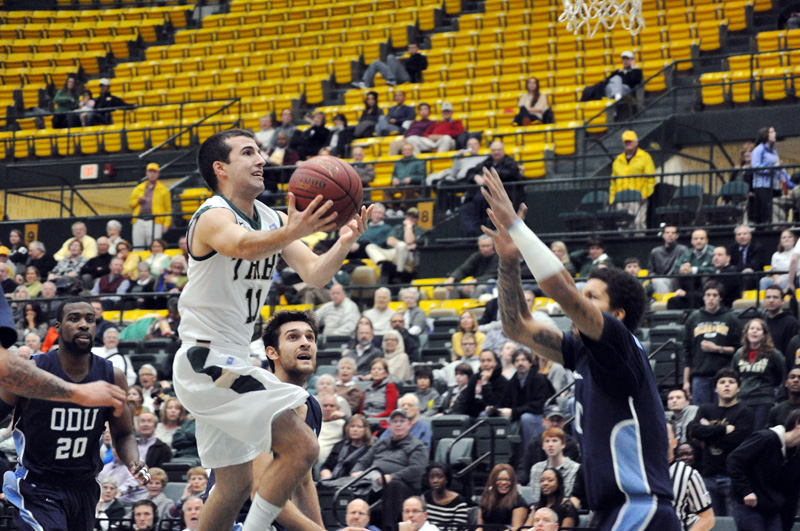 Chants of "Just like football!" echoed through an otherwise silent Kaplan Arena Wednesday night, as Old Dominion fans reveled in their team's dominant 70-51 win over a sluggish William and Mary squad.
The College shot an abysmal 28 percent from the field and looked uninspired at times, allowing its long-time rival to do whatever it wanted offensively. The Monarchs took advantage of the lackluster defensive effort, and operated with machine-like efficiency in the first half, knocking down seven threes on their way to shooting a red-hot 63 percent. Tribe senior Quinn McDowell, fresh off a season-high 27-point performance, mustered just a 2 of 12 shooting performance. He acknowledged that the College faced a quality opponent but attributed the inability to get stops to a lack of commitment on the defensive end. (More after the video).
"A lot of that's due to our inability to play hard every night on defense," McDowell said. "We haven't done our job on defense all year."
It didn't take long for head coach Tony Shaver to send a signal to his team that it needed to ratchet up its defensive intensity. After ODU got two easy baskets early, Shaver called his first timeout before the game was even 90 seconds old. The Monarchs didn't miss a beat, however, and after Shaver saw the Monarchs score on their first seven possessions he promptly yanked all five starters.
"I'm disappointed in [our defense], absolutely," Shaver said. "It's something we've been focusing on, and we just didn't really carry out our assignments."
The College rallied with some timely shooting to keep the deficit from getting too big, but the Monarchs's unorthodox 3-2 zone was disruptive enough to keep the Tribe from finding any rhythm. Freshman guard Marcus Thornton, coming off a week in which he was named CAA Rookie of the Week, scored just eight points on 2 of 11 shooting, while turning the ball over three times. ODU forced eight Tribe turnovers in the first half and exploded with runs of 14 and 12 points — the latter of which put the College in an insurmountable 19-point hole as the Tribe struggled to find scoring.
"They make it difficult to get clean looks at the basket, but we did a horrible job of playing inside out," McDowell said.
Thornton said the College just couldn't hit enough open shots.
"We got a lot of good looks, especially in the second half; we just didn't knock them down tonight," Thornton said.
Adding to the offensive woes were sophomore center Tim Rusthoven's three first-half fouls. Rusthoven's presence in the paint is always important for Shaver's squad, but against the CAA's top rebounding team, the Tribe couldn't afford to go without their best big man.
"[Rusthoven's] a productive player for us. We need him on the floor," Shaver said.
With Rusthoven hampered by foul trouble and only able to log 16 total minutes, Shaver turned to senior center JohnMark Ludwick, who made his season debut after missing the first three months of the season with a foot injury. Ludwick only played six minutes and is still a long way from a full recovery, but his return could be positive for a team that's lost nine straight games and is looking for any lift it can find.
"It's uplifting to see him on the floor. I'm so happy for him as a senior, that he's going to [play] anyway," Shaver said.
In the end, it really didn't matter who the Tribe suited up, as the team just couldn't score. With just under five minutes left in the first half, McDowell sank two free throws to cut ODU's lead to seven. The College wouldn't score again until five minutes had elapsed in the second half, eventually allowing the Monarchs to steal and dunk their way to a 30-point lead. The game came to a merciful end without the College having a single player in double figures.
Despite the blowout loss, Shaver resolved to see his team improve as March approaches.
"We'll keep working and striving to get better. I don't have any doubts about that," he said.