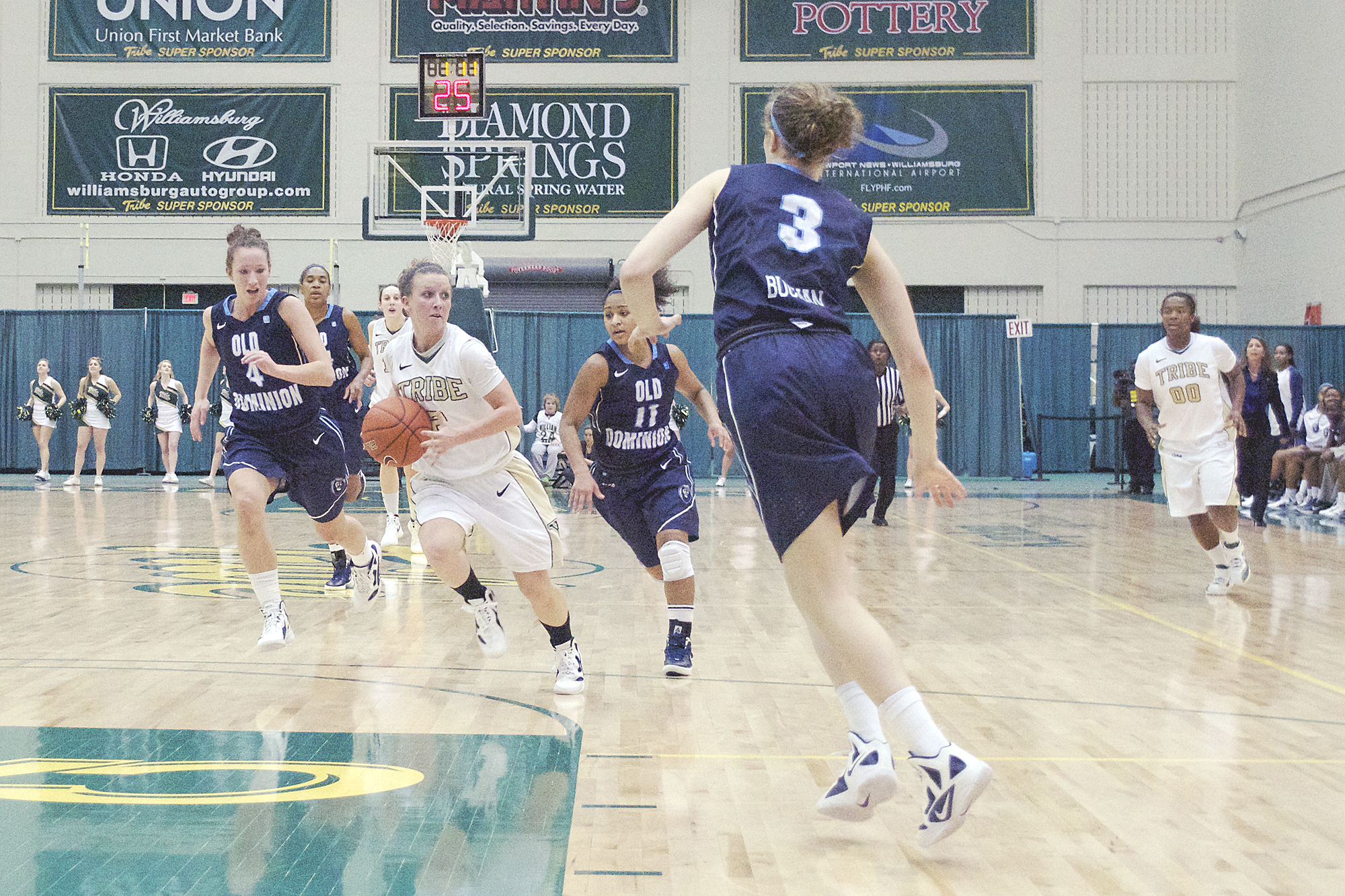 William and Mary took to the court Sunday night with a chance to knock off one of the top teams in the conference and build momentum in advance of next month's CAA Tournament.
Instead, the Tribe (9-15, 2-11) delivered an uneven performance in a thorough, 78-59 loss to Drexel at Kaplan Arena, its fifth consecutive defeat. Unlike the College's four previous losses, the Tribe never really came close to catching the Dragons, who led all game and by as many as 21 midway through the second half.
"This loss hurts a lot," junior center Jacklyn McKenna said. "We just really played poorly on both ends. I didn't feel like we played defense the whole time and we just rushed shots on offense. They are a smart team."
The College, normally a consistent offensive team, suffered from an anemic first-half shooting performance. The Tribe shot just 32 percent from the field in the opening stanza, including a 0 for 4 mark from behind the arc.
Drexel, meanwhile, had no problems with its offensive performance in the first half. The Dragons knocked down 51.7 percent of their attempts from the field, including 45.5 percent from downtown. As a result of its hot shooting, Drexel built a substantial 39-22 halftime lead.
"I think we could have come back," senior guard Taysha Pye said. "Offense wasn't really the problem, we just didn't get enough stops like we needed to. If you don't get stops, the scoring doesn't matter because you can't dig yourself out of that ditch."
In the second half, the Tribe shot much better, converting 56.5 percent of its attempts, but was unable to overcome its first half deficit. The College cut Drexel's lead to 12 twice in the second half, but every Tribe advance was met with a Dragon rebuttal.
"We were trying to push the tempo because they were trying to slow it down," McKenna said. "They were using 30 seconds off the clock every time. They are just a really good team, they have five smart players and they are tough."
Overall, Drexel shot 50.9 percent for the game,
and made all 14 of its free throws. The Dragons benefited from a balanced scoring performance from its starters.
Guard Kamile Nacickaite led Drexel with 24 points on a 9 for 16 shooting performance, and was a dominant presence throughout the game. Forward Tyler Hale notched 18 points and six rebounds while guard Hollie Mershon contributed 14 points in 33 minutes.
"They read the defense very well, but we just didn't do a very good job of stopping it and playing tighter defense," Pye said. "They just got a lot of open threes."
While the Dragons had three scorers in double digits, the Tribe relied solely on another strong outing from Pye. The senior led all scorers with 25 points, with 11 of those points coming off free throws.
The rest of the Tribe's normally potent offense was silenced Sunday. Junior guard Janine Aldridge, the College's leading scorer, struggled with Drexel's defense and notched just three points on a 1 for 7 shooting performance. Senior guard Katherine DeHenzel went 1 for 7, but dished out six assists.
"On the offensive end, we just really didn't play like a team like we needed to," Pye said. "We play them again in a couple of days, so it's a good learning experience."
Despite the disappointing result, the College will look to regroup in its remaining five games before the tournament. The Tribe will travel to Virginia Commonwealth Thursday and host North Carolina-Wilmington before traveling to Philadelphia Feb. 19 for another meeting with the Dragons. The College will continue to search for momentum heading into the CAA Tournament in March.
"Every person on this team wants to get better and we just want to play team basketball and get better with every game," Pye said. "There's only up to go from here, and we will get it."