It's no secret that the College of William and Mary is in a bit of a financial pickle. State budgetary support has been steadily declining, currently accounting for less than 13 percent of the school's budget. The College has increased tuition to make up for lost funds — according to a recent report, tuition has risen 48.8 percent over the past six years — but problems still remain.
With two campus construction projects already approved — renovations on St. George Tucker Hall and construction of the third Integrated Science Center building — and more down the pipe, students may be asking: can the school afford all of this?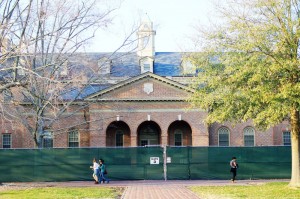 The answer, according to administrators, is yes.
"The beginning of wisdom on this front is that funds for bricks & mortar and funds for the operating budget come from different sources and are not interchangeable," College President Taylor Reveley said in an email. "So, it's quite possible, indeed it's reality, for us to have money to build and renovate while also being short of funds to operate."
State funds are used exclusively on capital projects, which cover construction of new academic buildings and renovations of old ones, Vice President for Finance Samuel E. Jones said. Any operating expenses, like building dorms and providing food service to students, the College covers itself.
"For instance, you can't take money the state or a private donor has provided to build a building and use it instead to pay faculty salaries or provide financial aid to students," Reveley said.
Even when the state of Virginia is in want of funds, it can pay for the construction of capital projects with long-term debt.
"It's like a mortgage," Jones said.
The College has a different strategy when funding new housing projects, such as the planned fraternity complex.
"What you hope is that the math works out so that the revenue generated [by housing fees] makes up some of the cost," Jones said.
With that in mind, the College is taking dorm renovation projects one at a time. Currently, only Barrett Hall is approved for a reconstruction makeover, which includes the installation of air conditioning.
However, proposed renovations to Chandler and Landrum Halls are still on the horizon.
"They are buildings that need to be renovated, but in terms of scope and timing, it's way premature," Director of Residence Life Deb Boykin said. "In terms of a full building renovation, we're not there yet."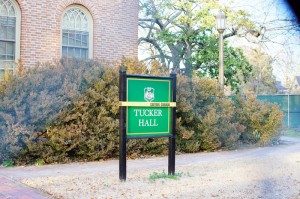 Although additional long-term projects aren't on the table yet, Residence Life will continue to make small-scale improvements, Boykin said.
"What we are continuing to do …is the smaller renovations that come out of the Residence Life operating budget," Boykin said.
The College continues to work with the state of Virginia to approve additional funding.
"We're working with the state today to get funding for [the] Brafferton," Jones said.
The College has used private funding to pay for a majority of the Brafferton's renovation, including the cost of an archaeological survey around the site, and is working with the Virginia General Assembly to match the project's private money, reaching its $4.5 million goal.
State funding cuts have had an impact on proposed capital projects, but is understandable considering Virginia's own budgetary problems, Jones said.
"We understand it. The state has to manage its finances," he said.
However, according to Jones, the College has no plans to abandon necessary projects.
"If, pragmatically, we need new space for the well-being of the College, you need to move forward with that," he said.