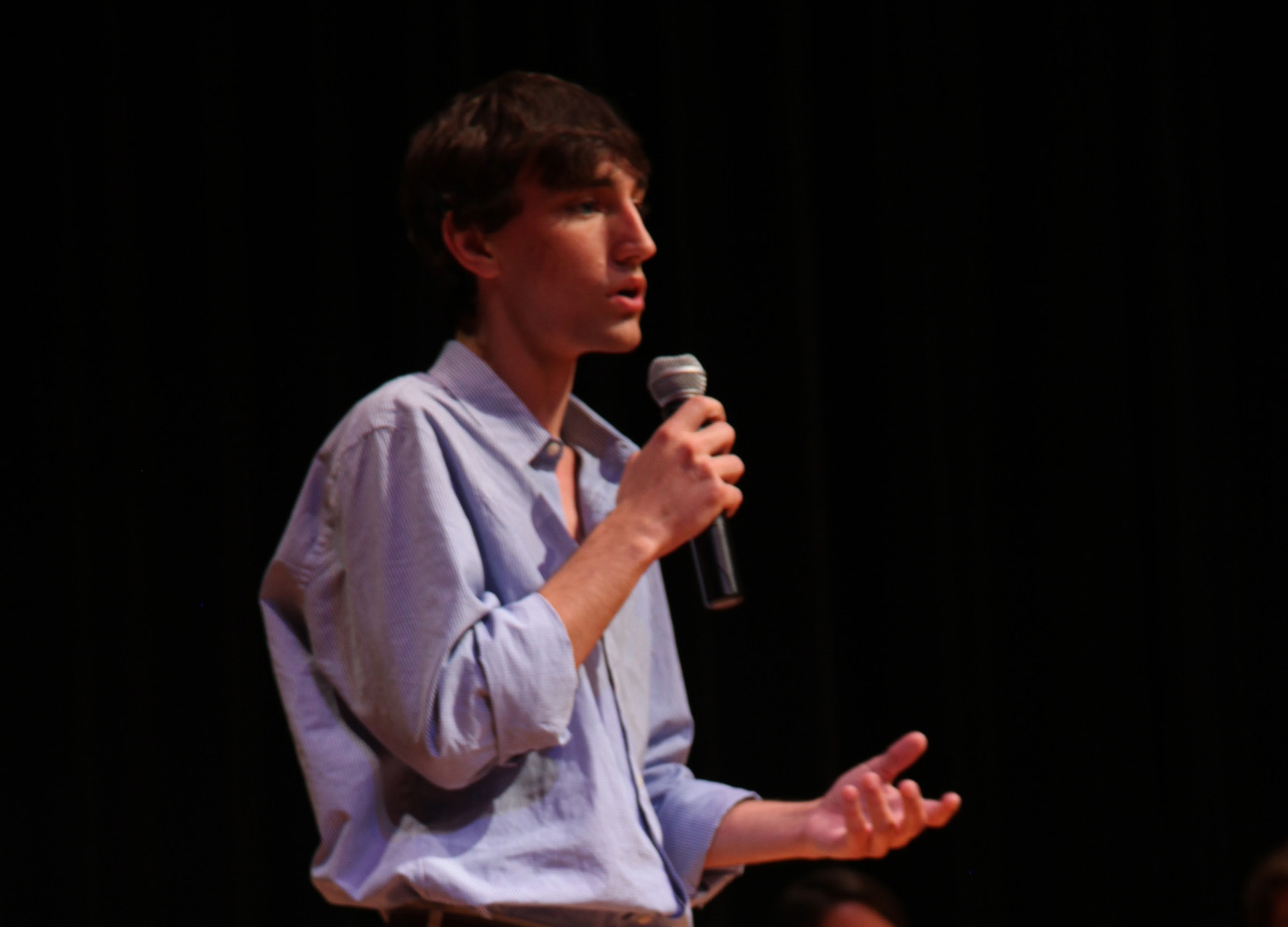 He swears it's not a campaign tactic. Student Assembly presidential candidate David Allen McNerney '14, better known as Dallen, really has had green and gold braces his entire time at the College of William and Mary.
Self-described "TWAMPs at heart," McNerney and his running-mate Stacey LaRiviere '14, have been involved with SA since freshman year, most recently with McNerney serving as a Class of 2014 Senator and LaRiviere as the Undersecretary to Public Affairs.
"We've both been on Student Assembly long enough to really understand what is going on, yet not so far into it that we're jaded and don't understand all the problems. We see that there are a lot of changes that we can make," McNerney said.
Although McNerney and LaRiviere represent the only all-sophomore ticket, they also boast four years of active SA participation.
"Even though we're both sophomores, we have a lot of collective experience and can support each other. Also, we will have time to sustain the changes and new policies after our term by working with those who follow us," McNerney said.
Increased transparency and accessibility between the SA and the student body serve as the driving point behind McNerney and LaRiviere's platform.
"Right now, the Student Assembly is very top-down; we feel that we should go more grassroots and provide more opportunities to talk to students," McNerney said. "For example, why can't we have a monthly pizza and Chipotle night in Lodge 1 to allow students to talk about what they're thinking?"
As part of their initiative to increase student involvement in SA activities, they plan to create a Homecoming float initiative to get all student groups, not just Greek organizations, to get involved.
"Although we are both members of Greek organizations, we don't necessarily consider ourselves a 'Greek ticket' per se," LaRiviere said. "Seventy-one percent of the students we would be representing aren't Greek, and their opinions and support are just as important as the 29 percent that are a part of the Greek community."
To improve College-Greek relations and student life, the pair hopes to make the medical amnesty policy more specific so that entire organizations do not get in trouble for trying to help one intoxicated member who needs medical attention.
"We believe that the medical amnesty policy is an education process. With all the negative feedback students are receiving from it, they may be hesitant to use it," McNerney said.
The pair also hopes to foster greater cultural awareness by creating an International Culture Fest involving every cultural organization on campus and the entire student body.
With regard to civic participation, LaRiviere hopes to increase student awareness and involvement with College-related affairs in the Richmond legislature by making the Road to Richmond Project a class, similar to Health Opportunities for People Everywhere. McNerney has been working with Vice President for Student Affairs Ginger Ambler '88 Ph.D. '06 about installing basketball courts on campus, receiving approval for the rear of Dupont as the possible location.
To foster widespread involvement within the SA, the pair proposes to branch out beyond those "typically" involved in SA affairs. If elected, they intend to create a diverse and qualified cabinet by sending out interest emails on Student Happenings and holding open forums, rather than simply reaching out to friends or to those already in SA.
"Because I've been on Student Assembly for so long, I can articulate all the good that Student Assembly does, but many people can't because so much of what we do is behind the scenes," LaRiviere said. "Our main goal is really to be more transparent and accessible to students. We want the model to be more 'how can we help you?,' rather than you coming to us."