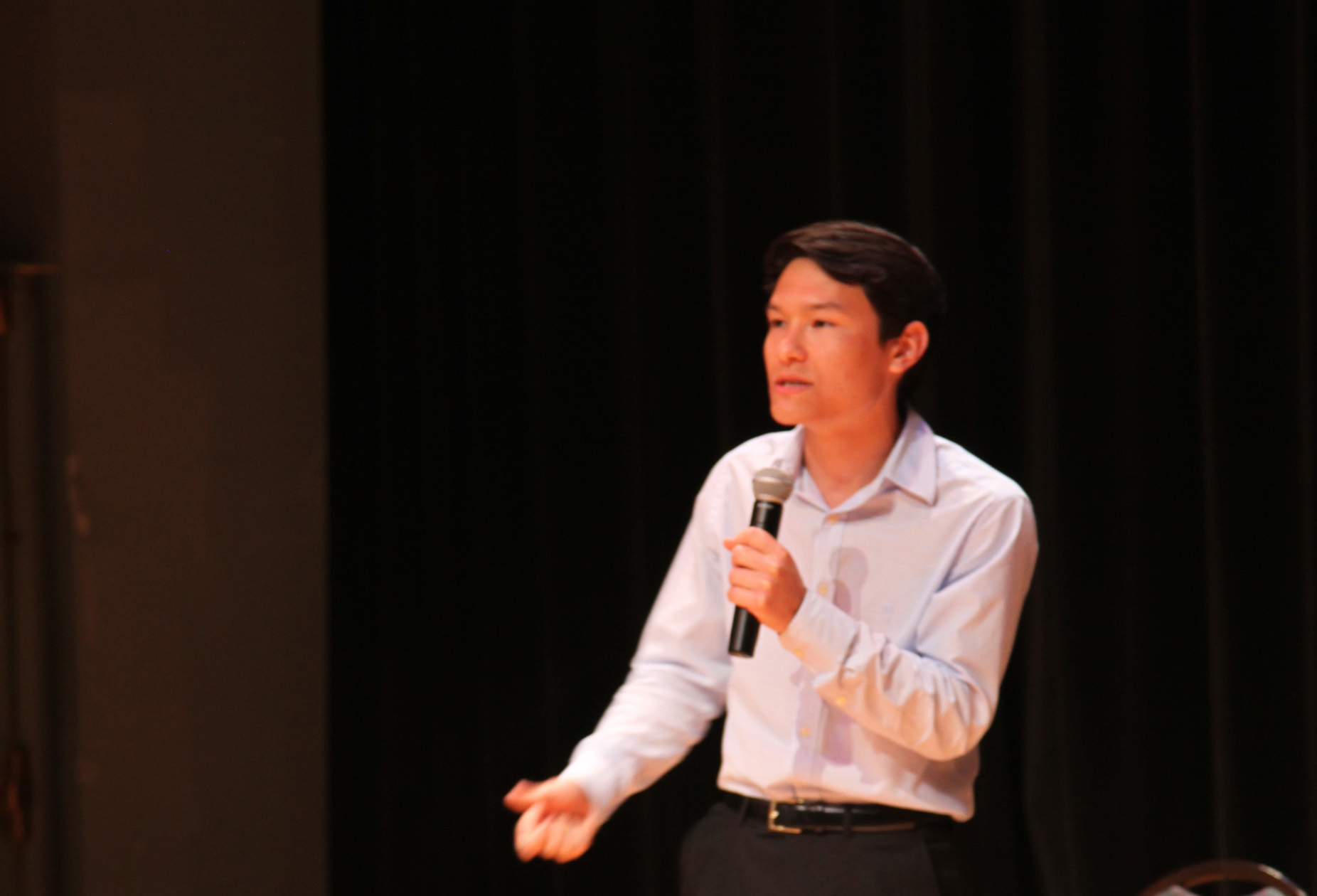 Noah Kim '13 and Sky Sprayberry '15 believe their blend of experience and fresh perspective is necessary to "take back your Student Assembly."
Kim currently chairs the SA Senate, where he wrote more than 40 percent of the legislation this session. Serving as chair of the Finance Committee in the past academic year, Kim also has served as a senator since his start at the College of William and Mary.
Sprayberry currently serves as the Class of 2015 Vice President of Social Affairs, yet describes her freshman status as an opportunity to initiate change and innovation in the SA.
"Some people might be jaded by the organization because they've been in it for so long. … They find it harder to want to change it," Sprayberry said. "I bring a new eye to look over [the system]."
Kim agreed, stating that the SA needs to change in order to serve College students more effectively.
"I've been in this for three years, so I've built up the experience base, but what the SA needs more than anything else is a fresh perspective," Kim said. "We have this unique balance of strong experience and strong new vision, and that's what's going to turn this SA around."
For Kim and Sprayberry, the first step lies with increasing the transparency of the SA. Other changes and innovations, according to the pair, will rise from an increased dialogue between students and their government.
"The biggest problem everyone outside the SA can identify with is that it is not exactly transparent. … It's not responding to what students actually care about," Kim said. "Right now, it is not an organization helping students, and we need to take it back so students can see what it's doing. … I've written over 40 percent of all the senate bills this session, and every single one of them worked to make this a more accessible, more transparent and more responsive organization."
A major source of obscurity for Kim and Sprayberry is the financial system. Even if a student is an exception to the rule of overall ignorance as to how much money the SA controls, these students still don't know how to obtain and utilize this money for their organizations and events.
"We're working with a $700,000 per year budget and a $100,000 per year surplus," Kim said. "They're kind of shocking numbers when you consider that students don't know where all that money is going and they don't see it actually helping them."
The team's other initiatives fall under agendas to increase mental and sexual health resources, create a greener campus, and improve relations with the Williamsburg community.
Mental and sexual health resources would come in the form of more counseling programs, generation of a mental health hotline, continued free STI testing, an increased effort to install free condom dispensers on campus and provision of subsidized HPV vaccines.
In terms of creating a greener campus and improving relations with the Williamsburg community, the two plan to plant more trees and continue efforts to increase student representation in the city of Williamsburg.
Kim and Sprayberry believe their earlier successes and experiences will help them accomplish this list of goals.
"We've both demonstrated we have this record of student effectiveness on our ticket," Kim said. "You know we can follow through because we actually have before. … There isn't this learning curve. We have been working, and we've already identified the shortcomings of the SA and what obstacles there are."
Kim and Sprayberry believe they will represent all areas of campus, including those with which they are not directly associated. As a non-Greek ticket, the two say they respond to other areas of the student body. If elected, Kim also would be the first openly gay student body president at the College.
"We really want to be representing every student on this campus," Kim said. "We want a student assembly that is actually responsive to the diversity of interests and issues that people care about."