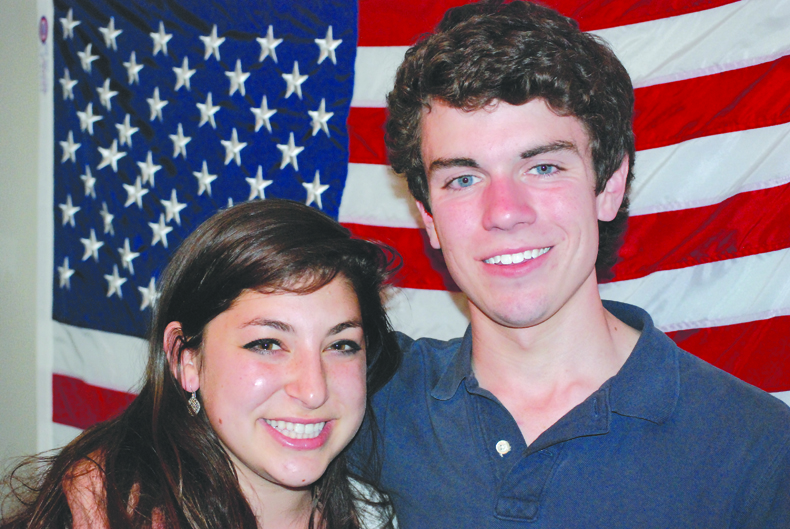 In a tight race fraught with controversies and candidates galore, Curt Mills '13 and Melanie Levine '13 were narrowly selected to lead the next session of the Student Assembly.
Mills and Levine recognized they faced stiff competition from the start with a ballot divided between six different tickets and laden with 15 election complaints handled by the Student Assembly Elections Commission during the campaign.
"We feel throughout the campaign, even though there were six tickets, we were the ones that were most distinct," Mills said. "I think William and Mary students rewarded us for that. We had a consistent message. The message wasn't always the most popular for a lot of people, but it resonated with most of the student body."
At the close of the polls, Mills and Levine would win with 25 percent of the vote, surpassing runner-up David Alpert '13 by 1 percent, or 36 votes.
Mills and Levine attribute their win largely to their platform, which they have continually portrayed as distinct in multiple areas, largely because neither Mills nor Levine served in the Student Assembly during the past session. They also emphasize the value of their platform's intentional specificity.
"I just think that what differentiated our campaign from the others were our concrete ideas," Levine said. "We really look forward to implementing them."
Alpert and Moore, while disappointed with the close finish, were nonetheless pleased that their campaign appears to have pushed mental health to the forefront of election platforms. They also believe their experience gave them greater insight into the Student Assembly.
"I think running has made us realize some big concerns of the student body. The Student Assembly is not this entity that is really austere; anyone can be part of it," Moore said.
Finishing in third place, candidates Noah Kim '13 and Sky Sprayberry '15 were pleased with their work, yet wary of the election process in general.
"We ran a campaign that we can be proud of," Kim said. "I've never seen an election like this before. It was a poorly run election. I was disappointed by how it was run."
Grace Colby '13 and Alyssa Zhu '13 noted their differences from a field of candidates not lacking in political experience. Following their fourth-place finish, although they were disappointed, they plan to continue to enjoy their remaining time at the College.
"I think we did our best; we are not the most politically strategic people in the world so we ran what we thought was a fair campaign … so I am proud of what we did," Colby said.
Finishing behind Colby and Zhu, Dallen McNerney '14 and Stacey LaRiviere '14 complemented the front-runners on their success, yet pointed to their relative youth as a disadvantage to their campaign.
"We were the younger ticket so we were at a bit of a disadvantage," McNerney said. "Stacey and I made promises in our campaign about things we want to work on and even though we aren't president and vice-president, we still plan to work on them."
Following the other five pairs of candidates, Andrew Canakis '13 and Andrew Salamone '13 succeeded in spinning their results in a comic light. They further believe their participation should serve as a model for future students lacking SA experience but who are interested in serving their peers.
"I think it's honestly great that we participated," Canakis said. "It's the first time in a long time that SA elections were this active and that students were this aware. … All this friendly competition really made everyone work harder."
In class elections, Morgan Dyson '13 was elected president of the class of 2013 with Ryan McManus '13 as vice president of advocacy and Lemondre Waston '13 as vice president of social affairs. Ishan Bardhan '13, Areyah Sapon '13, Matthew Gardner '13 and Steve Lovern '13 were elected as senators. The races for treasurer and secretary of the class of 2013 were not decided by press time.
For the class of 2014, John Bracaglia '14 was chosen to be president and will be supported by Philip Lavely '14 as vice president of advocacy. Khaki LaRiviere '14 was selected as class treasurer and Chandler Crenshaw '14, Danielle Waltrip '14, William McConnell '14 and Peter Lifsen '14 were elected as senators. At press time, the results of the race for secretary and vice president of social affairs were not yet determined.
For the class of 2015, Amanda Whitehurst '15 propelled to the office of class president, supported by Carlton Smith '15 as vice president of advocacy and Aaron Murphy '15 as vice president of social affairs. Joseph Soultanis '15 was selected to be the class treasurer. The senators for the next session will be Kendall Lorenzen '15, Drew Wilke '15, Jimmy Zhang '15 and Colin Danly '15. Danly beat out Hillary Dickinson '15 by one vote for the fourth class senate seat. The election for the office of secretary had not concluded by press time.
Chief Staff Writers Ellie Kaufman and Chris McKenna, Associate News Editors Meredith Ramey and Ariel Cohen, and Associate Variety Editor Bailey Kirkpatrick contributed to this article.