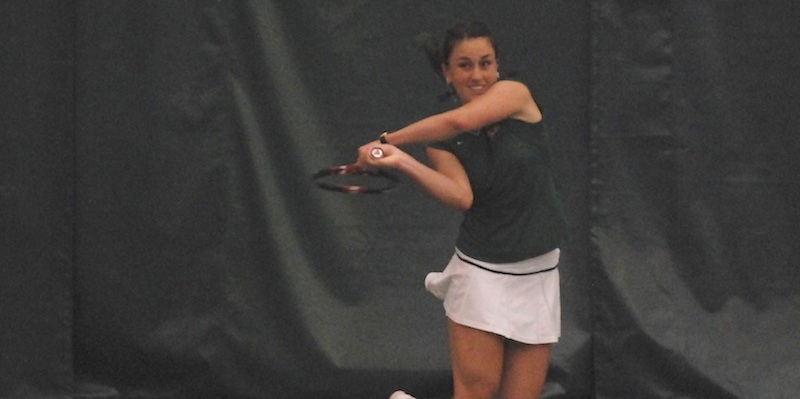 It took over four hours, but the outcome was scarcely in doubt as William and Mary stumbled to a 6-1 home defeat to Virginia Commonwealth Wednesday.
The Tribe (5-15, 1-2 CAA) notched just two victories all day, the second coming when sophomore Maria Belaya scored an impressive 6-2, 6-0 win over VCU's Ana Bara at the No. 1 singles position. The win made the overall score 2-1 in favor of the Rams, but VCU was simply too much for the College, sweeping the remaining singles matches.
Only at the beginning did the Tribe look like it had a real chance. The No. 24 doubles team in the nation, Belaya and sophomore Jeltje Loomans, opened the day with a dominant 8-2 win in the No. 1 spot over Bara and her sister, Alex Bara.
From there, things began rolling downhill for the College. VCU's No. 3 duo of Alena Gerasimova and Salome Kvitashvili topped senior Katie Kargl and junior Nina Vulovich, 8-6. Finally, with the doubles point hanging in the balance, sophomore Hope Johnson and junior Anik Cepeda fell at the hands of Daria Yakauleva and Olga Terteac in the No. 2 position.
With its 1-0 lead, the international Rams squad — all eight of the team's players are European-born — then proceeded to roll over the College in the singles portion of the match.
Finishing first was the No. 3 battle, in which VCU's Olga Terteac downed Johnson in straight sets, 6-2, 6-0 giving the Rams a 2-0 advantage. Then, after Belaya dropped Bara in the No. 1 slot, the Rams extended their lead to 3-1 with Marketa Placha's 6-2, 6-1 win over Kargl in the No. 6 position.
VCU's clincher came from the No. 5 battle between Cepeda and Kvitashvili. Cepeda took an early lead, winning the first set 5-7. But Kvitashvili quickly turned things around, and in a drastic way. The freshman handed Cepeda a 6-1 win. Finally, Kvitashvili cruised to a third-set win by the same score, guaranteeing victory for the Rams.
Loomans fought hard in the No. 2 position, winning the first set of her match with Alex Bara, 7-5. But Bara flipped the switch in the last two sets, winning 6-3, 6-2 to give VCU a 5-1 lead.
The day ended when Vulovich fell in the No. 4 position to Gerasimova in three sets. Vulovich dropped the first set, 7-5, before battling back for a 6-4 victory in the second set. But the junior was overcome in the final set, falling 7-6 in a tiebreaker.
The College is running the risk of backing into the CAA Tournament, which kicks off April 19 in Norfolk. The team's final regular-season match is Saturday, when the Tribe will host Boston University for Senior Day.