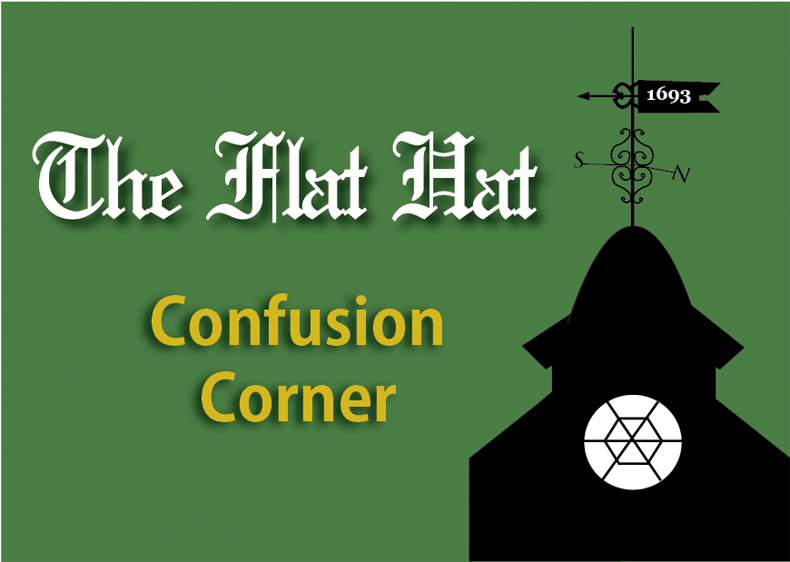 A few parting words of advice and LDOC survival tips.
Disregarding the two arduous and soul-crushing weeks of exams ahead of us, as well as the awful and rainy Monday we all had to survive earlier this week, we have officially triumphed over another year at the College of William and Mary.
Fortunately, we, the brilliant members of the Tribe and students of the College, have found a way to combine our obsession with academics with our love for pure and unadulterated fun. Otherwise known as the Last Day of Classes, Blowout consists of bouncy castles, concerts, free lunch, afternoon ice cream, midnight pancakes and, of course, the questionable sobriety of about a third of our campus.  It is also the one day every year that I can brag to any and all Facebook friends who attend James Madison University and University of Virginia because it is the one day I am absolutely positive that students at the College will all be having 23,987,385 times more fun than they will.
As you move forward in your preparations and plans and keep ignoring the looming final exams that will take over our lives next week, here are my last few parting words of LDOC advice.
For the freshmen: I wish you best of luck, because out of all the social classes, you need it most. The last day of classes is not only a celebration, but it is also a marathon of events, classes, free food and hydration. Your first tip is to keep an open mind and also somehow permanently attach your student ID and phone to your body. If not, there is at least a 70 percent chance that they will not make it home with you. In addition, while you may not read this in time, there is no such thing as appropriate clothing; just dress in a collection of the most flexible attire. Tennis shoes are encouraged, because you most likely will find a reason to sprint at some point during the day. Handbags and/or big bags are to be avoided at all costs — they will only hold you back after 10 a.m. Boys: This is not the time to break out your new Nike Airs. Much like your dignity, they will not be making it back to your dorm room this evening.
Sophomores, it's a bit more complicated for you. Given that you are Blowout veterans, you would think that you would be that much wiser.  Unfortunately, in this case, your experience and confidence work against you. You may go into the day with one idea about it, but on Blowout, there are never any guarantees. With that in mind, the only advice I can give you is to make sure you stuff some extra cash in your socks, just in case you find yourself stranded and in need of bartering for a ride with the nearest taxi driver.
Juniors, I'm afraid, are not nearly as interesting. You're wise enough not to do anything entirely irresponsible but still reckless enough to also exhibit some appalling behavior. Just make sure that if you decide to steal or borrow anything treasured or significant, you return it promptly tomorrow with an apologetic note and an even more apologetic cupcake.
Now for the seniors. For you, my dear friends, I can provide no advice other than to pack an all-purpose backpack the night before that can sustain you on your last and final marathon of Blowout fun. It should include anything and everything you may find useful, memorable or hilarious throughout the day. A camera is a must but only if you are absolutely sure that you can keep track of it and that all of your previous pictures have been safely stored away on your laptop's hard drive. Plastic cups would also be a good idea –- not that you would ever find cause to use them on an admirable College school day such as today. Last but not least, save yourself the trouble and leave your dignity at home: What happens on Blowout, well, isn't really remembered anyway.
Happy Blowout to all, and to all a good night.
Dasha Godunova is a Confusion Corner columnist and she hopes that you have 23,987,385 times more fun on the last day of classes than your friends at other schools.