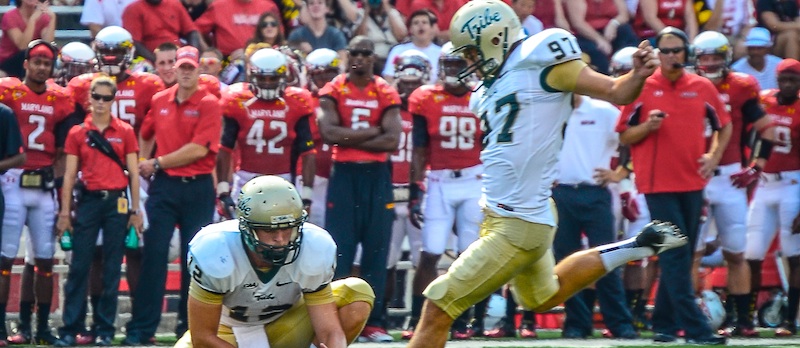 If junior punter and place kicker Drake Kuhn walked into your classroom and you didn't already know who he was, you probably wouldn't think he's a football player. At first glance, he looks like an average 20-something, and for a long time, he didn't actually play football. But if his size and stature are just average — he's 5'10", 185 pounds — his journey to William and Mary's football team was anything but, and the way he plays is even less so.
Little about the way Kuhn punts is conventional. His approach to the kick isn't straight on, and his balls don't soar high over Zable Stadium. Instead, Kuhn moves away from pressure laterally, and his kicks fly low, spinning awkwardly. More often than not, though, they leave the opponents backed up near their own endzone with few options offensively. It's called rugby-style punting, but for Kuhn, it originates from a different English game.
"It came about in high school. I played soccer growing up and I was a goalkeeper in high school, so it's very similar to how I punt a soccer ball," Kuhn said.
A soccer standout for most of his life, Kuhn never played organized (American) football until signing up as a place kicker his freshman year at Lafayette High School, just 15 minutes from Zable. He didn't take over punting duties until his senior year at Lafayette, but two games into the 2012 season for a Tribe team with a top-notch defense and a struggling offense, he's been more valuable pinning opposing offenses deep than scoring points.
In 2011, Kuhn pinned opponents inside their 20-yard line 13 times. In 2012, he's done it six times already. In the Tribe's 17-14 loss to Lafayette College Saturday, the Leopards were forced to start from their own 5-, 7- and 1-yard lines after Kuhn punts.
"[Kuhn's style] takes pressure off your protection to be able to move and kick the ball, that allows you to get people down field, and that helps us on downing the ball inside their 10 yard line," head coach Jimmye Laycock said. "And the way he kicks the ball makes it tough for the guys to set up a return, you're not just getting the same 40 yard, four second hangtime deal."
For the junior majoring in finance, transitioning from the soccer field to mentally preparing for a single high-pressure kick that can make or break a drive — sometimes even a game — felt foreign at times.
"You go from being active and part of the game the entire game to having limited opportunities as a kicker," Kuhn said. "And each time you're on the field you have to make sure you're not slipping up and not losing your focus. … It's a shorter time that you're on the field but your focus has to be just as good, if not better."
Recovering from a bad kick, he said, was difficult at first, but he's since learned to just move on.
"Now I've been playing long enough to the point where, you have an opportunity, you take it. You make your kick or you miss your kick, and you come off to the sideline as if you haven't done anything," he said. "Whatever you've done, there's nothing you can change, you just have to focus on whatever's coming next."
In two games this season, Kuhn is 2 of 3 in field goal attempts, his only miss coming from 48 yards out against Maryland.
Acclimating to his freshmen environment was easy compared to getting his bearings in a new sport.
"Being a local … it's helped me out a lot transitioning from high school to college because there are people around, coming out to games who say, 'we've watched you, we've been following you.' And it's given me a lot of confidence and relaxed me," Kuhn said.
Initially, the high-school recruit for both soccer and football was skeptical about attending college so close to home, as most prospective students would be. But three years in, he wouldn't change a thing.
"I made the right choice," Kuhn said. "I don't think there are any other places I would've liked as much as I like it here or that would set me up in the position that I'm in right now."