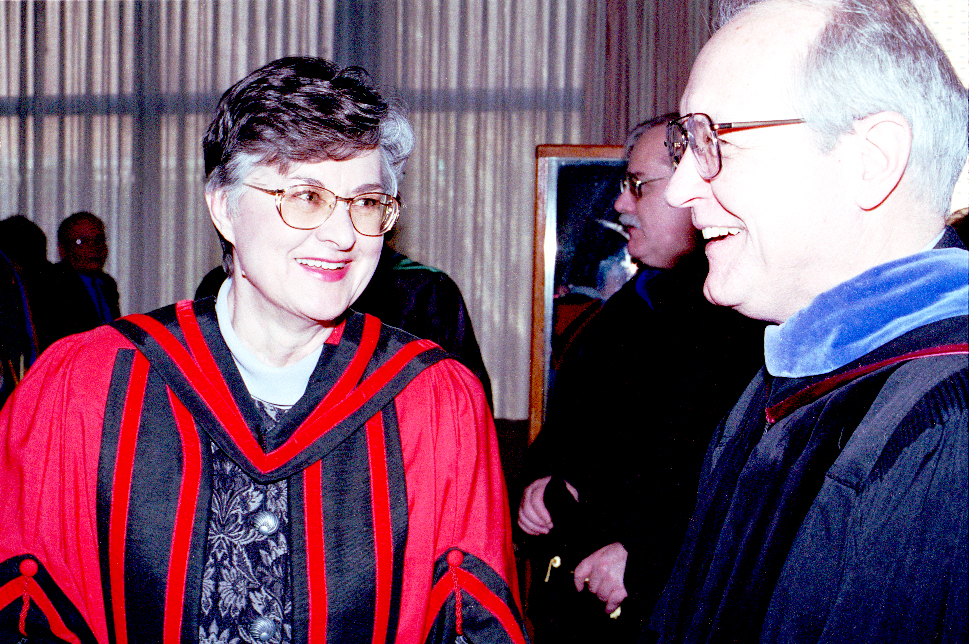 Before the era of College of William and Mary president Taylor Reveley, before former president Gene Nichol and before in-state tuition was above $7,000, there was former provost Gillian Cell. In the 1990s, during Cell's ten-year term as provost, the College's mascot was still the Indian, the CAA was still the Yankee Conference, and Margaret Thatcher was the College's Chancellor.
Cell, the College's third provost, died Sept. 7 at the age of 75 due to amyotrophic lateral sclerosis, also known as Lou Gehrig's disease, at her home in Chapel Hill, N.C.
"She was a person with integrity, extraordinarily strong academic values, and she was an interesting combination of the old-fashioned and the innovative," former College President Tim Sullivan '66 said. "She managed to protect the traditional heart of the academic enterprise while taking the College to places I think it never could have imagined it could go. Those were some of the things that made her special."
Cell received her doctoral degree in history from the University of Liverpool. After moving to North Carolina in 1965 to teach at the University of North Carolina, she went on to become the first female chair of the history department and later the first female dean of Arts and Sciences there. In 1993, Cell travelled to Williamsburg to become the first female provost at the College.
"If she took a job on, she went on to complete it," former assistant to the provost Shirley Aceto said. "She never gave up on any assignment she had. She was just tenacious. That was her personality. She did it strong and had a beautiful way of doing that."
During Cell's tenure, she led the effort for the College's first strategic plan and dealt with a decline in state support.
"She came to love William and Mary and was, herself, beloved and respected while among us," Reveley said in a press release. "Provost Cell did serious good for our university in many spheres but especially, perhaps, in strategic planning, the redirection of resources in the face of declining state support, and advances in information technology on campus."
Along with many improvements to the College's financial plan, Cell was known for her annual reading of the Royal Charter during the Charter Day ceremony.
"Those who heard her read from the College's Royal Charter will never forget the melodious English tones and crystalline clarity with which Gill always celebrated the words of our creation," Reveley said.
Cell received the Thomas Jefferson Award, the highest honor for members of the academic community, in 2003. Cell retired from the College shortly thereafter, returning to spend time at her home in North Carolina.
"Gill's countless friends at William and Mary are grateful for her marvelous life," Reveley said. "She will be missed."