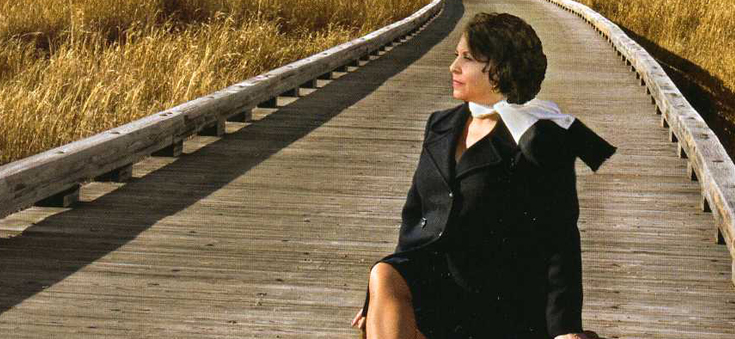 Libraries are not normally this lively. Chatter? Check. Applause? Check. A professor casually breaking out into a harmonica solo? Check. If this were the Earl Gregg Swem Library, people would be freaking out.
Thankfully, at least for the sanity of those students who stick to the third floor, it's not; this scene unfurled at the first concert in the annual Dewey Decibel Concert Series at the other library in town, the Williamsburg Regional Library located just off campus at the intersection of North Boundary and Scotland Street. Concerts have been held at the library since its theater wing opened in 1983. Last Friday, College of William and Mary music professors Stephanie Nakasian and Harris Simon, accompanied by drummer Billy Williams and bassist Chris Bridge, kicked off the series to celebrate the release of their new CD from Capri Records, "Show Me the Way to Get Out of This World," featuring covers of 15 jazz standards.
The disc marks the first official collaboration between these two accomplished musicians. Nakasian achieved international status in the 1980s when she sang on tour with Jon Hendricks and Company, something she calls her "vocal jazz apprenticeship." Simon has performed throughout North America and Europe at innumerable clubs and jazz festivals.
"I was commuting down from Charlottesville to play this wonderful gig at Aroma's with Harris," Nakasian said. "And we just decided that we should record together."
If their show is any indication, it was a great decision. Nakasian had a fun, lively stage presence, rollicking through Duke Ellington and Doris Day, ballads and breakup anthems, jazz favorites and hidden gems alike. Her trombone impression is pretty excellent, too.
Her show, like the album, began with "Lonesome Road," a modern, upbeat take on an old classic. "Lucky So and So" and "Easy Street" kept the pace lively before "Times Are Getting Tougher than Tough," which features an awesome harmonica solo and really allows Nakasian to show off her vocals. The songs are strung together by a light narrative of a girl trying to get her life in order after a particularly bad breakup. The audience was connected to the performers throughout the entire show. The intermission buzzed with pleasant conversation and compliments for the musicians. If you're into jazz — or just want to listen to some good local music — this album is definitely worth checking out.
The concert series will continue throughout the semester and will feature a wide variety of musical genres, most of which wouldn't find their way onto a typical student's iTunes library. Folk, a cappella and military groups will all make their way to the library up through the first week of final exams.
Next up in the series is Soundworks Chorus, an all-male a cappella group from Richmond, followed by a couple of folk outfits: Scottish band North Sea Gas, who have attracted large crowds at the Edinburgh Festival for nine consecutive years, and The Cantrells, a husband and wife folk-pop duo who found their way onto the big screen alongside the likes of Brad Pitt back in 1992 in Robert Redford's "A River Runs Through It." Brass and woodwind ensembles from nearby Fort Eustis and the faraway U.S. Air Force Academy also come to town before fall break, and both concerts are free.
After fall break, things will get a little jazzier with local percussion group the Jae Sinnett Trio, who like Nakasian, will come to celebrate the release of their new album. TRADOC Jazz Combo puts on a free concert just a few days later, followed by Canadian folk group My Sweet Patootie. Austin City Limits and Grand Ole Opry alumni Robin & Linda Williams and Their Fine Group finish off the series with a bluegrass Christmas concert.
For most concerts, students receive a discounted ticket price of $13, but prices vary and some are free. For more information, visit the Williamsburg Regional Library in person at 515 Scotland Street or online at http://www.wrl.org/events/concerts.