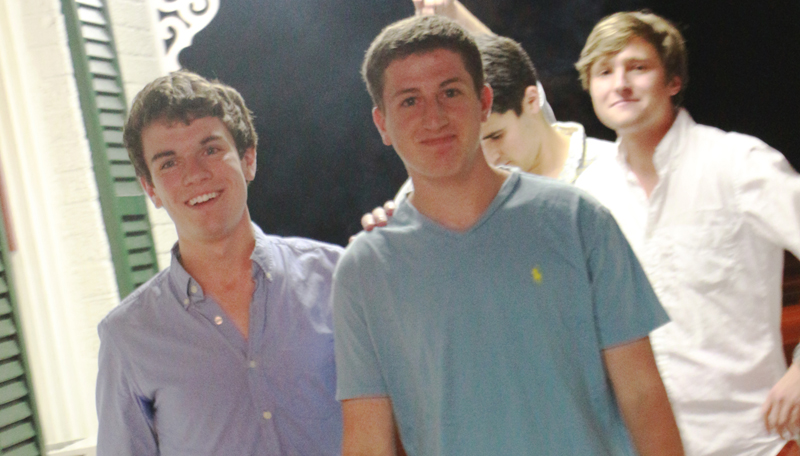 Ethan Teicher '16 claimed the position of Student Assembly freshman class president in a close election where one percent made all the difference.
Roughly 50 percent of the freshman class voted Thursday between nine candidates all vying for the spot of freshman class president.
"I'm at a loss for words. The idea that I beat [eight] other competent people. It came down to campaigning as hard as I could," Teicher said.
Teicher ran on a platform that pushed for greater freshman unity and more philanthropy.
"I really wanted to run on philanthropy. It is very near and dear to my heart. And then freshman unity — I noticed in my freshman hall [that] we are all separating and doing things," Teicher said.
In order to promote unity, Teicher hopes to create a College social network as well as a freshman prom. Teicher credited his cousin,  former SA Presidential candidate David Alpert '13, with helping organize his campaign from the beginning of the semester.
"I definitely look up to him," Teicher said. "We sat down right before the campaign got started, and we planned out what to do."
SA President Curt Mills '13 made it a point not to become as involved in the election as previous SA Presidents but still thought Teicher was the best man for the job.
"My predecessor got actively involved in elections, and I didn't think it was appropriate, so I can't say I read every platform," Mills said. "Ethan ran a hard-fought race. It was a very tight race between him and the second opponent. [He is] as qualified a class president as I've ever seen."
Teicher's drive was the main thing that impressed Mills.
"First of all, someone who has the initiative to run for freshman class president is generally someone who is of high caliber. Three weeks into school — how detailed a plan can a student have, really, for the College?" Mills said.
Other senators were happy with the election results in light of recent efforts to revamp the SA image.
"One of the big things that we talked about is making the SA more relatable and transparent," Dallen McNerney '14 said.
Elections Commission Chair T.J. O'Sullivan '13 thought the race was much cleaner than the last spring's SA election even though two candidates were kicked off the ballot for either not disclosing financial information or failing to complete an election test.
"In terms of these elections, it is actually pretty good," Sullivan said in regard to voter participation.  "With the senior class, roughly 20 percent came out, which is good considering that they ran unopposed."
While 20 percent of the senior class showed up to vote, roughly 30 percent of every other class voted.
Sullivan attributed what he deemed a good voter turnout to stricter enforcement of election rules as well as a different political climate.
"We set the standards out very clearly from the get-go. We didn't give any leeway in terms of how the rules were. We had a couple warnings that went out," Sullivan said. "There were two people kicked off the ballot."
Sullivan supported Mill's decision to remain impartial during the election.
"It politicizes the whole proceeding much more than it would inherently be," Sullivan said. "It's helpful in terms of kind of reducing … that game element to it."
Other class of 2016 positions went to Daniel Rice '16 for vice president for advocacy and Yousif Al-Amin '16 for vice president for social affairs. Kiara Earle '16 won treasurer and Quetzabel Benavides '16 won secretary.
Yohance Whitaker '16, Brad Riehle '16, Chantelle Tait '16 and Daniel Ackerman '16 won the four senate seats allocated for the class of 2016.
In the class of 2015, Joseph Laresca '15 was selected as vice president for social affairs and Kameron Melton '15 won secretary.
Jyness Williams '14 nabbed the position of vice president for social affairs for the class of 2014, while Alexis Caris '14 won secretary.
For the class of 2013, Naid Allassan '13 won secretary and Austin May '13 won treasurer, both running unopposed.