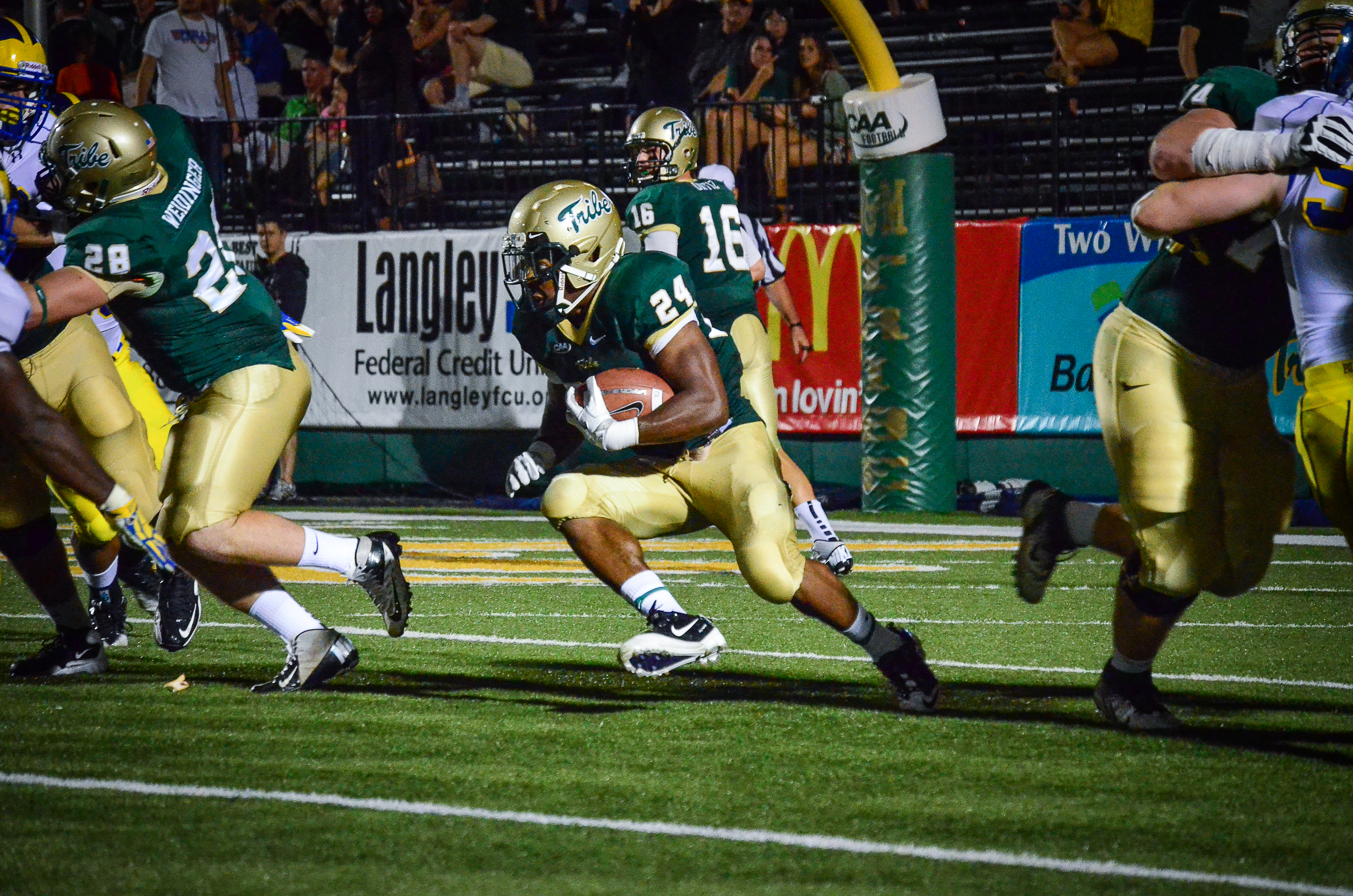 Winless in its last four tries, William and Mary desperately needed a win Saturday night. Midway through the fourth quarter, the Tribe held an 18-point lead, but that wasn't enough. The College needed a big score to ice the game and secure its first victory of the season.
Enter Keith McBride.
The sophomore tailback took the handoff at the Georgia State 36 yard line and began running along the right side of the offensive line. He found a hole, saw daylight, and broke through the first line of defenders. Open field in front of him, a pair of Georgia State defenders sprinted at him, pushing him toward the sideline. McBride sidestepped both, breaking a leg tackle, and churned all the way to the end-zone for the score, effectively putting the game away and sealing the Tribe's first victory of the year.
William and Mary (1-4) took out its frustrations on Georgia State, earning a 35-3 victory Saturday in Williamsburg in a battle of winless teams. The College benefitted from a very opportunistic defense that forced seven Georgia State turnovers – the most in one game since 2009. The Tribe offense did its part, putting up 35 points, the team's highest offensive output this season.
"I thought we played pretty hard tonight, a lot of enthusiasm, played with some excitement and made some things happen," Laycock said. "I think defensively, we sent the tone with the amount of turnovers they got, that's what we've been talking about and stressing, and they really swarmed around and set the tone for everything and then offensively, our running game got on track tonight. … It was a good solid win, a good win, and finally, we got one."
The Tribe defense held the Panthers to 249 yards of total offense, but the story of the day was the amount of turnovers. The Tribe collected four interceptions off Georgia State quarterback Ronnie Bell. Bell, a slippery quarterback who displayed the ability to scramble, consistently unleashed ill-advised passes that the Tribe gladly converted into interceptions.
After a lethargic performance last weekend against Delaware in which it gave up 51 points, the College responded extremely well against the Panthers. The Tribe swarmed to the ball, hit hard, and forced three fumbles, all of which were recovered by the defense.
"That's been a point of emphasis all week, just coming out with intensity and excitement that creates turnovers," senior safety Brian Thompson, who recorded an interception of his own Saturday, said. This week, we wanted change what we've been doing and really have fun out there. … We got a lot of picks and fumbles by running around and having fun."
The Tribe's stellar defensive performance often put the offense in good field position. Four of Tribe's five touchdowns were the direct result of Georgia State turnovers. Regardless of its starting field position, the College produced its most commanding offensive performance this season, relying heavily on the running game.
McBride led the College with 163 yards and two touchdowns on 25 carries. Darnell Laws was also effective in a limited number of carries, running for 67 yards on 6 carries, including a 26 yard touchdown run in the third quarter.
"I think we did really well on the ground," McBride said. "The offensive line blocked really well, they opened up some holes. As a running back, it was our job to and gash 'em and really reward those guys. I was proud of how we ran the ball today."
Sophomore quarterback Raphael Ortiz earned his first win in three starts Saturday. Ortiz turned in a decent performance through the air, going 8 of 13 for 101 yards and no interceptions, but his best work was done on the ground. Ortiz rushed 12 times for 24 yards and two touchdowns, showing his prowess as a mobile quarterback.
Laycock was impressed with Ortiz's continued improvement.
"I thought Ortiz played really well, I saw a lot of things out there that he did out there that people wouldn't have seen," Laycock said. "We had a couple of little gadget plays called that he checked us out of because they just weren't set up right. … I'm becoming very confident in his ability to manage the game."
The Tribe will look to build on this victory and put another complete performance together next weekend when it travels to Philadelphia to take on Penn.
"We've got something now, its kind of a blueprint now," Laycock said. "This is the way we need to be to play pretty well. Now, let's take that and move forward with it. I hope we do. I give a lot of credit to the seniors for stepping up this week and saying, 'enough's enough, let's step it up and lets get going playing."