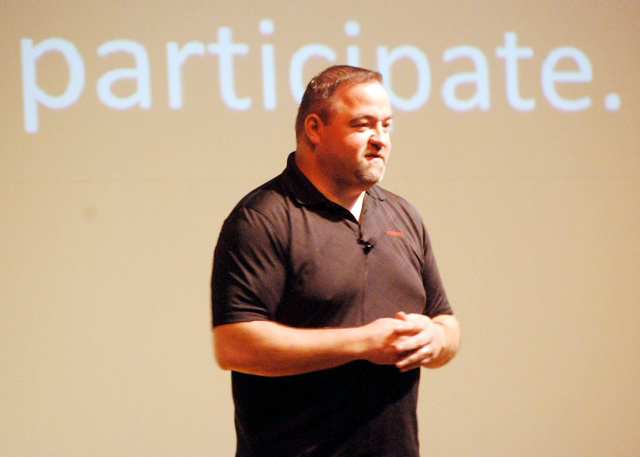 Imagine for a moment that you are climbing a flight of stairs in the middle of the night. You are led into a dark attic. First, you discern a group of people — all strangers. They are standing around a table in the middle of the room. You approach them slowly, unsurely. As you draw nearer, you see with a jolt of fear that on the table lies a gun.
The leader of the group shatters the silence. "Pick up the gun," he says. "I want you to put it to your head and pull the trigger, and when you do, say 'I would die for this fraternity.'"
What do you do?
Travis Apgar pulled the trigger. What ultimately followed was an emotional reaction so intense that he had to be hospitalized. No one in the fraternity could have foreseen that this hazing experience would evoke for Apgar the memory of his father's suicide.
"We don't usually think about somebody's previous life experiences before we ask them to do things that we've probably done," Apgar said Tuesday in his lecture entitled Hazing: the Fallout. "It didn't have that impact on us; we think it's okay for anybody because we survived it."
Apgar, the associate dean of students at Cornell University, returned to the College of William and Mary to speak on Tuesday night during Hazing Prevention Week for the second time. His first visit was in 2010. The week's events are sponsored by the Hazing Prevention Coalition, the department of campus recreation, the athletic department and the Inter-Fraternity Council. The name of the campaign is My Tribe, My Responsibility: A Home Without Hazing.
Speaking from his experience as a victim and an opponent of hazing, Apgar challenged the conventional definition of the word. He argued that hazing isn't limited to Greek organizations and athletic groups, nor is it gender-specific or limited to new members. Even if someone agrees to participate in an activity, Apgar emphasized, it's considered hazing if it has the potential to cause damage — physically or mentally.
"The mental and emotional impacts that hazing can have can last even longer than the physical ramifications," he said.
These ideas are reflected in national statistics, which say that while 74 percent of varsity athletes — the largest percentage of any group — and 50 percent of Greek members have experienced at least one hazing behavior; 20 percent of students in academic clubs and 56 percent of students in performing arts clubs have had similar experiences. Of these students, 90 percent did not identify the behavior as hazing and 95 percent of those who recognized it did not report it, according to the statistics that Apgar cited in his presentation.
Students who do recognize hazing are most likely to discuss it with friends or family. When alcohol is involved, the heavy drinking on college campuses can numb students to the potentially serious consequences.
"You become desensitized to the idea that they might actually need help," Apgar said.
Since it can be difficult for all parties involved to recognize what is considered hazing, Apgar asked students to consciously analyze the things they ask others to do.
"If you would do it or have it done to you in front of the president of the university, in front of the person you love most in the world, in front of the police … it's probably not hazing," he said.
The Hazing Prevention Coalition at the College, now in its third year, is working to address these issues and help students who have been victims of hazing.
"Unless we're forcing people to drink or really seriously harming people physically, many people have a higher tolerance for what they consider hazing to be," Coalition Co-chair and Director of Student Leadership Development Anne Arsenau '89, M.A. '92 said. "So, I think what we're trying to do is bridge that gap to kind of help people see it doesn't have to be extreme in order for it to be hazing, and we also just want to talk about it on the front end before it gets elevated into a bigger problem."
The Coalition recently launched an anonymous hazing reporting system that is available to students. With the advent of the website, reports of hazing at the College have increased.
"I think that's a good thing," Coalition Co-chair and Director of Campus Recreation Linda Knight said. "I don't think we have more hazing on campus; I think we're having more reported, and the more you have reported the less you'll start seeing on campus."
While statistics from 2007 show that the hazing at the College was consistent with the national average, Knight maintains that the College has emerged as one of the primary forces in hazing prevention.
"William and Mary is viewed by other schools as being kind of one of the leaders in the hazing prevention effort and part of the reason I think that is, is because we've been fortunate enough through our administration to be able to be proactive instead of reactive," she said.
Last week, http://www.hazingprevention.org sponsored National Hazing Prevention Week. It hosted a webinar series on hazing prevention during the month of September in which the Hazing Prevention Coalition at the College participated. Additionally, the Coalition has launched a Twitter campaign using the hashtag #WYDTO, or "What you didn't think of." The Inter-Fraternity Council and Panhellenic Council bolstered the platform by sponsoring My Tribe, My Responsibility bracelets that were distributed at Apgar's presentation to students who signed a pledge against hazing.
Varsity and club sports teams and members of Greek organizations were especially encouraged to attend the presentation. Freshman varsity athletes were required to attend as part of the Freshman Academy program and club sports teams were given a budgetary incentive. The IFC required 75 percent of new members, plus a brother to match each member, to attend.
"We wanted to [send] a pledge — associate member, new member, whatever you want to designate them — and a brother in order to make it more of a brotherhood conversation," IFC Vice President of Conduct Stephen Bennett '14 said.
While the issue of hazing prevention has been getting more attention at the College, steps remain to be taken before it can be resolved.
"Culture change is never a fast process," Bennett said. "It's slow, it's difficult but it has been successful."