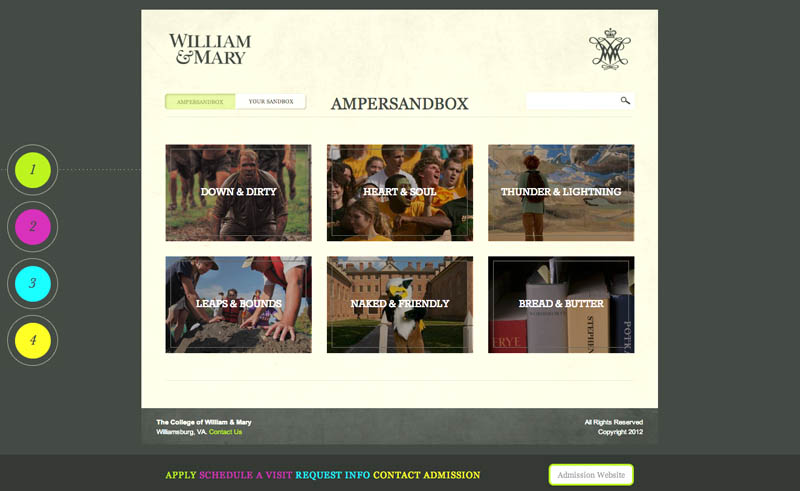 The Ampersandbox, the Office of Undergraduate Admission's new interactive viewbook, won a silver award in the University and College Designers Association's annual design competition.
"It's kind of like the Academy Awards for college design," Associate Director of Creative Services Cindy Baker said. "There's lot of categories, including print, brochures, websites and social media.  We won for the card package and campaign website."
The Ampersandbox was a joint collaboration by mStoner Inc., a creative design firm, Creative Services and the Admissions Office.
The cardboard "box," now in an envelope for mailing purposes, contains a set of small cards, each with an eye catching picture and word pair.  The back of the card explains the word pair and offers facts about the College.
Word pairs include "Fast & Furious," "Down & Dirty" and "Naked & Friendly."  "Naked & Friendly," a favorite among the Admissions Office, was placed at the top of the stack.
"'Naked & Friendly' being on top was deliberate, and I think it's attention getting," Dean of Admissions Henry Broaddus said. "It's not particularly irreverent; it's ultimately about being comfortable in your own skin here. That's another triumph of content on these cards.  They're arresting, but they're also serious.  You get a very good sense of the College of William and Mary by looking at these cards."
The College strayed from the traditional viewbook seen at college fairs and in admissions offices.
"Ours is really more a reflection of the personality of the College.  This is the way viewbooks are supposed to work.  This piece takes the concept of a viewbook and blows it up.  Most viewbooks are heavy on statistics and very interchangeable," Associate Dean of Admissions Deborah Basket said.
The Ampersandbox is part of a continuing effort by the admissions office to stand out in mailboxes and inboxes across the country and draw a greater number of applicants. There were 13,660 applicants for the class of 2016, almost 1,000 more than the 12,825 applicants for the class of 2015.
"I think the communication capabilities of the Admissions Office made big strides in that period of time," Broaddus said. "The Ampersandbox is the most visible way.  There are expanded on-campus visit opportunities, interviews; there are outreach strategies that the staff goes through.  There's too many variables to isolate [it] down to one thing, but certainly the feedback that we've gotten is that the Ampersandbox made a powerful impression on students, and that was the goal."