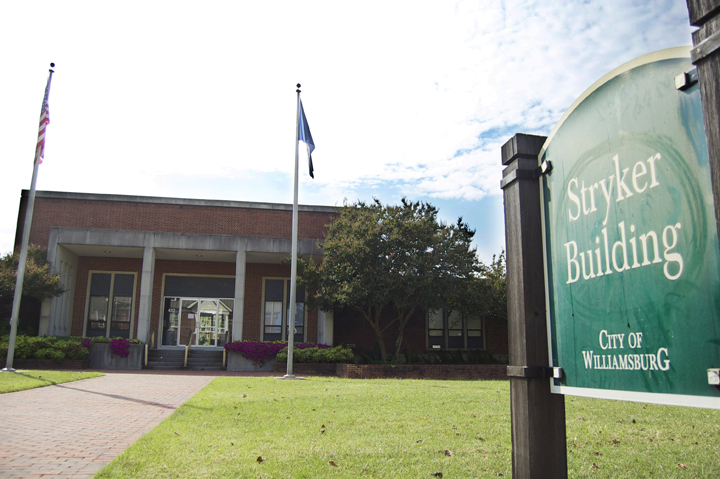 Across the street from the College of William and Mary's Marshall Wythe School of Law, one of three Williamsburg public housing units shelters residents, most of whom pay $50 in monthly rent based on their low or lack of income.
The winter months have painted a grim picture as unemployment rises and the waiting list for public housing grows longer.
According to a community profile generated by the Virginia Employment Commission in August 2012, Williamsburg's unemployment rate is more than double that of Virginia as a whole, sitting at 14 percent compared to Virginia's 6.2 percent.
Yet JaLauna Burton, senior public housing manager for the Williamsburg Redevelopment and Housing Authority, said that open shelters hardly exist.
"There are a great amount of people in hotels who don't know how they're going to pay their bills. … I do let them know about the shelters, but I do want to make everyone aware that the shelters are full," Burton said during a Friday forum at the College. "A lot of people don't see the economy and the direction we are in, but I have been looking at it, hearing it, dealing with it."
The wait for Williamsburg public housing currently stands at three to five years.
Of the 104 units that Burton oversees, she estimated that residents of only 50 units were working in June. That number has since decreased, because seasonal jobs have ended.
This not only means that Burton might have to lower the rent for some residents, but also that the demand will increase for help from the organization, which by its nature is not profitable. In addition, when the U.S. Congress cut the Department of Housing and Urban Development budget by $1 billion in fiscal years 2011 and 2012, the WRHA was left to rely more and more on city resources. The city has already provided WRHA with free financial and administrative help.
"There is always going to be a need for public housing. But public housing is not always going to be here. … In the next 15 to 20 years, it's going to be gone because the funding is going to be gone," Burton said.
WRHA ceded control to the Williamsburg City Council a week ago in an attempt to alleviate financial problems. The council will assume the duties of the WRHA Board of Commissioners by overseeing the WRHA budget and policies.
Burton emphasized that the move does not give the council complete control over the WRHA.
"They're not taking us over. We don't have a contract with the city — it is us and HUD — us and the City," Burton said. "[HUD] made it clear to me that I am not of the City. There are City rules and then there are my rules. … If the City took over, they could pretty much do it their way, but I have to follow my [HUD] regulations."
While Burton was not worried that the council will overtake WRHA, she did fear that there was a knowledge gap that needed to be closed.
"City Council is fine. … Mayor Clyde Haulman … knows public housing … my only fear is not all of them know. Now that we have City Council and they are going to be learning about public housing, they are going to be able to … speak louder to why we do what we do," Burton said. "We get slapped a lot, and it is mostly from those higher-up who do not understand the residents living in public housing."
Remaining bound to HUD regulations also means that more creative ways to get people out of the cycle will have to be found, according to Burton.
"With public housing, I cannot make people work. … My hands are tied in so many ways," Burton said. "My position right now, I'm asking people to come audit me. I'm ready for us to get in trouble so [that] we can get out of trouble."
Yet, according to Burton, the College is not bound to HUD regulations, making recent efforts by the College Campus Kitchen effective in changing lives.
"I sit back and let William and Mary step in. … We have to redirect them," Burton said. "I had kids who are now talking about William and Mary, about working in Washington, D.C., so we are opening eyes to how they can change things, but I can't do anything once they go home and they close the doors."
Field trips, resume and interview events, a college information session, and food drives are all Campus Kitchen initiatives to reach out to neighboring communities. Campus Kitchen has also begun a mentoring program called Mention, through which students are paired up with children.
"Last year is the first year that we started doing it for adults and not just for kids. Last year, we had a resume career activity where we had people come from social services and the Career Center come and teach them about resume writing and interviewing," Sarah Holko, Campus Kitchen volunteer coordinator, said.
Yet Holko noted that the adults were not as enthusiastic as the children.
"So far, we haven't gotten as great of a response from the adults," she said. "As an adult, you['ve] already live[d] through the system … it is hard to change it once you've gone past a certain point."
Burton has noticed two trends in recent years: more young adults are having children, and fewer adults are using the degrees they have earned. Of the four residents she knows who have acquired a nursing degree, only one is employed in the nursing field.
"I'm going to find a way to give them that drive, and it's hard," Burton said. "We've had classes that we were really excited about, and only two people showed up. But I had students with me, and I told them they changed those two people's lives."
Education, according to Burton, is key to allowing children to break out of the cycle.
"Even if the economy gets better, we still have issues that we are not addressing," Burton said. "Nobody is thinking about, 'Okay, educate them, and don't exempt them if they have a kid.'"