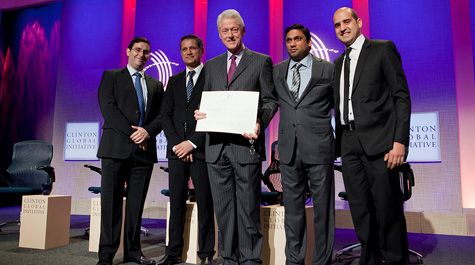 An international program started by George Srour '05 that provides finances to Uganda for primary education facilities recently received a financial boost.
Building Tomorrow received a $500,000 grant from the Clinton Global Initiative, a forum that provides non-governmental organizations with donations to continue their work.
"The organization recognizes that there is a wealth of human potential in the country of Uganda, but a lack of financial resources," Estelle Rousseau '14, one of the student chapter leaders, said.
One of the most distinctive features of Building Tomorrow is that it does not send hordes of Americans to construct schools for people in a foreign country. Instead, the people of Uganda receive funds from Building Tomorrow, work with local contractors, and use local materials to complete the job.
The school does not rely solely on Building Tomorrow's aid, however. Building Tomorrow has an agreement with the Ugandan Ministry of Education, which ensures that the government will provide teachers and maintenance for the school upon its completion.
"What's really cool about Building Tomorrow is that it really does focus on community empowerment," Katie Robinson '14, who serves as the other student chapter leader, said.
The grant is expected to have a significant impact on Building Tomorrow's work. A primary school in Uganda costs $10,000 to build so the $500,000 will help to fulfill the organization's commitment to build 60 schools before 2016.
"[This is] phenomenal considering the cost of starting a school in America is exorbitantly more expensive," Robinson said.
However, the money does not only affect students in Uganda. The money will also bolster the College of William and Mary chapter of Building Tomorrow, which had previously dissipated.
Rousseau and Robinson, whose interest in Building Tomorrow developed their sophomore year, are currently trying to revive the chapter.
Hallie Westlund '16 became involved in Building Tomorrow because she is interested both in Africa and education. She is excited about this new grant and the impact it will have on the College's student chapter.
"I think it's a good way to inspire us to rebuild the club," said Westlund.
With the knowledge that their chapter has gained recognition and credibility through the grant, the students have confidence that their group will continue to grow.
"The change is literally within our reach," said Rousseau.