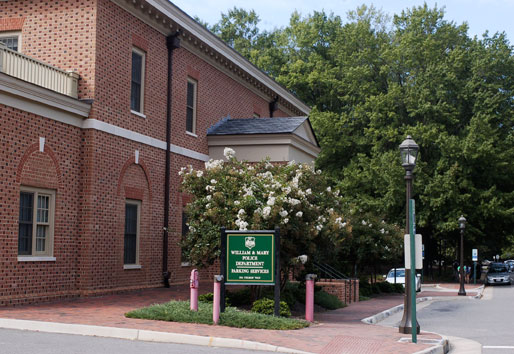 The College of William and Mary has a reputation for being a relatively safe campus, which has been confirmed by the recently released 2011 crime statistics.
Although there were some fluctuations, all of the crime rates remained low.
However, the one area of the recent crime report that has significantly increased is the amount of liquor law disciplinary cases. These cases are based only on the grounds of school policy and do not include driving under the influence and public intoxication arrests. In 2010, there were 198 such cases, while, in 2011, there were 278 cases.
William and Mary Police Chief Don Challis thinks that most of the incidences were caused by underage possession of alcohol. Although these cases did not involve police, Challis feels that the increase in reports exhibits the community values of the College.
"It is a reflection of a caring community when students call for medical help for their classmates who may be in a dangerous condition. The rise in the numbers of reported incidences probably has to do with worried students trying to help their classmates," Challis said.
Challis also acknowledged that the campus police department's number of alcohol-related arrests did not fluctuate in the same way that the liquor law disciplinary cases did with the College administration.
"Each year, we tend to have alcohol-related arrests in the high-teens to low-twenties in terms of quantity," Challis said. "We try to provide a safe environmnet and we are not out to catch students for the sake of arresting people. We have no quota for arrests we need to make each year."
Motor vehicle theft also increased. In 2009, no motor vehicles were reported stolen from campus, and there was only one vehicle stolen in 2010. However, in 2011, there were seven vehicles stolen.
Challis does not feel that last year's relatively high rate of auto theft is a problem that will continue to escalate.
"The rate of auto theft is still low. It is not like a chop shop opened up outside of campus. Four of the stolen vehicles were scooters, and another was a golf cart," Challis said.
The rate of burglary in on-campus student housing doubled between 2009 and 2011, increasing from eight to 16 reported incidences. Challis felt that this increase has resulted from multiple factors.
"There are more things to steal from dorms today because of electronics. Laptops and iPods are commonly left out in unlocked dorm rooms," Challis said. "Also, students should treat their dorm room as they would their house; they should lock up before they leave."
Drug abuse arrests were one of the decreasing trends on campus over the past year. Although there were just six such arrests made in 2010, there was only one in 2011.
"I think students are finally getting the message that being caught with drugs is most likely going to result in a temporary dismissal from campus at the minimum, and the students know that the risk is too great," Challis said.