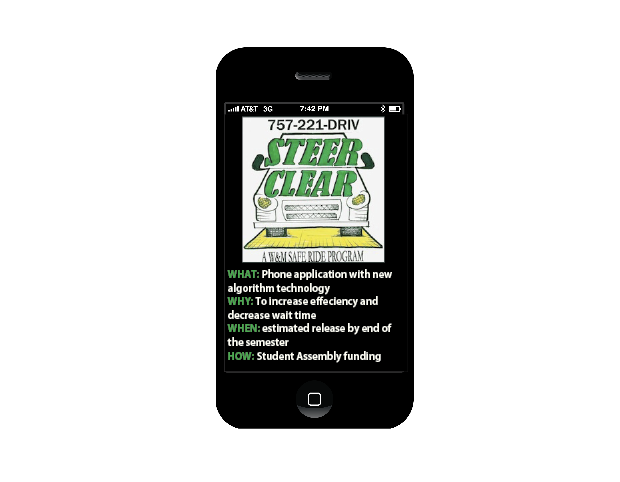 A recent Student Assembly bill provided funding for a new Steer Clear mobile website application that will allow Steer Clear to give students a more accurate wait time.
"What we do is we seek to provide a safe means of travel on the weekends at night to prevent essentially bad things from happening. Our mission is first and foremost to prevent drunk driving, but secondary to prevent people from walking home unaccompanied at night," Steer Clear Director Mark Moran '14 said.
Many hope the new bill will solve problems Steer Clear has recently faced.
"I think some of its main problems were inefficacy and long wait times," Kendall Lorenzen '15, chair of the Senate for Student Assembly, said. "There were problems with accessibility and availability. Also, transparency on the way Steer Clear works [was a problem], because they had two vans and they wouldn't really coordinate how they would work and sometimes they would pass each other going to the same group and this technology will greatly improve that aspect."
The act will also provide two tablets for Steer Clear drivers to use to access the website and to utilize GPS for directions and more efficient routes to reach students.
"This app is going to use the lowest possible wait time on average through this mathematical equation to send the vans to the people who will make the wait time the lowest as possible," Moran said.
SA Senator Colin Danly '15 remarked on what the program will mean for Steer Clear users.
"It really makes the facilitation of getting people and bringing them safely to their destination a whole lot quicker. It will make security and safety on this campus a whole lot better," Danly said.
Use of the website and student service requests are free.
The Drop Tables Programming Guild, also known as the Programming Club, created the website for Steer Clear.
"There are many features that we hope to add that will not be in the first version of the app. We definitely hope to continue to develop for a long time, using feedback from Steer Clear and passengers in order to improve the app," Programming Club member and Steer Clear project manager and driver Nathan Schaaf '15 said.
This website is estimated to be released to students by the end of the semester, and after some time, Steer Clear will be able to see the results of the program and judge its effectiveness.
"After they institute the program, they will be able to access data which is really important for the coming years because they will be able to [better] understand when the peak and the flux times are," Danly said.
The SA Facebook page and Twitter account will announce when the new applications are in place.